BBQ Macaroni Salad is similar to traditional macaroni salad except the dressing combines mayo with tangy BBQ sauce. The addition of kielbasa (you could also sub chicken) makes this a hearty pasta salad perfect for a crowd.
During the summer months, macaroni salad is one of my favorite side dishes to accompany typical BBQ fare. It goes great with burgers, ribs, chicken, you name it! While traditional macaroni salad is tasty, and I love Bacon Cheddar Ranch Pasta Salad, I absolutely just adore BBQ Macaroni Salad with turkey kielbasa that I've already made at least three times this summer!
CENTERCUTCOOK SPONSORS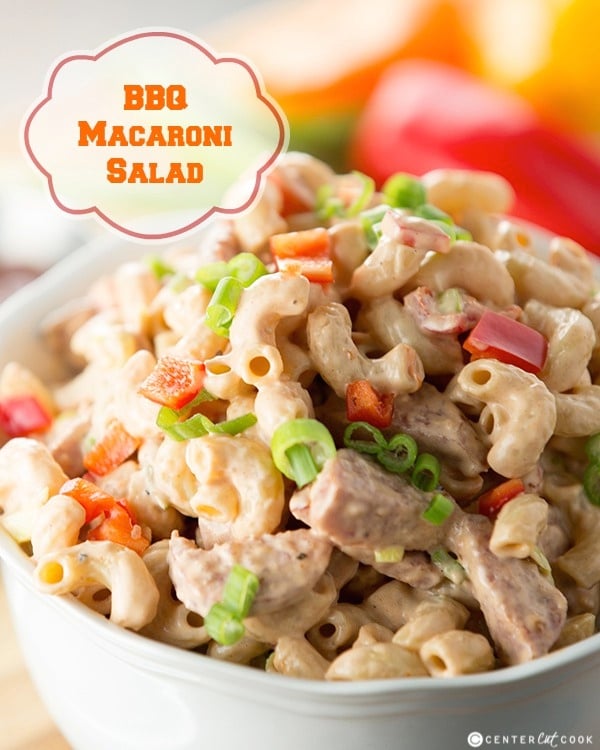 My traditional American macaroni salad consists of a few veggies for crunch, then everything gets tossed together with some mayo. With this non-traditional but oh-so-tasty BBQ Macaroni salad, there are still some veggies for crunch (diced red pepper and green onions), but instead of traditional mayo, I combine bbq sauce with a bit of mayo and hints of cayenne pepper and chili powder for a slightly spicy, but tangy sauce. We're not done though. The perfect ingredient that rounds off this entire salad is some smoky chopped turkey kielbasa.
Have you ever cooked with turkey kielbasa before? This is one of those recipes where you can easily sneak it in, and no one will likely know the difference! I used the Hillshire Farm brand and the difference in fat and calories is astounding. Turkey Kielbasa has 5g of fat per 2 ounce serving while the traditional Polish Kielbasa has 16g of fat per 2 ounce serving. Additionally, you save half the calories by using Turkey Kielbasa with 90 calories per serving verses 180 calories for the Polish variety. Big differences here! Of course, feel free to use regular Kielbasa, or any other meat that you'd like including chicken. You can leave it out altogether if you wish.
If you're looking for a way to spice up your next backyard BBQ, definitely give this BBQ Macaroni Salad with Turkey Kielbasa a try. You won't be disappointed!
CENTERCUTCOOK SPONSORS
INGREDIENTS
1 pound elbow macaroni
1 red bell pepper, diced
3-4 green onions, diced (green and white parts)
7 ounces turkey kielbasa, cut into small chunks
3/4 cup mayo
3/4 cup bbq sauce
1 tablespoon apple cider vinegar
1/2 teaspoon salt
1/4 teaspoon black pepper
1/8 teaspoon cayenne pepper
1/4 teaspoon chili powder
CENTERCUTCOOK SPONSOR
DIRECTIONS
Cook 1 lb. elbow macaroni according to package directions. When pasta is done cooking and you've drained it, run cold water over the pasta until it is completely cooled. Allow macaroni to drain well.
In a large skillet heated to medium high heat, sauté the chopped kielbasa until it is lightly browned.
In a small bowl combine mayo, bbq sauce, vinegar, salt, pepper, cayenne pepper, and chili powder.
In a large bowl combine cooked and cooled pasta with diced bell pepper, green onions, and browned kielbasa. Stir in the dressing you made in step 3.
Store in the refrigerator until you're ready to use it. If the pasta has been in the fridge for a while, stir in 1-2 two tablespoons of warm water before serving to get a creamy consistency again.
CENTERCUTCOOK SPONSOR