If you follow me on Facebook or Twitter, you already know that last week I had the privilege of attending BlogHer '13! For those of you that aren't familiar, the BlogHer conference is held each year and it attracts thousands (literally) of bloggers, the large majority are women from around the World (Surprisingly, there were a few brave men who attended too…)!
Now, for someone who is a tad on the shy side (me!), and more of an introvert (me!), I'm not going to lie, I was N-E-R-V-O-U-S at the thought that I did not know a single person that was going to be there. As it turned out, there was absolutely no reason to be nervous. I had a great time and met so many truly amazing people!
Today I thought I'd talk a little bit about my experience, and share some of the highlights!
Sweet Beginnings at Wilton
BlogHer 13′ started out pretty darn sweet! I was invited to attend an event at Wilton, yes THAT Wilton! From candy melts and cake pans to cupcake liners and parchment paper, they pretty much own the world of all things sweet and delicious! Fact: my favorite cookie sheets are made by Wilton: http://bit.ly/12j7baU
A group of about 30 different bloggers were treated to a fabulous afternoon where we learned all about Wilton, toured their test kitchen, got a peak into their decorating room (holy moly, their decorators are talented), and participated in some hands-on decorating demonstrations.
Here's the whole group, and in case you're wondering where I am, I put a little box around me. I was in the second row so you really can't see me. :)
Ahhhhhh! Sprinkles, sprinkles, and MORE sprinkles! Look at this adorable set-up. This was the first little mini-class I got to participate in. It was a decorating contest and we got to get creative with frosting and loads of sprinkles. Yes, I said frosting and loads of sprinkles! My kind of activity!
Then we moved on to buttercream! I love me some buttercream…. Look at those cute rosettes! I see lots of rosettes in my future. They are super easy to make, and they look impressive, don't they?! Bonus: I learned how to avoid "tails" like what you see on the rosette to the left so now I can make pretty, professional rosettes!
I think my favorite part about the whole trip was getting to take a peak inside their decorating room. Talk about talent… wow! I do not know where the decorators get their inspiration, but the projects they are working on are amazing!
We wrapped up our day at the Wilton School of Cake Decorating and Confectionery Art (if you want to learn how to become a cake decorator, this is where you go!). They sent us on our way with bags full of goodies. I think they want us to get in the kitchen and bake, don't you?
Thanks Wilton, I had a great time!
Honestly Good…with Lean Cuisine
On Friday I was invited to attend a special lunch hosted by Lean Cuisine and their new collection of Honestly Good meals. I was pleasantly surprised at how much I learned and I walked away with a new respect for what they do. Check out the adorable place setting:
Lean Cuisine's Culinary Round Table spent the lunch hour explaining their fresh approach to frozen food. We sampled various grains (red & white quinoa, barley, farroto, rye and wheat berries) and sauces, and I learned that farroto belongs in my kitchen! Have you had it before? It's delicious!
Then we sampled two of the new meals that are part of their new Honestly Good line of products. Both the pomegranate chicken and the lemongrass salmon were flavorful, fresh, and delicious! I was shocked at the vibrant, bright vegetables and hearty grains that were included with the meals. I honestly didn't feel like I was eating frozen food. Consider me impressed.
We ended with dessert. I can't remember what they called this, all I know is that it tasted like chocolate cake, yet black beans was included on the ingredients list! Yes, black beans in dessert, and it was delish!
New Friends…
I'm going to back track a little bit back to the first day of the conference when I didn't know anyone. Not a single person there.Two of the very first people I met were Kim and Cheryl who were kind enough to let me be their third wheel for the first hour of the day. I appreciated their friendliness, more than they'd ever know! Within the first hour, Kim stumbled upon Jamie and introduced me to her.
Jamie and I quickly discovered that we are from the same town, and that we were both former Catholic school teachers. How crazy is that? Eventually Jamie introduced me to Jenna and the three of us spent the next two days enjoying the conference together . Have you ever met someone before, where it feels like you have known them much longer than you really have? That's the way I feel about Jamie and Jenna and I am so excited to have met them! :)
Oh, and then of course I totally got my picture taken with my BFF, Ree (The Pioneer Woman)! Okay, she's really not my BFF but I feel like she could be. I just adore her, and I was so excited when I had the opportunity to have my picture taken with her.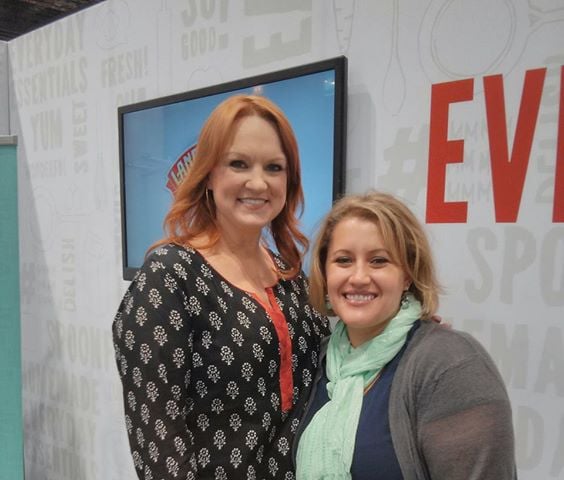 Other highlights included meeting Amanda, hearing Facebook COO Sheryl Sandberg speak, and attending my first BlogHer fashion show.It was an amazing time and I can't wait to experience another blogging conference! Next year I am thinking I'll be going to BlogHer Food in beautiful MIAMI!