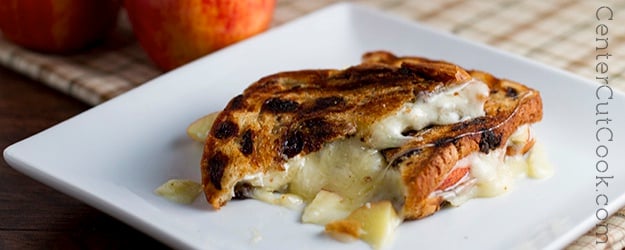 When it comes to cheese, I have to say, I haven't really come across a variety that I haven't liked. You name it, I love it – gouda, manchego, gruyere, and the list goes on and on, and on. Despite the fact I love just about any cheese I sink my teeth into, I am partial to a couple varieties, namely Havarti (Sidenote: Two of my favorite recipes that include Havarti – Creamy Havarti Macaroni and Cheese and Havarti and Roast Beef Panini's!). The best way I know how to describe Havarti cheese, if you haven't had it before, is creamy and mild, which is why it is the PERFECT choice for so many recipes!
Over the summer I was introduced to the brilliant combo of havarti cheese and apples sandwiched between raisin bread (Thanks Lisa!). I know, it sounds a little questionable! But, let me tell you that once I got past the weirdness of combining cheese and apples on raisin bread, and I actually tried the sandwich, I fell in love! Now it's on my list of favorite sandwiches ever! When I first tried these tasty little sandwiches, they were served cold, which is perfect for the summer months! But, now that it's fall, I decided to put a new twist on the sandwich and try making it grilled cheese style. All I can say is… phenomenal! Even my hubby enjoyed the sandwich(es) … he ended up eating two for lunch one day.
If you're looking for something to spice up lunch or dinner in your house, look no further. This sandwich is a winner! I recommend using a tart apple like a Granny Smith, but I had Honey Crisp on hand and used those and it was still tasty. Make sure to cut the apple slices pretty thin so that they lay on the bread nicely. One apple is enough for about 4 sandwiches, give or take.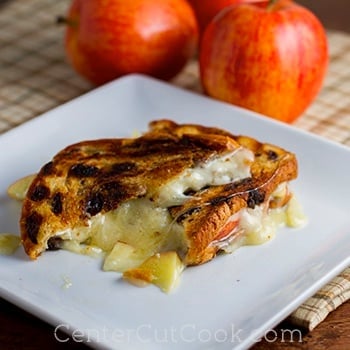 INGREDIENTS
Granny Smith Apple, sliced thin (1 apple was enough for about 4 sandwiches)
Butter
Havarti Cheese – 1-2 slices per sandwich
Raisin Bread
DIRECTIONS
Pre-heat a large non-stick skillet or grill pan to medium heat.
Spread butter on each slice of bread, only on the side that faces out (think grilled cheese).
Place a piece of bread, butter side down on the skillet. Add a slice of havarti cheese to the bread, then arrange the apples on top. Add a second slice of havarti cheese on top of the apples (if desired), then top with the second piece of raisin bread, buttered side-out.
Cook until the bottom is golden brown, then flip the sandwich and cook until the other side is golden brown and the cheese is melted and the apples are slightly heated through. Sometimes I use my spatula to press down on the sandwich to get the panini look.
Cut in half and serve immediately.
Recipe from
CenterCutCook