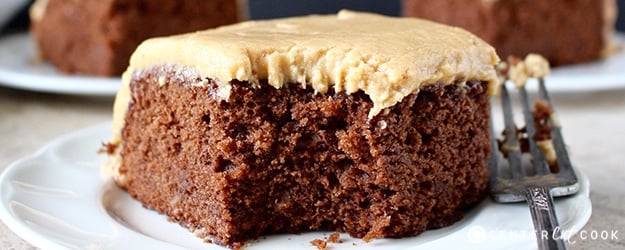 This Hot Fudge Cake has three types of chocolate in it making it ultra chocolatey and delicious! Topped with smooth, sweet peanut butter frosting, Hot Fudge Cake is a classic combination that everyone loves!
Hi everyone! I'm Jessica (or Jay) from Jay's Baking Me Crazy, where I share healthy meals and sweet treats. I'm happy to be visiting Ashley's blog today and sharing this Hot Fudge Cake recipe with you all. This cake is so delicious and so easy to love! The chocolate and peanut butter are in perfect balance- neither one overpowering the other and they combine for the ultimate bite.
Why this Hot Fudge Cake is so amazing:
Triple chocolate, triple delicious! Hot fudge, melted chocolate bar (or chips), and cocoa powder make this a chocolate lovers dream!
The cake is dense, not too rich, and very moist from the buttermilk.
The frosting- the sweet, creamy, peanut butter frosting melts in your mouth and is good enough to eat with a spoon.
It is so simple to make and will become your go-to recipe. It even had non-peanut butter lovers raving and going back for seconds.
It is simple enough to make everyday, but delicious enough for special occasions.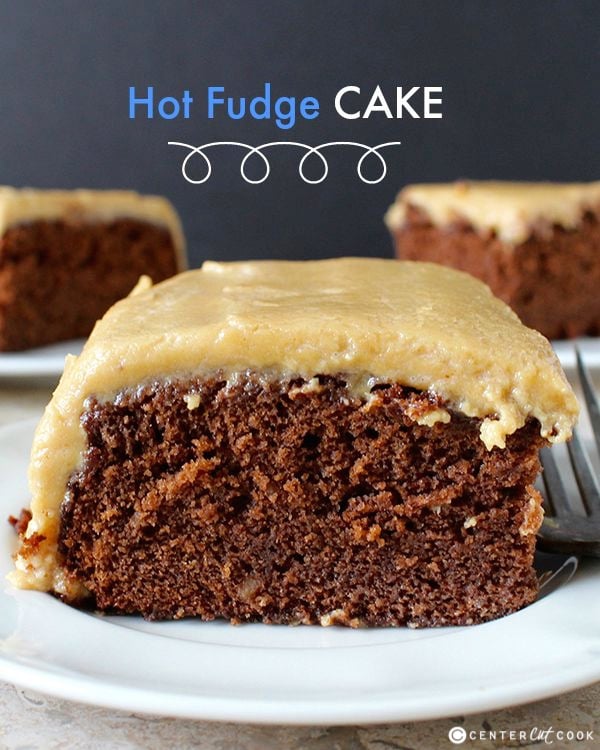 I have made this Hot Fudge Cake more than once and everyone I shared it with absolutely loved it! I know you will love it just as much.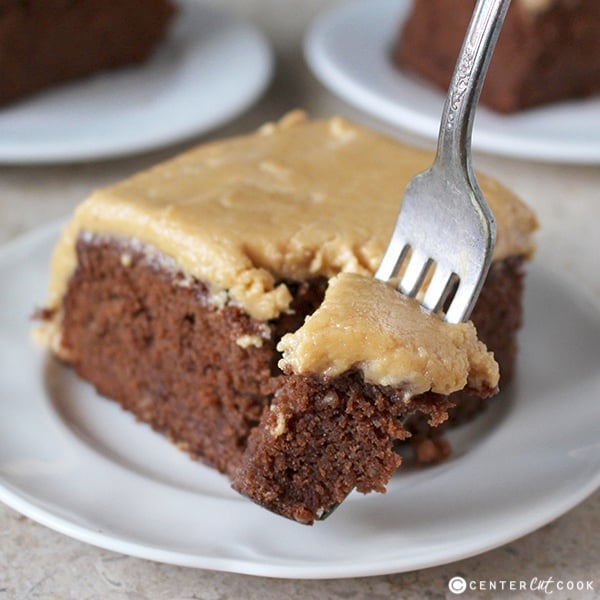 CAKE INGREDIENTS
1 cup hot fudge sauce
5 ounces chocolate (chocolate chips or a chocolate bar will work)
1 cup buttermilk
1/2 teaspoon baking soda
2 cups granulated sugar
1 cup butter, room temperature
1/4 cup cocoa powder
4 eggs
2 1/2 cup flour
FROSTING INGREDIENTS
1/2 cup butter, room temperature
1 cup smooth peanut butter
3 cups powdered sugar
5-6 tablespoons milk or heavy cream, as needed
DIRECTIONS
Preheat oven to 350° and line a 13×9 with foil or parchment paper and spray with non-stick spray.
Combine hot fudge and chocolate in a microwaveable bowl and microwave in 20 second increments until fully melted. Make sure to stir well every 20 seconds so it melts evenly. Set aside.
Measure out the buttermilk in a measuring cup and add the baking soda. Stir and set aside.
Cream the butter and sugar together until light and fluffy- about 3 minutes.
Stir in the cocoa powder and mix until combined.
Add the eggs, one at a time, until all are mixed in.
Stir in the melted chocolate mixture.
Mix in flour and buttermilk, half at at time, until all is combined.
Pour into prepared pan and bake for 50-60 or until toothpick inserted in the center comes out clean.
Bake for 50-60 or until toothpick inserted in the center comes out clean. Let the cake cool before frosting.
To make the frosting: In a large bowl, beat butter and peanut butter together with a mixer until fluffy.
Add in the powdered sugar, one cup at a time.
Add in the milk or heavy cream, one tablespoon at a time until desired consistency is reached.
Spread over the cooked cake.