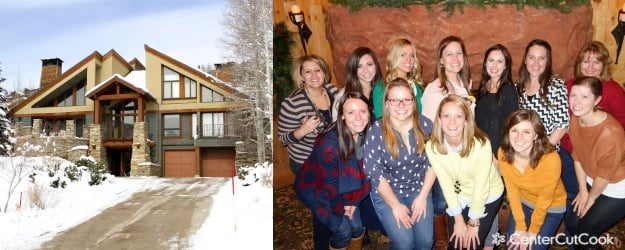 Last month I had the opportunity to spend a weekend in the gorgeous snowy mountains of Park City Utah at Deer Valley Resort with a group of some of the nicest women I've ever met. They all happen to be food bloggers too which meant that our weekend was packed to the brim with eating, laughing, talking, more eating, and more laughing. The entire weekend was made possible thanks to an enormous amount of work from the lovely Carrian from Oh Sweet Basil who organized every last detail, along with generous sponsors who I'll mention in a minute….
Deer Valley was kind enough to arrange our lodging and put us up in the most gorgeous home for the weekend! It was plenty big for all 13 of us with a beautiful kitchen that was the center of attention all weekend long! Pictured above, front row L to R: Kristy, Megan, Lauren, Becky, Lauren; Back row L to R: Yours Truly, Nikki, Alyssa, Annalise, Carrian, Deborah, Barbara. Not pictured: Poor Meagan had the worst travel difficulties and didn't make it until later that first night.
I have to admit, I was a liiiiitttle bit nervous about this trip because I had never met any of these ladies in 'real life.' Friday morning I kissed Ryan and my little pups good-bye and took a non-stop flight from Chicago to Utah. I arrived just in time to meet up for lunch with all of the retreat gals, along with Maria, Heidi, and Kelley at Vinto!
Once I started chit-chatting with all of these beautiful ladies, I realized I had nothing to be nervous about. We indulged in wood-fired pizza, salads, and plenty of sweet treats. My fave was the Butterscotch Budino – Italian pudding with salted caramel sauce and fresh whipped cream. Yum!
After lunch, it was time to head up to our home for the weekend! Look at this beauty! I couldn't get over just how gorgeous this home was, especially with the snow covered trees sprinkled around the property. It was the perfect setting to get inspired, which was the goal of the weekend.
Sometimes, as a blogger, it's easy to get overwhelmed with stats, social media, sponsorships, and trying to come up with the latest and greatest recipes. This weekend was about putting all of that aside to just connect and build friendships with other food bloggers who I now consider dear friends.
We entered the home to discover that a couple of Santa's elves from Rod Works had come in the night before and worked their magic to create a Christmas wonderland. To say it was gorgeous would be an understatement! They sure know how to do home decor right! It truly made the home feel so cozy, welcoming, and festive! Cute little gift bags with gift cards were left behind for us. I've been browsing their website trying to determine what I should buy, but I just can't decide! There are too many cute options!
THE SWAG…
Eventually I made my way to my bedroom for the weekend where I discovered this cute bag with my initials, sitting on the bed. I peaked inside and it was like Christmas morning! So many fabulous goodies were packed inside from generous sponsors.
The swag, oh the swag! It was so fun to go through and see who had sent a little something our way for us to enjoy. There was the most beautiful wood cutting board from Red Maple Run, a gorgeous purple scarf from Grace & Lace (having just watched the Shark Tank episode they were featured on just days before arriving, I was SO excited!) and cozy comfy pajama pants from Plum Pretty Sugar.
Brin and Bell sent over lovely necklaces for each of us and Nature Box provided us with a box of nutritious snacks to keep us energized.
That's not all! We were so spoiled. Real Salt gave each of us four different salts to sample, there were spoons from Vintage Silverware (as a food blogger, I felt like I hit the jackpot!), a box of goodies from Beauty Box 5, Emergency Fashion Kits, and a kit to make homemade turkey chili from Deer Valley. Like I said… spoiled!
FRIDAY NIGHT DINNER
For dinner on Friday, we headed off to Deer Valley's Mariposa where we noshed on Oysters, Lobster Chowder, Sea Scallops, and Bison Fillet. It was my first time trying Bison Fillet and it did not disappoint – it was tender and delicious! We dined in a stunning, cozy dining room with a crackling fireplace. Everything from the way the food was prepared to how it was served to us was top notch.
Back at the house that evening, there was plenty of girl talk while we munched on treats from Krusteaz. It was Friday night's after dinner chat when I realized how lucky I was to be spending my weekend with such talented bloggers who also happen to be genuinely good people.
SATURDAY
Saturday morning started out with a fabulous yoga session from Lole. I woke up with a terrible migraine (adjusting to higher altitudes perhaps?), and missed out. I adore yoga, and was so sad I missed it!
Breakfast was perfect, thanks to Pacific Foods, Real Foods Market, and Charming Beard Coffee. Lots of fresh fruit, homemade granola and yogurt to make parfaits, and muffins! I could eat yogurt parfaits with granola and fresh fruit every.single.day. Love it!
SATURDAY MORNING SKIING
After breakfast on Saturday, it was time to hit the slopes! I have never been skiing in my life, so I figured I might as well take the opportunity to try it if I'm staying at a ski resort! Truth be told, I was terrified but I knew I'd regret it if I didn't at least try.
Skis on the Run hooked all of us up with the gear that we would need – skis, helmets, boots, coats, snow pants, you name it, they had it!
Ultimately, I learned that skiing is just not my thing, but I was happy I tried, and at Deer Valley no less!
SATURDAY LUNCH
Saturday lunch was awesome! I came back from skiing and whipped out the Wusthof Kinves to slice up an assortment of cheeses from Heber Valley Cheese to prep for our insanely delicious grilled cheese bar! Just look at all of those toppings! Bacon, avocado, fresh tomato slices, basil, turkey, yum! And then of course we had the most wonderful selection of oils from Star Fine Foods to slather on each piece on bread before grilling our sandwiches to perfection.
Grilled cheese sandwiches would not be complete without homemade tomato soup and chicken noodle soup. This lunch was to die for!
SATURDAY DINNER
Saturday's dinner was at Riverhorse in Park City and let me tell you, it did NOT disappoint. The ambiance, the food, the service, all of it was right on par with the best that I've experienced in some of Chicago's finest restaurants. While every.single.thing we had there was amazing, the desserts were by far, my favorite. Apple strudel, Death By Chocolate, and the list went on and on. They really outdid themselves, and if I ever make it back to Park City, a stop at Riverhorse will definitely be in order.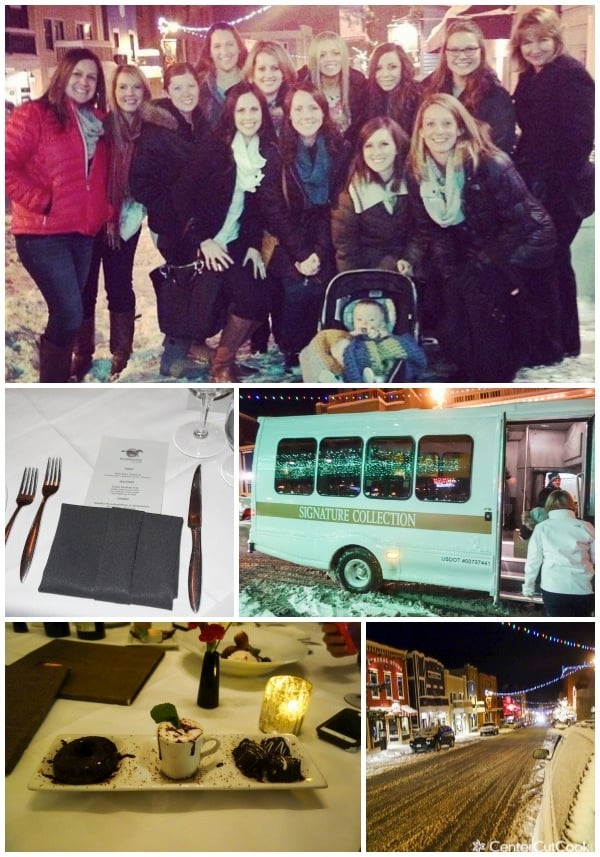 SUNDAY BREAKFAST
Sunday's breakfast sponsored by the lovely folks at Real Foods Market was the perfect way to end a perfect weekend at Deer Valley Resort. Homemade chicken and waffles with fresh berries? It doesn't get much better than this! It was one last time for us to gather together before everybody went off their separate ways.
SUNDAY LUNCH/HEADING HOME
Whole Foods in Park City was kind enough to drop in right as we were departing on Sunday to leave a little lunch for us to take with us on our journey home. The cute little Asparagus reusable bags totally won me over! How cute is that? They served this insanely delicious quinoa salad that I have since replicated and can't wait to share with you!
WRAPPING IT UP
I was so sad to see such a wonderful weekend come to a close, but I walked away feeling inspired, and thankful to have met such wonderful women in the food blogging community. Deer Valley was the most perfect setting for all of this to take place and I feel blessed to have had the opportunity to be a part of it.