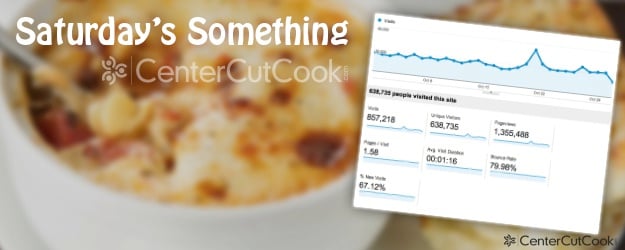 Hey guys and gals! It's been a while since I put together one of these Saturday's Something posts. This is my time to step away from food and recipes to talk to you about what's been going on in life! Before I get to that, I thought I'd post an update on how things have been going, in terms of traffic for CenterCutCook since it's been a few months since I've done that.
The last update was after my Chocolate Lasagna recipe went viral and was viewed nearly 500,000 times in a single month (this made my little heart happy!). CenterCutCook hasn't had a month that topped the 1.7 million page views we received in April, but it continues to grow even though the traffic to the Chocolate Lasagna has leveled off.
For last month, October 2013, there were 857,218 visits and 1.35 million page views! I frequently get asked how much traffic the Chocolate Lasagna recipe is still receiving since it went viral 7-months ago. Last month it received 139,000 pageviews putting it at about 10% of my total traffic. It was the most-trafficked recipe, but was closely followed up by yummy Baked Potato Soup, Edible Chocolate Chip Cookie Dough, Lasagna Soup, and Tortilla Soup. Clearly you are all turning to soups to warm-up with the seasons changing! The other thing that I am happy to see is that both the Homepage and Recipe Index are in the top 10 most viewed pages. The reason this is important to me is that it means you are browsing through our other recipes when you're looking for something to make, and when I started CenterCutCook, that was the kind of thing I was hoping would happen!Here's an overview of what the traffic looked like for the month:
If you look at the tail end of the graph you can also see that the last day of the month dipped down to 34,000 page views and I'm blaming Halloween! I'm guessing that a lot of you opted not to cook that night since you were probably enjoying a wonderful cocktail of candy for dinner. ;) After all, parents have to "check" the candy that the kiddos receive, right?
Over the summer I started to focus my efforts on diversifying my traffic, and started off by targeting Facebook, Pinterest, and search engines. From a social network perspective, Facebook and Pinterest now make up a combined 45% of my traffic:
If social networks make up less than half of my traffic, where's the rest coming from? The remaining visitors are either coming directly here or are coming from search engines, such as Google. Here is a breakdown of the traffic sources:
Facebook: 34%
Search Engines: 33%
Direct to our site: 18%
Pinterest: 11%
Other sources (Foodgawker, Tumblr, etc…): 4%
Search traffic alone is making up anywhere between 12,000 and 20,000 page views each day which I am very happy about!
I can't tell you how happy it makes me to see that hard work is paying off, and that visitors that come here are able to find recipes that they enjoy and want to share with others! CenterCutCook's two year anniversary is right around the corner and I couldn't be more pleased with how it has progressed. :)
Okay, enough of that traffic stuff! Let's talk about life! Are you following me on Instagram yet? If you are, you've already seen some of these pictures. If you aren't, click here and start following me already, k?
Ryan and I have been going on lots of walks and I just adore the fall colors. I snapped this picture on my walk home from the gym earlier this week because I loved how the sun was peaking between the tree branches.
My new favorite OPI nail color for fall… It's called "You Don't Know Jacques" and it's more purple than brown, but just perfect for this time of year. Click here for the link if you want to buy it.
With the chilly weather, I find myself sipping cups of warm Cinnamon Apple Spice tea in the afternoon as I work. There's something about the smell and warmth of Cinnamon Apple tea that I can't get enough of.
I spotted these Snapea Crisps at the grocery store last week and decided to buy a bag, and now I have deemed these guys my new favorite snack. Crispy, crunchy, yum.
I almost forgot to mention my new favorite cupcake – Banana Bread Cupcakes with Peanut Butter Frosting! Simple and scrumptious! Have you tried them yet? Click here for the recipe.
What have you been up to lately? Do you have a new favorite snack? New favorite cupcake? Let me know in the comments below! I love to hear from you. And thanks so much for reading, commenting, and sharing! XOXO ~Ashley