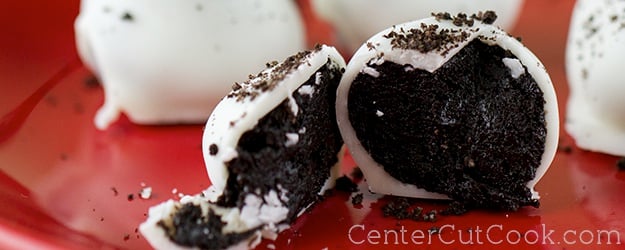 I have to admit, I'm not much of a fan of Oreo cookies by themselves. I can't even tell you the last time I bought a package of Oreos, just to eat. But the thought of an Oreo in truffle form enveloped in white chocolate sounded delicious, and I couldn't pass up the chance to give this recipe a try.
These bite-size truffles require only three ingredients. Yes, 3! That's it. And they look quite impressive and might give people the impression that you spent hours in the kitchen whipping up these little beauties. Each batch makes around 36 truffles which sounds like a decent amount, but trust me in that they don't last. If you'll be using these for entertaining or gift giving, you may want to double the batch.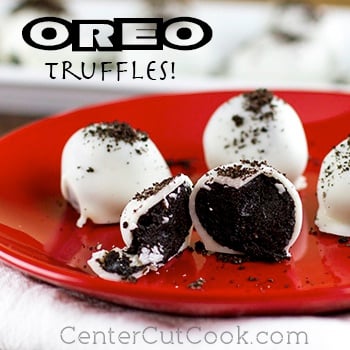 INGREDIENTS
1- 8oz package cream cheese
1- 15 ounce package Oreo cookies finely crushed (about 36 cookies) – divided
1- package vanilla flavored almond bark or white chocolate chips (I used the vanilla almond bark with good results)
DIRECTIONS
Start by crushing one package of Oreo cookies (do not buy Double Stuff Oreos, just plain ole' Oreos will do the trick) by using a rolling pin, or a food processor. Reserve a tablespoon or two of the crushed Oreos to be used as garnish.
Mix one package of cream cheese in with the remaining crushed Oreos until blended well.
Shape mixture into around 36-40 balls
Refrigerate balls for around an hour to help firm them up. This will make them much easier to work with for the next step.
Melt your almond bark or white chocolate chips and begin the process of dipping each Oreo ball into the chocolate. Using two forks during this step will help you get the balls coated evenly.
After coating 1-2 balls in almond bark, sprinkle some of the crushed Oreos on top of each truffle (you reserved these during step 1). This is what makes them look all fancy!
Recipe adapted from Kraft Foods