Happy Monday to you! I'm usually not a Monday loving kinda girl, but I'm sort of happy that it's Monday this week. It's a fresh start and I'm in need of that. I am back after taking a couple weeks off. If you don't follow me on the CenterCutCook Facebook page, I lost my dear Mom about two weeks ago. She was 63 years young, and peacefully died in her sleep while in the hospital for a broken foot. It caught us by surprise, because of the reason she was there, but my Mom had quite the history of health problems including congestive heart failure, and diabetes.
We've been on a roller coaster ride with Mom over the last six months, but really, over the last 8-9 years. In August she almost lost her leg due to a very serious infection in the heel of her foot. She was recovering well from that, with the help of a wound vac, and her foot surgeon was so pleased with how her foot was healing. Then in November, she stopped breathing and was on a ventilator for a couple of days, but came off just fine and made it home in time for Christmas. She was doing well, all things considered, but then fell and broke her leg, foot, and ankle and wound up back in the hospital again. It seemed like any challenge that was thrown her way, she was able to overcome it.
Because my Mom died in the hospital, they did an autopsy to confirm why she died. Originally they thought maybe blood clots, but that was ruled out and they determined it was heart related. The coroner, so sweet though, explained in detail their findings and left me with one piece of advice. She said "Ashley, if I could give you one piece of advice, it's this:Know your family history, see a doctor regularly, eat well and exercise." All my family can do is learn from this. Losing my Mom has presented a a new pain I've never experienced before, and I don't think the ache of my Mom's absence will ever go away. But, I am going to learn from this, and I hope that by sharing this, someone else can learn too.
This is heavy stuff for a food blog, I know, but I think it's worth sharing. If you haven't been to the doctor in a while, go. If exercise just isn't your thing, try to start small and go for a short walk around the block. If the craziness of life leaves you feeling like there's no time to cook, so you turn to fast food, try replacing one meal eating out with one meal in and go from there. There are SO many easy meals that you can cook, or you can let a slow cooker do all the work for you! Over the coming weeks and months I'll be sharing more easy recipes that can be made quickly for busy week nights so that there's no excuse. We all deserve to live a long healthy life, and a huge component to that is eating well.
Thanks for hangin' in there with me…. now lets talk about Perfect Smoothies!
My Vita-Mix Blender is one of the MOST used appliances in my house. They're pricey, I know, but I bought one shortly before I had major jaw surgery about a year ago and it has turned out to be one of the best investments I've made.. It is SO powerful, and makes the most amazing smoothies. A couple of weeks ago when I was in Costco, they had the Vita-Mix roadshow going on. I stopped to watch, just because I like getting new ideas for things to try. The demo I happened to stop for was for these Perfect Smoothies.
Let me start by saying that these smoothies do NOT look pretty. But, they are chock full of fruits and veggies and DELICIOUS! I know it's a little hard to consume something that doesn't really look good, but trust me on this one. This is the easiest way I know of to consume 7 fruits, and 2 veggies, in one sitting.
Fruits: Grapes, cantaloupe, banana, apple, pineapple, strawberries, orange
Veggies: Spinach and Kale
I know, spinach and kale in a smoothie? Guess what, you don't actually taste them if the smoothie gets blended well.
The simple rule with smoothies is that… there is no rule! Use fresh or frozen fruits (although always start with fresh grapes), and add in a little protein powder if you'd like. Really, your options are limitless and it's hard to go wrong. I just love this combo though, and I think you will too.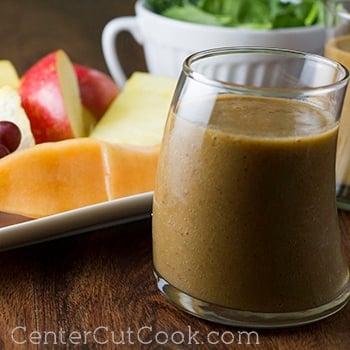 INGREDIENTS
3/4 cup Grapes
1 slice cantaloupe
1/2 banana
1/2 apple
1/2 inch thick slice pineapple
10 strawberries
1/2 large navel orange
Handful spinach
Handful kale
Tablespoon honey
Pinch of cinnamon
6 ice cubes
DIRECTIONS
Place all ingredients in the blender, making sure to start with grapes on the bottom, then blend until smooth. You can swap in or out any fruits you'd like, just make sure you always start with grapes on the bottom.
*Note – blend for about one minute to get the best consistency.
Recipe from
Vita-Mix Roadshow