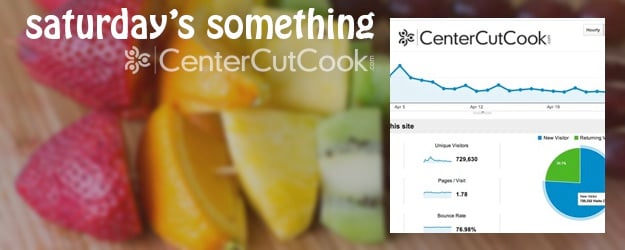 Welcome to CenterCutCook's Saturday's Something! This is the one time during the week where I will talk about anything and everything my little heart desires, and often times, it will have absolutely nothing to do with food or recipes! This week, I wanted to dedicate an entire post on my little corner of the Internet to thank YOU for a record breaking month!
CenterCutCook has been around for about a year now, and each month I have been pleased with the progress. But this month, there are no words for what a great month it was! With 729,630 unique visitors and almost 1.7 million pageviews, I couldn't have asked for anything more!
The overall star of the month, by far, was this recipe for Chocolate Lasagna, but there were some other stand-out recipes too.
Also worth pointing out, the Chocolate Lasagna print page was viewed 44,925 times! That's a lot of printing of Chocolate Lasagna, not to mention a lot of trees that were sacrificed, all in the name of a delectable chocolate dessert! Another popular page was the
Recipe Index
, and for good reason! That's where you can go to view every single recipe on CenterCutCook.
There were times throughout the month that we'd log-in to Google Analytics to find 1100+ people on CenterCutCook at any given time. I remember when I was super thrilled to have 1100 pageviews in a day, so to see this was really exciting. Ryan (my #1 taste-tester, hubby, and official CenterCutCook IT guy) kept on top of our server performance to ensure there were no hiccups. It purred like a kitten all month long, even on the day where we hit 149,000 pageviews!
Social media also proved to be an especially useful tool with 396,571 page views from Facebook and 122,524 from Pinterest. Lesson learned: Never underestimate the power of social media! I can only imagine what my Facebook pageviews would have been if everyone that posted my Chocolate Lasagna image had properly linked to the original source . My image and recipe was all OVER Facebook, and usually with no credit to CenterCutCook. There were even people that took great lengths to make my image appear as their own by cropping off my watermark (grrr… very frustrating!). Despite this, it was still a fantastic month in terms of referrals from social networks.
If you're still reading all of this geeky stuff, I am impressed! I won't continue on any longer. Just know that I truly appreciate the fact that you're a fan of CenterCutCook and I love each and every one of you. And thank-you, to all of you who take time to send me emails, leave comments on the blog, and share my page with your friends on Facebook! It means a lot!
I've got a lot of great recipes in-store for May, and even a little giveaway planned! It's going to be a great month! :)
xoxo,
Ashley
P.S.: Did you notice our new logo? That's new too!