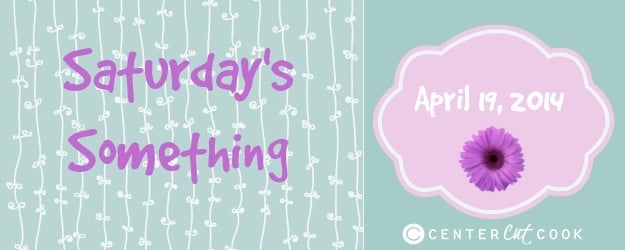 Hey you guys! Happy Saturday! Welcome to this week's edition of Saturday's Something, my time to share a glimpse into life outside of the kitchen. I've got 10 things to share with you today, so let's get right to it:
Chemo #6 is scheduled for this Tuesday! That means after this week, Ryan is halfway done with chemo. Yahoo! We generally know what to expect as far as side effects so that helps. I feel bad he has to go through all of this, but I still believe everything happens for a reason.
I'm 23 weeks today, holy moly, time flies. Remember when I told you guys I was pregnant? That feels like yesterday. I'm starting to feel the baby move more and more which makes it feel so much more real.
Our baby shower is coming up which meant that I needed to get a registry put together. Oh my gosh, the stress! It is so overwhelming the amount of baby products that are on the market. I did not realize how stressful it is to get a registry put together. Maybe it's just me? My head was spinning the entire time wondering which brand was the best and if we really need this or that. Just deciding where to register was a predicament. I registered only at buybuyBaby but am now wishing I had done Amazon too just because some of the times I wanted, buybuyBaby doesn't sell.
One of the most helpful resources I've come across are all of the product and video reviews from Baby Gizmo. If you are a Mom or a mom-to-be, go check it out. I can't tell you how long I spent on The Baby Gizmo YouTube channel watching video reviews! I spent hours just watching stroller videos alone. A friend told me buying a stroller is like buying a car and now I see what she means. The options are endless an all of the reviews definitely help.

Our new favorite dessert: Chocolate Lasagna Parfaits. Oh yes. I took the ever-so-popular Chocolate Lasagna and turned it into cute little parfaits. Everyone loves getting their own individual dessert, right? Click here for the recipe.

Did you catch our news? We had such a fun gender reveal party with our families and got to share this:

Are you following me on Instagram yet? I'd love to have you follow along. I share everyday pics, along with tantalizing food photos too. :) Click here to follow along, Instagram is free!
I've been looking for a way to organize my jewelry and I think I finally found something I like. It's this jewelry tree I bought at Target. I couldn't find the exact one I bought on their website, but it's similar to this one. I like to buy fun cheap fashion jewelry, usually from Charming Charley and I was running out of places to put it. This is perfect!

I was really touched by this story. Definitely worth reading.
All week I have been helping Carrian from Oh Sweet Basil celebrate her 30th birthday. The giveaways have been phenomenal and there is still time to enter, so please don't miss out!
That's all I've got for you this week! In the comments below, feel free to let me know where you like to shop for baby and children's clothing. I don't plan to go crazy, but I'd like to find some go-to stores for cute boy clothes.
Have a great weekend!
xo,
Ashley