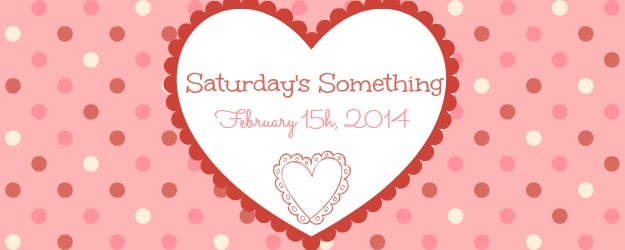 Hey you guys! Happy Saturday! How was your week? I'm not asking just to ask, I'm really wanting to know. :) Leave me a comment below and tell me something good that happened this week. Or, tell me something about yourself. I'll get us started by telling you something good that happened to me this week. Warmth! On Thursday the temperature here in Chicago got up to a balmy 30 something degrees. Holy moly guys, was it nice. This winter has been b-r-u-t-a-l. Can you relate? Arizonians (is that what you call yourselves?), please don't chime in and tell me about the flip flops you got to wear this week, unless you plan to fly me down with my suitcase full of sandals and flip flops. Next week I hear we might even see some 40 degree temps. Woah, time to get out the shorts and t-shirts. ;)
In other non-weather related news…..
That's Baby Wagner saying hi to you. This was from Baby's second photoshoot last week. I am 14 weeks today and doing good. The fatigue seems to be getting a little better, as in, I'm not falling asleep at the keyboard anymore, although there's no relief in sight for the dry-heaving. I can't get over how intensified hunger is during pregnancy. I'll wake up in the middle of the night and have to go downstairs to eat a snack or else the heaving will start. Speaking of snacks in the middle of the night…
TRUTH:
I'd really prefer to not get out of my warm cozy bed to go grab a snack in the cold dark kitchen. Thank goodness for refrigerator lights!
In other news… TWO THUMBS UP (errrrr one thumb up!) for getting chemo started. This was Ryan's first chemo a couple of weeks ago. What a total stud I am married to. ;)
PS:He saw me writing this post and said "you're not really including that picture of me, are you?" Yes, yes I am. Sorry babe.
The first round was pretty uneventful. He has to wear a chemo pump at home for 48 hours after which comes in a sweet fanny pack. The only thing the fanny pack is lacking is bright neon colors (think 80's), otherwise it'd be perfect. ;)
Chemo #2 was supposed to be this past week but…. Ryan's white blood cells decided to not cooperate. The audacity! They were toooo low for another round of chemo. Bummer! We were hoping to keep him on schedule but no such luck. We are going to try again next week with a couple of tweaks to the drugs he gets.
The good news? He has been doing SO good and feeling 100%! I can't tell you how nice it is to see him feeling like himself after SO many weeks (7 weeks!!) of feeling sick and blah.
He's feeling good just in time for Girl Scout Cookies.
Girl Scout Cookies!!! These were sent to me from the Girl Scouts of the Green and White Mountains as a thank-you for giving them permission to use my Samoa's Truffles recipe on this news segment.
These two boxes lasted two days in this house. Not kidding. Embarrassing!
Do you have a favorite?
——
Did you guys know that I have the option for you to sign-up for free email updates? If you haven't signed up yet, I'd encourage you to do that here. It will always be free and you can always easily unsubscribe if you get sick of me. :)
Have a great week!
XO,
Ashley
PS: Happy Valentine's Day a day late! I hope you felt super loved and all warm and fuzzy inside. Or at the very least, I hope you enjoyed a yummy sweet treat like these yummy homemade peanut butter cups.