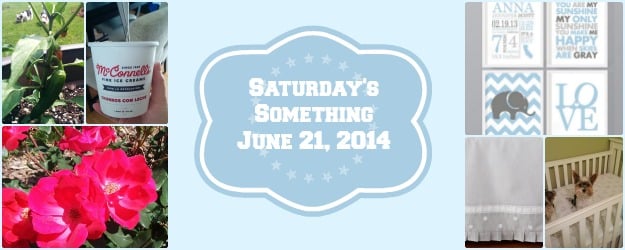 Hey you guys! Happy Saturday! Welcome to this week's edition of Saturday's Something, my time to share a glimpse into life outside of the kitchen!
1. Last Sunday was my birthday. We hadn't made any plans, just because we didn't know how Ryan would be feeling, but it turned out to be a great day. Ryan was feeling good aside from some bone pain in his back from a shot that he gets to boost his white blood cell count. He got up bright and early (like 5:30 am because we were both awake and couldn't sleep) and made me pancakes from scratch (kind of a big deal, Ryan doesn't cook), then for lunch we went out for Mexican food because I had been craving it for weeks, and ended the day indulging in some of this insanely delicious Churros Con Leche ice cream. Um yes, it was as good as it sounds. :)
2. Pregnancy- I am 32 weeks today! 8 more to go…. This week has been the first week of my pregnancy so far where I've just been really blah and not really feeling it. In the beginning during the "blah" weeks is when Ryan was first diagnosed with cancer, so I was running on adrenaline and really didn't pay much attention to how yucky I felt. This week though, I am really feeling it! I had two pretty useless days where I just had no energy, I was achy all over, and just not feeling good. I had six recipes I was going to make and photograph this week and guess how many I got done? Zero, zilch, none! I've been planning ahead so that I can take a little time off when the baby comes, so I was supposed to be making pumpkin cream cheese muffins, pumpkin bars, and all kinds of pumpkin goodness to share with you in October… but it didn't happen which means I will be very busy next week.
3. And speaking of Ryan… chemo #9 is on Tuesday. Just another round or two of chemo before they do another scan to see if this new chemo is working. Hopefully it's evicting the cancer from his lungs and the lymph node in his abdomen! Keep the prayers coming, we appreciate them so much! Go Team Ryan!
4. We've got a bunch of these knockout rose bushes growing in our yard and I am just loving all of the color and pretty flowers!
5. We got our crib put together! Hurray! And of course, our first born children had to check it out first. ;) Lila and Mali are very curious about all of the new "stuff" that we've been accumulating. They are smart little girls, I think they might know they've got a little brother coming. Now that the crib is assembled, it's becoming so much more real. As though it wasn't already real… this little boy has been having a dance party in my belly just about every day reminding me that he is in there and I love it.
6. What is it about being a Mom that makes you want to have everything perfect for your child? I've never ironed bed sheets before, yet I felt compelled to iron Baby Boy's sheets. I know there will be no time for ironing bed sheets once he arrives, but at least he'll come home to freshly ironed sheets in his crib, right?
7. Speaking of sheets and bedding…. this is the crib skirt we picked out to go with the sheets. The walls in the nursery are green, so we're going with a grey and baby blue color scheme to compliment the walls. It's pretty simple and basic, but that's my style. You like?
Oh! And, this is the wall art we're going to order (from this Etsy store), once baby boy arrives and we finally have a name picked out! I think we are down to two names that we like, but who knows, maybe we'll come up with a completely different name? Naming this little guy has been tricky!
8. Every year since we've lived in this house (5 years now!), Ryan and I have said we were going to plant a garden. And then time would get away from us and before we knew it, it was the end of June, and well… that's a little late to plant a garden. Yes, we are slackers. This year Ryan decided we'd finally actually plant some veggies. We didn't go and dig up the yard to make a garden (maybe next year!), but we did plant a few veggies in a couple of large planters we had. This big ole jalepeño is the first veggie to come in and I am probably more excited than I should be to make some of my homemade salsa with it! Did you plant a garden this year?
9. Kitchen Product Pick of the Week! A few years ago, I made an impulse buy at Bed Bath and Beyond and bought this cupcake and cake carrier and to this day, I still use it all of the time. Even if I don't have to transport a cake or cupcakes anywhere, it is still so convenient as a storage container.
10. This Loaded Baked Potato Salad has been blowing up in popularity on Facebook and Pinterest this week! It is so perfect for summer BBQs and picnics, you are going to love it. Here's the recipe.
That's all for this week! Don't forget to follow along on social media so that you don't miss out on all of the scrumptious recipes I share. Please "like" me on Facebook, and follow me on Pinterest and Instagram. Oh, and if you tweet, I do too! Thank you for being here!
Now…. tell me about your week! Did you try any new recipes? Did you plant a garden this year? Do you iron your bed sheets? These are all of the things I want to know. Let me know in the comments below. :)