Hey you guys! Happy Saturday! Welcome to tho week's edition of Saturday's Something, my time to share a glimpse into life outside of the kitchen.
1. We have been completely consumed with life as of late. If you haven't read my big update on Ryan, click here. The gist of it is that the cancer has spread to his lungs and a lymph node in his abdomen. If you haven't already joined Team Ryan on Facebook and you'd like to, click here. We'd love to have you follow along on our journey.
2. Several weeks ago, we had the most lovely baby shower. It was just gorgeous and perfect and we were truly showered with so many wonderful gifts. Ryan's sister made those adorable diaper cakes that you see all over Pinterest as centerpieces for the tables. Too cute! And the cake? Not only was it super delicious, it was beautiful!
3. We have been grilling as much as possible. Ryan has mastered the grill and everything he's made on our Big Green Egg has been phenomenal. On Memorial Day Weekend we decided to tackle ribs for the first time this year and they were fall-off-the-bone, tender and delicious! I'll be sharing that recipe soon.
4. Kitchen Product Pick of the week! Summer is here and I am just loving these Silicone Ice Pop/ Popsicle Molds. They are BPA free, easy to clean, and there are 6 in a set. Plus, look at these fun colors!
5. Baby Product Pick of the week! I do realize that Baby Wagner has not yet arrived, so I don't have any personal experience actually using the baby products that we have been given as gifts… but!!! Last week I got this aden + anais Classic Muslin Swaddle Blanket as a gift and I am already in love with it. It is super soft, I mean…SO soft and because of the muslin fabric, you can tell it's going to be breathable and so comfy for baby. I'm really excited to use it! Here's the Amazon link if you'd like to check it out.
6. Have you made my Homemade Lemonade yet? It is SO refreshing and slightly addicting. It's just fresh squeezed lemon juice, water and sugar, but all in perfect proportion. Here's the recipe.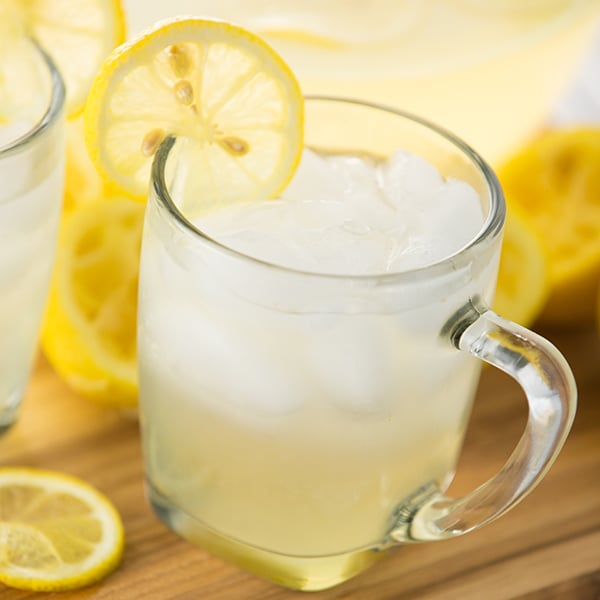 7. I almost forgot to mention. I am 30 weeks today. I think I say this every time but holy moly, time is flying. We are very slowly making progress on the nursery and trying to get things organized but it has been hard to do trying to keep up with working and doctors appointments and chemo schedules. We'll get there!
8. Of course a Saturday's Something post wouldn't be complete without a picture of Lila and Mali. I realize I am one of those pet owners and think my dogs are too cute for words. And they are. They sat in the doorway supervising as Ryan was grilling the other day. Aweeeee….
9. Website I'm Lovin': I recently discovered a new (to me) blog called Soup Addict and I am just drooling over their recipe for Super Stacked Quesadilla Pie. Here's the recipe. Oh my goodness…. so yummy, right? Go check it out.
10. Last but not least… THANK YOU so much for all of your support. I would not be able to do what I do if it weren't for all of you trying my recipes, leaving feedback, following me on social media, and telling your friends and family about CenterCutCook. Thank you, thank you!
Oh, PS: Can we talk about BBQ Sauce? Do you make your own or buy store-bought? Are you brand loyal to any particular brand?