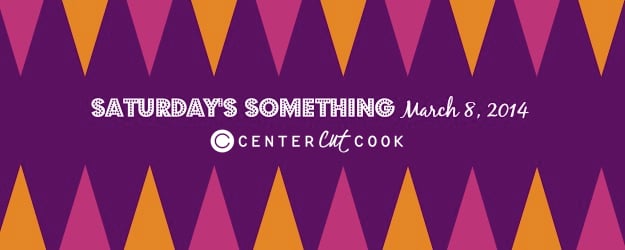 Saturday's Something for March 8th, 2014
Hey you guys! How's it going? Welcome to another edition of Saturday' Something, my time to share a glimpse into my life outside of the kitchen.
Let's start with the two things I get asked about most often (which, by the way, you guys are so kind, thank you so much for caring!)… how's baby? and how's Ryan?
Baby, baby, baby….
I am 17 weeks today. More than 4 months along. Holy moly, time is flying! Baby is doing good, although it did give us a little scare last week. I went for my 16 week appointment and they couldn't find the heartbeat. I immediately started to panic. A baby's heartbeat is generally much higher than an adult but because I was so panicked, my heart rate went sky high. When the doctor found a heartbeat she didn't know if it was mine or the baby's.
Eventually she decided to move me to another room and do an ultrasound. She immediately saw our little peanut with a strong beating heart and everything is A-ok. Baby was just lounging around with its hand behind its head, probably wondering what the fuss was for. Little stinker. I'm convinced that this baby just likes to get its picture taken. This makes Ultrasound #3 for baby and #4 will be on March 27th — that's the big one when we find out boy or girl! I am so excited to find out!
Ryan…
In case you're new here and you're not quite sure who Ryan is… he's my hubby of almost 11 (11!!!) years who was diagnosed with stage 3C colon cancer about three months ago at 29 years old, just a week before Christmas and one week after finding out we are expecting (that story is here). We've been on quite the roller coaster but we're getting into a routine and figuring out this whole "life with cancer" thing.
Chemo was delayed two weeks in a row because of low white blood cell counts, so I had to give him an injection in his stomach for four days to help give them a boost. Last week he was able to do his second round of chemo and now our fingers are crossed that his counts will be high enough for round three next week.
A couple of weeks ago Ryan's company sent us out for dinner (best.company.ever) and boy did we indulge. We went to Joe's Seafood Prime Steak & Stone Crab in Chicago (check them out here) and it was seriously one of the best meals ever. We indulged in steak, lobster, and tried stone crab for the first time. Have you had stone crab before? I'm not a huge seafood person but I actually thought it was really good. It's a good thing I bought a pair of maternity pants the day before this dinner. Stretchy pants are the best invention ever! ;)
Here's us :)
Ever since chemo started, Ryan lost his sweet tooth. This week, however, Chocolate Cupcakes with Peanut Butter frosting sounded really good to him. So, being the good wife I *try* to be, I made a batch of of his faves at 10:30 at night. The next day when I went to take some pics, my sweet miss Mali decided to photo bomb my photo shoot. Her little sniffer detected peanut butter, which she LOVES!
Other Stuff…
A couple of weeks ago I did a fun Q&A over at Taste and Tell (click here to view it). One of the pics I shared was one of my kitchen which I realized I never shared here. In case you're curious what my kitchen looks like, here it is…
This pic was taken when we were still house hunting. Now the counters are filled with appliances and dirty dishes. But this is what it looks like clean. It's pretty average, almost on the verge of small in terms of cabinet space but I do really like it. Especially the stainless steel appliances and the granite countertops.
Show me your kitchen!
Want to share a pic of your kitchen with me and the CenterCutCook fans? I'd love to see it. You can…
Tweet me — here or…
Share it on Instagram and tag @centercutcook (follow me here) or…
Leave a post on my Facebook page here!
That's all for this week. I hope you had a great week. Don't forget to set your clocks ahead tonight! Spring has to be just around the corner.
xo,
Ashley :)