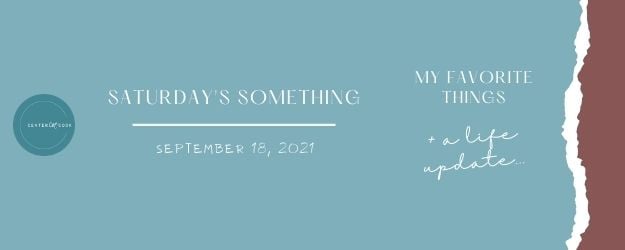 Oh hi. Is this thing still on? Is anyone still here?
That's a rhetorical question. Thanks to a beautiful thing called Google Analytics, I know that there are still hundreds of thousands of you coming here each month, so let's start there.
Thank you! To all of you that have continued to rely on CenterCutCook, and have continued to visit and make your favorites from here, THANK YOU. I cannot adequately express how much I value and appreciate you. Truly, thank you!
As I am getting older (you know, at this ripe old age of 38 haha!), and now that I am a year into seeing a therapist weekly, I am realizing the importance of embracing whatever season of life that I am in.
I have had seasons focused around my business and career and working. I had a season of life focused on surviving as my husband and baby fought for their lives. And now, I find myself in a season of healing from the grief and traumas of the last 8 years while also trying to be present as a mother. (Here's the post about my husband being diagnosed with cancer and here's the post about our baby needing a liver and kidney transplant.)
You see, I significantly underestimated what it'd actually take to recover from losing my spouse (Here's the post I made about that: Widowed at 34), and the traumas of having a medically complex child. But I am incredibly proud of myself for showing up to therapy and doing the hard work of healing. It truly is work but I know that I'll continue to benefit for years to come.
As mothers, it's easy to get caught up in Mom guilt, isn't it? I feel like the same can be said as a business owner. When I stopped to listen to the voice in my head over the last couple of years, too often the message I was focusing on was all of the guilt and shame I felt for not doing x,y,z for my business. I should be doing this. I should be doing that.
I am thankful to be at a place now where I can acknowledge the importance of embracing whatever season of life I am in without guilt, and without shame, knowing that life is short and that different seasons bring different goals and experiences. There are seasons for working 60 hours a week and crushing career goals, and there are seasons for being present as a mother.
Whatever season of life that you are in right now, I hope that you can embrace it completely, without guilt and without shame and find the balance that so many of us are seeking.
Now on to some updates and favorite things….
Miles
Those of you that have been around for a while and remember when Miles was born might be shocked to hear that he is 7. Yes, 7.
Where does the time go? School has started again. He thinks the school day is far too long. He still loves playing with toys and feels like the hard work of school takes away from his play time. ;) But, he does love recess and PE, and math is also a favorite.
Recently, he started a Parkour class and loves it!
It has been five and a half years since his liver transplant and four and a half years since his kidney transplant and I am forever and always thankful for his organ donors. This seems like an appropriate time to toss in the hashtag #DonateLife as a reminder to sign-up to be an organ donor.
Speaking of donors…. Miles's kidney donor got married over the summer and he was in her wedding. See photo below – he looked so cute!
A "me" update…
Me – As silly as this sounds, it feels like a reset button was pressed once school started. Can anyone relate? Some days it feels like I am a fresh new widow, trying to figure out the solo parent life even though I am three years into this unexpected gig that I did not sign up for, but I am thankful for this new school year and new routines and getting back into the swing of things.
I'm still enjoying Peloton workouts, intermittent fasting (I haven't found anything more effective for my PCOS than maintaining a regular fasting schedule. It's not for everyone, but for me, I feel my best when I incorporate fasting into my week). Recently, I've taken on a few house plants that I am going to attempt to keep alive. ;)
Fall is one of my favorite seasons and I'm pretty excited to start decorating my house with allllll of the cute pumpkin things I can get my hands on.
In doing this post, I realized how few photos I have of Miles and I together which is one of the reasons I am excited for our family photos that I have scheduled in October. It's taken me a while to come around to the idea of a family photo without Ryan but I also know how valuable family photos are.
Have you had family photos done recently? If not, why! Go schedule them! :)
Favorite Finds…
Instagram Account:
Sharon Says So – if you aren't following her, I highly recommend her (@SharonSaysSo). She calls herself "America's Government Teacher," and is a breath of fresh-air on social media. The people following her are affectionately called the "Governerds" and they are collectively some of the most giving, generous humans out there. She has raised significant amounts of money for important causes.
Much of her content is political without being political, if that even makes sense. She focuses on guiding people to use their own critical thinking skills to make informed decisions.
And sometimes she does clothing try-ons that are more entertaining than most things you'll find on Netflix.
Do you have any must follow accounts on social media that you're loving these days? I try to limit my time on social media and follow only accounts that make me feel good.
What I want to watch this week…
But speaking of Netflix and TV shows…. I'm kinda intrigued with Amazon Prime's docuseries LuLaRich. Have any of you watched it yet? I haven't started it, but I'm definitely curious what it's all about. Especially after just donating a stack of barely used ugly leggings that I purchased from LuLaRoe years ago.
What are you watching this week?
Pantry Organization
The first week that Miles went back to school, I was on a mission to get things organized. My pantry was in desperate need of some TLC. I bought a few things on Amazon that have really helped. I numbered each of the items so that you can easily follow along.
My pantry isn't perfect but it's definitely better than it was…. for now! I feel like it won't take long before it's looking like a disaster again. How does that even happen?!
These are Amazon affiliate links which means I get a small percentage of the sale if you choose to buy anything at no cost to you.
Fall Clothing
My love for cardigans can likely be traced back to my teaching days and that love is still there. Every fall the cardigans come out. I just bought a few news ones that are cute, comfy, light weight and perfect for the chilly weather that is on its way to Chicago.
Hard as Hoof

Ok you guys, my nails have seen better days. It's mostly because of a no-chip/gel manicure gone wrong. It's been over a month, though, and my nails still look terrible. I just bought Hard as Hoof Nail Strengthening Cream because it has a lot of positive reviews. I have only used it for a couple of days so I can't yet let you know if I'd recommend it but I'll keep you posted!

What have you found to help your nails grow strong? Anything? I'm all ears.

Recipe you must try…

I know that many of you have been coming here again and again for your tried and true favorites over the last couple of years and I want to again say thank-you for continuing to come here and support my little corner of the Internet. Ya'll are the best.

With that said, I am excited to have some new recipes coming your way including the latest recipe that I just shared for Bacon Wrapped Kielbasa Bites. These little guys are so perfect for game day parties, or any night of the week, really.

To all of you reading this, thank you so much for being here. Make it a great week!

xoxo,

Ashley

I am a participant in the Amazon Services LLC Associates Program, an affiliate advertising program designed to provide a means for me to earn fees by linking to Amazon.com and affiliated sites. As an Amazon Associate I earn from qualifying purchases.