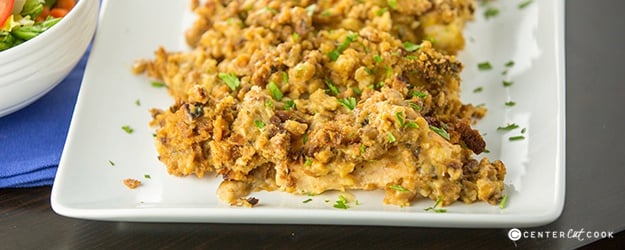 When I am doing my weekly menu planning, I usually try to make a slow cooker recipe using chicken at least once simply because I always have chicken on hand and I love the convenience of throwing everything into the crock pot and allowing it to do all of the work for me. This Slow Cooker Cheesy Chicken and Stuffing is easy to make which makes it a perfect weeknight meal.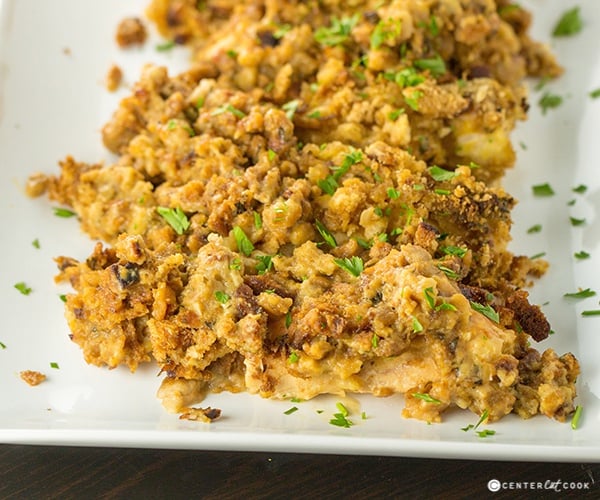 The basic ingredients in this recipe are chicken, cheese, cream soup, and stuffing. Now, as far as the cream soup goes, go ahead and use a can of cream of mushroom or cream of chicken from the grocery store OR go ahead and use my homemade Cream Soup Substitute which takes the place of a can of soup which is the route I took. Either option works perfectly.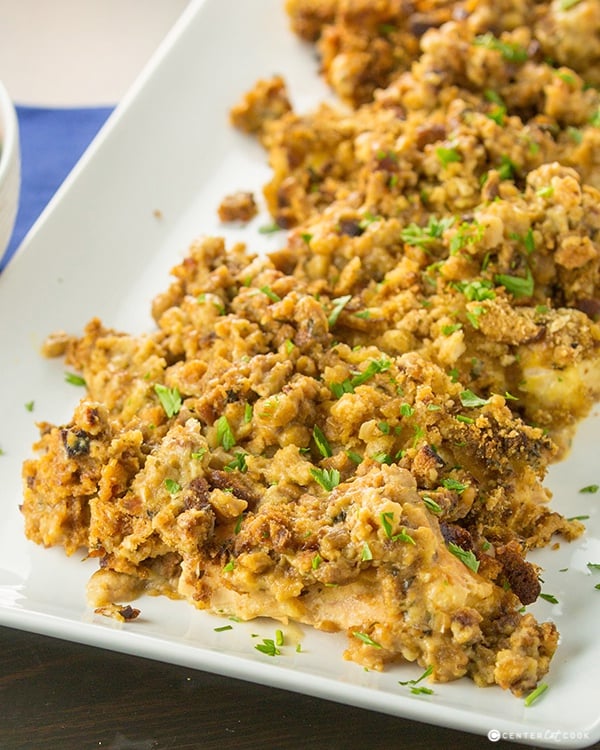 As far as the cheese goes, I used swiss cheese but you can use any cheese that you'd like. I've also made this with slices of cheddar cheese and even provolone cheese, so use whatever you and your family like. I do have to say though, that even if you don't like swiss cheese, you may like it in this recipe. Swiss cheese that is melted tastes much different than just eating a slice cold, right out of the fridge.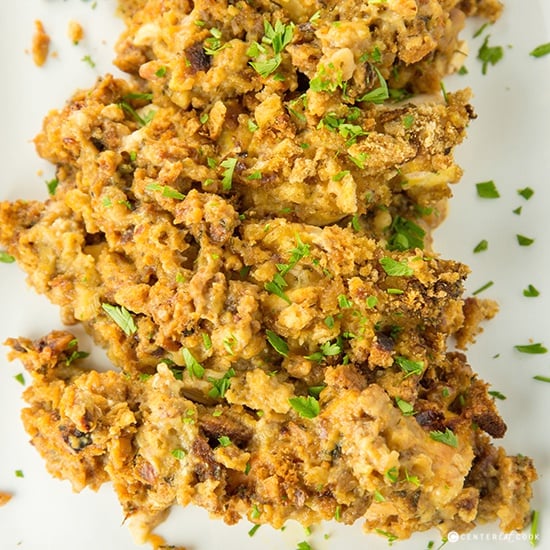 I cut three large chicken breasts into halves but you could also use 4-6 small to medium sized chicken breasts. As for the stuffing, I used a box of Stove Top Turkey Stuffing. Any variety will work (chicken, turkey, herb, etc.).
This Slow Cooker Cheesy Chicken & Stuffing is easy to make, not to mention that it's a comforting meal that will be enjoyed equally by adults and the kids. Enjoy!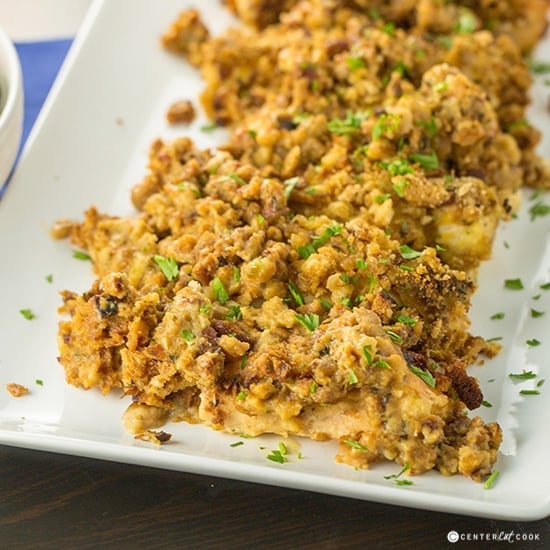 INGREDIENTS
4-6 boneless skinless chicken breasts (medium sized) OR 3 large boneless skinless chicken breasts cut into halves.
1 can cream of mushroom soup (or use my cream soup substitute)
1/3 cup milk
1 box stuffing mix (example: Stovetop)
1/4 cup butter, melted
Slices of swiss cheese or any cheese of your choice, about one slice per piece of chicken
DIRECTIONS
Spray slow cooker with non-stick cooking spray.
Arrange the chicken breasts on the bottom of the slow cooker. Place a slice of swiss cheese over each piece of chicken.
In a small bowl combine cream soup (or my homemade cream soup substitute) with 1/3 cup milk. Pour this mixture over the chicken.
Sprinkle dry stuffing mix over the chicken, then evenly pour the melted butter over the chicken.
Cover and cook on low for 4-6 hours or on high for about 3 hours, or until the chicken is tender.
Recipe from
CenterCutCook