In the world of yogurt, it seems Greek Yogurt is all the craze these days. At first I was skeptical, especially when I tried it for the first time and thought it was one of the grossest things I had consumed in a long, long time. I vowed never to eat the pricey stuff again.
Fast forward a couple months after my first encounter with greek yogurt and a friend told me I was doing it all wrong. She said I needed to add some fresh fruit to the plain yogurt, and maybe even sweeten it up with a little honey. I tried it again and still wasn't completely sold, but I continued to eat the stuff, mainly because of its protein content.These days I love it (I think it's an acquired taste) and try to think of different ways to incorporate it into the foods I'm eating.
If I had to pinpoint one food I just cannot stand, believe it or not, it's eggs. I HATE eggs. Loathe them. I've tried to like them but… eggs and I? We are not meant to be.What does this have to do with Greek Yogurt? I try to incorporate protein into every meal I eat, and prior to greek yogurt, it was a little tricky to get a good chunk of protein into my breakfast. Get this… a single 8 oz serving of Chobani plain, non-fat greek yogurt contains 25 grams of protein! To give you an idea of how amazing this is, a single large egg has 6 grams of protein. Holy moly!
So with that said, I love greek yogurt. It is definitely pricier than some of the other options in the yogurt section, but I have not found another type of yogurt that contains nearly as much protein as greek yogurt does. One of the easiest ways to incorporate greek yogurt into your diet is in smoothies. This High Protein Strawberry Smoothie only involves a few ingredients and is quick to make in the morning when you are in a rush to get out the door. And the awesome thing about any smoothie recipe is that you can adjust it to fit your tastes by switching up the fruits that you use. Enjoy!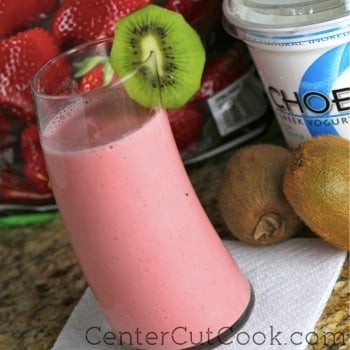 SMOOTHIE INGREDIENTS
1/2 cup plain greek yogurt
10 frozen strawberries
1/2 cup water (you could also use orange juice or another liquid)
A good squeeze of honey or another sweetener of your choice (I didn't measure but I probably used about 1/2 tablespoon)
DIRECTIONS
In your blender, add greek yogurt, strawberries, water, and honey. Blend until smooth.
Enjoy!
Note: If you want to use fresh strawberries, you'll want to add about 1/2 cup of ice instead of the 1/2 cup of water.
Recipe adapted from:
This is a CenterCutCook original!