Oatmeal Chocolate Chip cookies, is there anything better, my cookie lovers? These cookies are everything that your cookie-loving little heart will enjoy – they're big, thick, chewy yet soft. They're also super easy to make and did I mention soft. I could go on and on.
This recipe is versatile and it is easy to swap out the chocolate chips for raisins or even nuts if you'd prefer those ingredients over chocolate chips. But, I must say, the chocolate chips paired with the oats are my absolute favorite combination. Chocolate chip oatmeal cookies really are the best!
Now, when it comes to cookies, especially Oatmeal Chocolate Chip Cookies, the bigger, the better! When I think of bakery cookies, I think big, and these big cookies will not disappoint. The recipe will yield about 18 large cookies which might mean that one batch just won't be enough. If you're making them for a crowd or a party, definitely at least double or triple the recipe. Otherwise, if you're making them for a small family, one batch might work. I usually like to make two batches and freeze some.
There's a sandwich shop called Potbelly (have you heard of it?) that has the most delicious Oatmeal Chocolate Chip cookies and this recipe reminds me exactly of theirs. SO GOOD! They also have a mini version which is fun too. There's a Potbelly in the lobby of the hospital that my little guy goes to, and every time he's inpatient I usually buy a bag of the minis to give to nurses.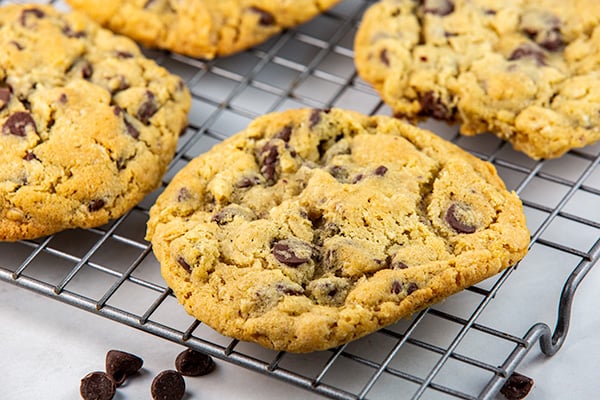 Alright, let's talk about how to make these cookies.
How to make Oatmeal Chocolate Chip Cookies
A few notes about the ingredients that you will need to make Chocolate Chip Oatmeal Cookies:
Butter: You will start with 1 cup unsalted butter. I prefer using unsalted butter when baking so that I can control the amount of salt I am adding to the recipe. Make sure it is room temperature.
Light brown sugar: You can use either light or dark brown sugar but we used light for this recipe.
Egg + Egg Yolk: It is important to note that you will need one egg and one egg yolk.
Vanilla Extract: Real vanilla extract is my preference. It always tastes better. I prefer to purchase it in bulk at Costco for the best price.
All-purpose Flour: The best way to measure flour is to use a spoon to scoop it into a measuring cup
Oats: There are a variety of oats available from old-fashioned to steel cut. You will need quick cooking oats for this recipe.I prefer to purchase Quaker Oats but you can use any brand you have on hand.
Chocolate Chips: This recipe calls for semi-sweet chocolate chips. If you don't have those on hand, milk chocolate chips will also work just fine.
And then of course you'll need baking soda, baking powder, and salt. Don't forget the salt!
When I am making cookies, I like to line the baking sheets with parchment paper for easy clean-up. Not only does parchment paper make for easy clean-up, it also helps the cookies to bake more evenly and prevents them from cracking or breaking when transferring them off the cookie sheet.
I hope you enjoy this recipe for Oatmeal Chocolate Chip Cookies. They are absolutely delicious and a must-make recipe! Enjoy!
Looking for other delicious oatmeal desserts? Try my Jumbo Monster Cookies, these classic Oatmeal Raisin Cookies or my Fresh Peach Crisp. SO GOOD!
Looking to use oats for some healthier options? Try my tutorial on How to Make Oatmeal or How to Make Oatmeal in the Microwave. Instant Pot Maple Banana Bread Oatmeal is also so very delicious, as are these Pumpkin Oatmeal Muffins.
Did you make this recipe? Tag @centercutcook on Instagram and make sure to hashtag it #CenterCutCook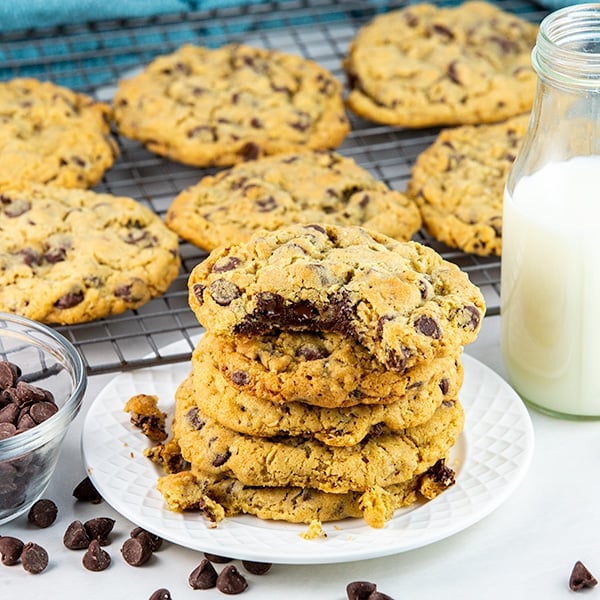 INGREDIENTS
DIRECTIONS
Start by lining 2 baking sheets with parchment paper and set aside. Preheat oven to 325 degrees.
Using a mixer, in a large bowl, mix together: softened butter, granulated sugar and brown sugar until light and fluffy.
To that add: the egg, egg yolk, and vanilla; just until combined.
In a second bowl, combine: flour, oats, baking soda, baking powder, and salt. Add to the wet ingredients. Mix until combined, then fold in the chocolate chips.
Using a 1/4 cup, scoop up the cookie dough forming into balls and place on the baking sheets leaving about 1-2 inches between each cookie.
Bake 12-15 minutes, or until the edges are light brown and crispy.
Transfer to a cooling rack.
Yields 18 large cookies.
Servings: 18
Recipe credit:
Brittany Jenkins