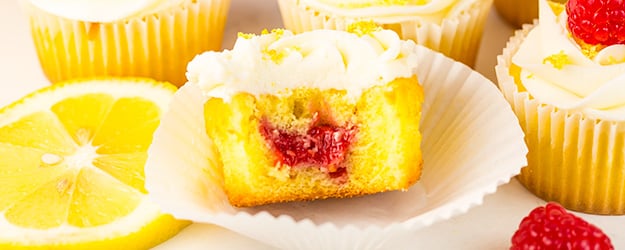 When it comes to flavor combinations, I cannot help but believe that one of the best is the marriage of lemon and raspberry. Whether it's lemon raspberry cake, raspberry lemon cheesecake, or these irresistible Lemon Cupcakes Filled with Raspberry Jam, you can't go wrong.
While I cannot deny that I love lemon cupcakes with lemon curd filling, I have to say that these lemon cupcakes with raspberry jam filling might actually be my favorite. They're just so light and fluffy, and the raspberry jam is perfection.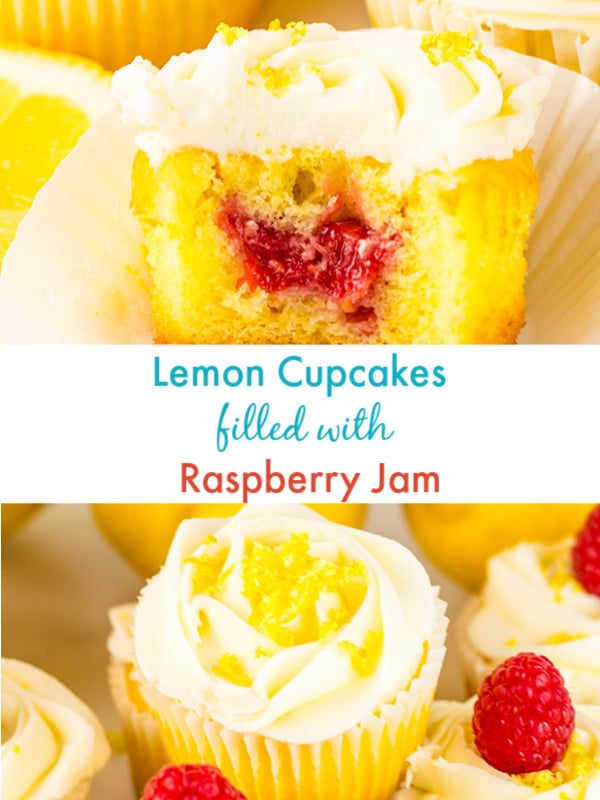 Probably the best part about this recipe is that it can be made from a box of lemon cake mix, but I also include instructions on how to make it from scratch if that's your jam.
Speaking of jam, the raspberry jam filling is super simple to make, and SO delicious. Especially right now when berries are in season and ripe, juicy, and delicious.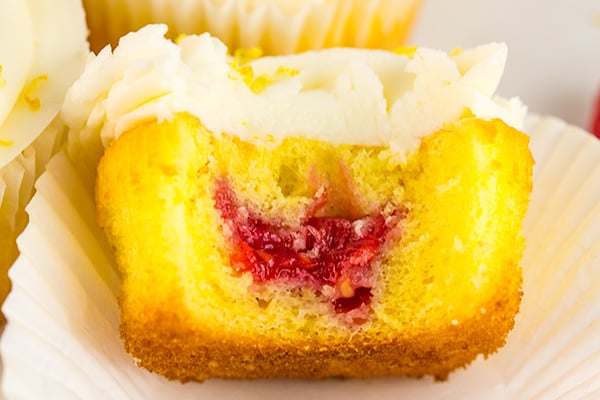 When it comes to frosting, we used just a basic buttercream frosting with the addition of a little bit of lemon extract. It's perfect for these cupcakes.
If you have never made a filled cupcake before, the method is super simple. You'll just cut a small nickel to quarter sized hole in the center of each cupcake and pull out the cake to make room for the filling. Be sure to save the cake that you are removing from the cupcakes because you'll place it back on top after you've piped raspberry jam into each of the cupcakes.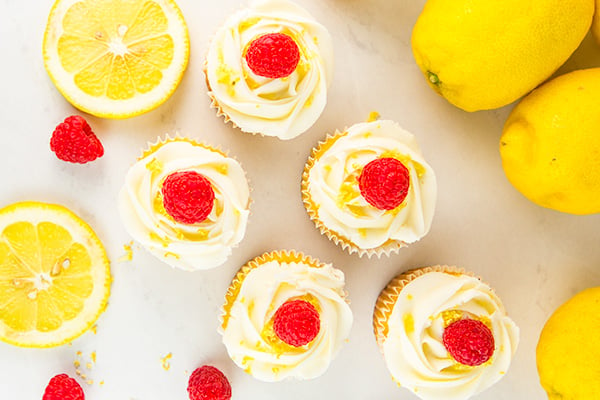 Garnish these raspberry lemon beauties with lemon zest (I like to use my Micro Plane Grater for this task) and/or a fresh raspberry. These are a crowd pleaser that make the perfect summer dessert or addition to baby and wedding showers.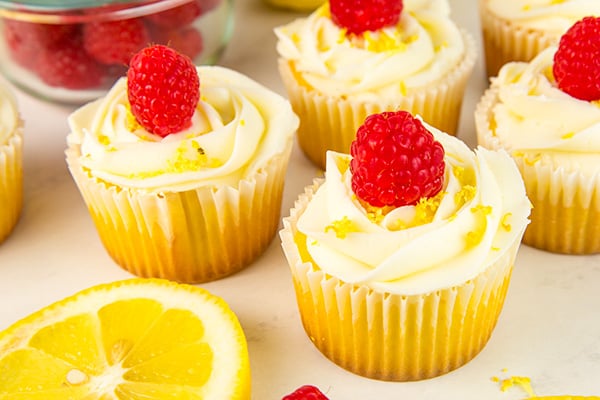 Lemon Cupcakes Filled with Raspberry Jam is just what you need to satisfy your sweet tooth!
In case you're looking for additional lemon desserts, this Starbucks Lemon Loaf Copycat is another favorite!
Enjoy!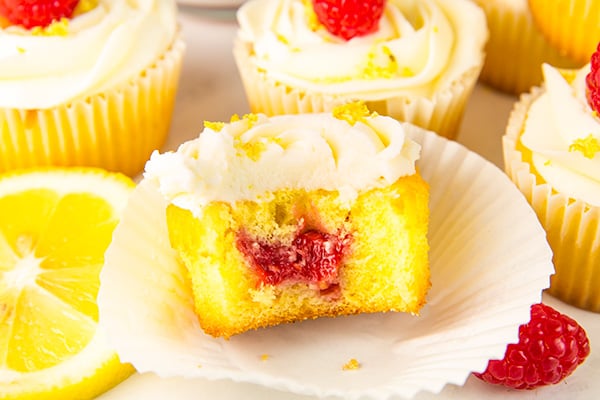 Did you make this recipe? Tag @centercutcook on Instagram and hashtag it #centercutcook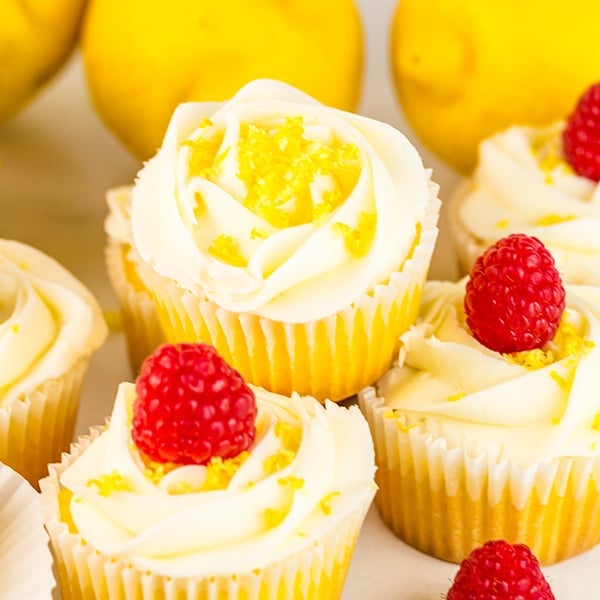 CAKE INGREDIENTS
3 cups cake flour
1/2 teaspoons salt
1 1/2 teaspoons baking powder
1/2 teaspoon baking soda
2 lemons (zest only)
1 cup milk
1/4 cup lemons juice
1/4 cup vegetable oil
1 tablespoon lemon extract
1 1/2 sticks unsalted butter, softened
1 1/2 cups sugar
4 large eggs
RASPBERRY JAM INGREDIENTS
1 1/2 cups raspberries (if frozen make sure they are thawed, or fresh raspberries)
1/2 cup sugar
1 tablespoon lemon juice
2 tablespoons water
2 tablespoons cornstarch
LEMON BUTTERCREAM FROSTING INGREDIENTS
2 sticks unsalted butter, softened
4-5 cups powdered sugar
3 teaspoons lemon extract
3 tablespoons milk
Dash of salt
CAKE DIRECTIONS
Preheat oven to 350F then place cupcake liners in cupcake pan. This recipe makes 2 dozen cupcakes. *Note: You can also use a box of lemon cake and make cupcakes following the instructions on the box.
In a medium sized bowl, whisk together: cake flour, salt, baking powder, baking soda, and lemon zest. Set aside.
In a second bowl, whisk together: milk, lemon juice, vegetable oil, and lemon extract. Set aside.
In your mixer bowl, beat 1 and 1/2 sticks of softened butter until smooth. Add 1 and 1/2 cups of sugar gradually while mixing on medium speed for about 3 minutes or until the color is light and it is a fluffy consistency.
Add the eggs one at a time to the butter/sugar mixture, mixing until combined in between each egg.
While mixing on medium speed, add the flour mixture and milk mixture alternatively (begin and end with the flour mixture). Mix until everything combined and no visible chunks, but be careful not to over mix.
Pour the cake batter into the cupcake liners (3 tbsps is the perfect amount). Bake in preheated oven for 15-20 minutes or until a toothpick inserted in the middle of the cupcake comes out clean. While cupcakes are baking, make the raspberry filling.
RASPBERRY JAM FILLING DIRECTIONS
In a small saucepan on medium heat, combine: raspberries, sugar, lemon juice and 1 tablespoon water.
Using a potato masher or whisk, mash the raspberries down to release the juice. Heat until it reaches a low boil.
In a small bowl, mix remaining tablespoon of water with the cornstarch until the cornstarch has disintegrated.
Add the cornstarch mixture to the raspberries and stir quickly to combine.
Continue heating at a low boil for 1-2 minutes, or until it has thickened.
Put in the fridge to cool for about 10 minutes. While the filling is cooling, make the frosting.
FROSTING DIRECTIONS
You will want to use either a stand mixer or hand mixer to make the frosting.
Start by putting the 2 sticks of softened butter in to the bowl of your mixer. Beat on medium-high speed for about 3-5 minutes.
Turn off your mixer and add the powdered sugar and beat on the lowest setting just for a minute, then add: milk, lemon extract and dash of salt.
Turn mixer on lowest setting just until everything is combined and then turn it up to medium-high speed for about two minutes. If frosting is too thick add a tiny bit more milk, or if too thin, add a little more powdered sugar.
ASSEMBLY DIRECTIONS
Start by cutting out a small hole in the middle of each lemon cupcake (you're making room for the filling- use either a round teaspoon or the bottom of a piping tip to do this), but be sure to keep the cake that you are removing from the cupcakes. You will be putting them back on after filling the cupcakes with the raspberry filling.
Spoon about 1 to 1 and 1/2 teaspoons of raspberry filling into each cupcake. I like to fill them so the cupcake is pretty full.
Put the little circles of cake back in each cupcake that you cut out in step one.
Fill your piping bag with the lemon buttercream frosting and frost the cupcakes. Top with a little lemon zest (optional) and/or fresh raspberries for garnish.
Servings: 24
Recipe credit:
Brittany Jenkins