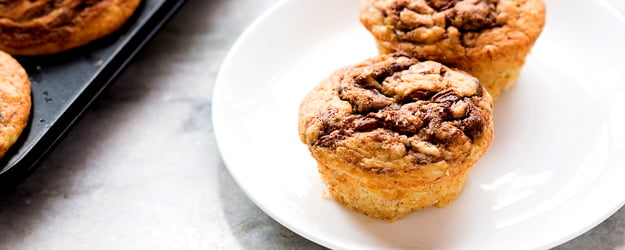 I'm a major Banana Bread fan. In fact I usually wait for a few bananas to over ripen so that we can make us some banana bread. But recently my love for banana bread has been taken over by these super soft nutella swirled banana muffins! They are airy, light, soft, fluffy and full of banana bits – just the way muffins should be.
We've been making them pretty much all Sunday, and they last us through the week. I love breaking mine in half and slathering on some butter, and the husband enjoys them cold – straight out of the fridge. I've even been thinking of using up some for an upcycled banana cake pudding.
This recipe is really versatile, and you can add a portion of whole wheat flour or add more nuts if you like your muffins crunchy. I prefer mine without, because the top of the muffins is quite crunchy on its own. I also like adding some chocolate chips to mine sometimes, but how much chocolate – that's up to you too. Like I said – super versatile!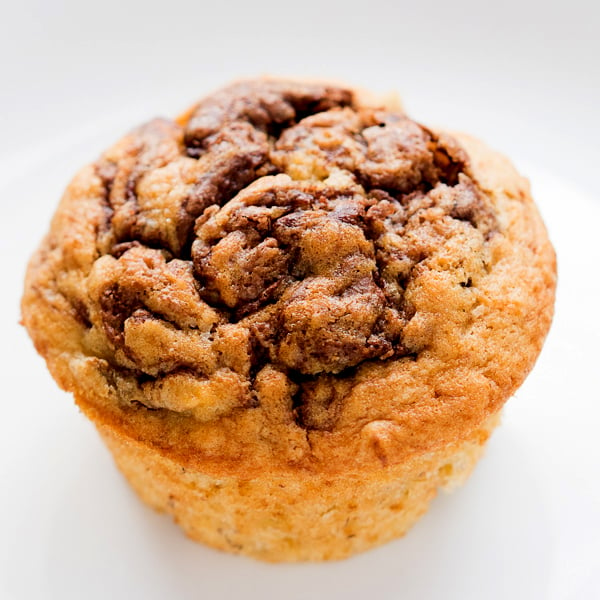 INGREDIENTS
DIRECTIONS
Pre-heat oven to 400 degrees. Grease and line your muffin tin.
Microwave the nutella in a microwave proof bowl for 45 seconds till slightly melted.
In the bowl of your stand mixer, cream together butter and sugar for 2-3 minutes. Add eggs one by one and whisk till fully combined. Whisk in vanilla extract into the mixture.
In another bowl, whisk together flour, baking powder and salt.
With the mixture on low speed, mix in a third of the flour mixture to the egg and butter mixture, followed by half the milk mixture. Keep alternating till all the dry and wet mixture is combined
Fold in the chopped bananas and pour the mixture into the prepared muffin tins.
Top each muffin batter with a teaspoon of nutella, and swirl it around with a toothpick to create a pattern.
Bake for 20-25 minutes till a toothpick inserted into the middle comes out clean.
Turn the muffins out on a wire rack and let them cook before serving.
Recipe adapted from
The Kitchn