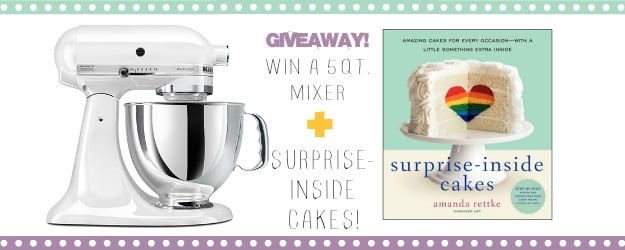 You guys!!! I am so excited about today's giveaway! Back in November I bought this shiny new 5 quart KitchenAid Mixer for ya'll with the intent to run a giveaway to celebrate the launch of my beautiful redesign in January. And then as most of you know, cancer and a baby happened and the thought of trying to coordinate a giveaway (it's a lot of work, folks!) was just too much for me to handle.
Now that life has calmed down a bit and we're getting used to this whole life-with-cancer thing, and we're on a schedule with chemo and we don't have 500 bazillion appointments, biopsies and surgeries to deal with, I decided it was the perfect time to finally give this gorgeous beauty a home!
The timing couldn't be more perfect! Just a couple of weeks ago, my friend Amanda from I Am Baker launched her insanely BEAUTIFUL Surprise-Inside Cakes cookbook. You guys, this book is amazing; filled with all kinds of fun cakes for every single occasion. The best part? She has step by step pictures so that anyone at any skill level can make one of these cakes. There are options for beginners, and others for baking enthusiasts with a more advanced skill-set. You can watch a quick video here that will show you what this book is all about. I promise, you are going to be impressed!
You can buy Surprise-Inside Cakes from Amazon by clicking here. You can also find it at Apple, Barnes & Noble, and several other places where books are sold.
To enter the giveaway….
**GIVEAWAY NOW CLOSED.** Congrats to Tara F. who was randomly chosen as the winner!**
What you'll get if you win:
The winner will receive a KitchenAid Aritsan 5-quart Stand Mixer in white, valued at $449.99 PLUS your very own copy of Surprise-Inside Cakes.
Who can enter? This giveaway is valid only if you live in the contiguous United States and are 18 years of age or older. I'd love to offer this giveaway to everyone, including those of you living in another country, but unfortunately due to different laws in each country, I am unable to do so. This giveaway is void where prohibited. Only one entry per person, unless you sign up for email updates, then you get two. :) If you enter more than once, all entries will be deleted.
GOOD LUCK! Don't forget about the bonus entry opportunity by singing up for email updates! This giveaway starts on Thursday, March 20th at 1:30 PM central and runs until Tuesday, March 25th at 12:00 PM central.
Giveaway sponsored by CenterCutCook