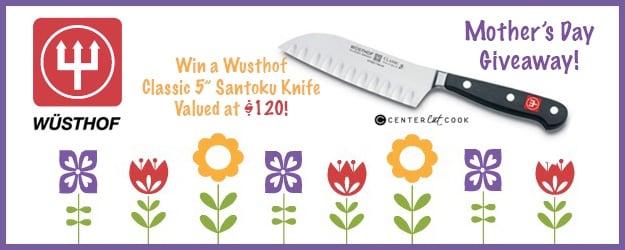 Mother's Day is right around the corner, and I wanted to do something fun to celebrate so I joined up with a few of my blogging friends to bring you a whole list of fabulous Mother's Day giveaways!
When I was deciding what I wanted to giveaway, I tried to think about something that I would want for myself. The only thing that came to mind was a gift certificate for a manicure/pedicure or a massage, or something like that. I was thinking too broadly. Then I started to think specifically about a Mother's Day gift I'd want for the kitchen and a knife instantly came to mind.
Is a knife an odd choice for a Mother's Day giveaway? Maybe! But, I think every single person who cooks needs a good knife in the kitchen. It makes cooking SO much more enjoyable! I was in college and completely broke when I decided I really really really had to have a good knife. So I saved my pennies and I'm using the same 5" santoku knife to this day. I love it and I want you to have one too!
***GIVEAWAY NOW CLOSED! CONGRATS TO JEN, THE WINNER OF THE GIVEAWAY***
Leave a comment below and tell me one thing you'd like to buy for yourself. It can be anything! The winner of this giveaway will receive a shiny new Wusthof Classic 5" Santoku Knife valued at $120. It is an amazing knife; a must-have for the kitchen! Congrats to Jen, the winner of our giveaway. Jen, please respond to the email message you received within 48 hours.
GET EXTRA ENTRIES!
Follow me on Instagram (click here to follow me!) and earn an extra entry, just come back and leave another comment letting me know you are following me on instagram.
Sign-up for email updates (click here to sign-up and don't forget to click confirm in the confirmation email!). Just come back and leave another comment letting me know that you have signed up for email updates.
Good luck! This giveaway is void where prohibited and open only to those 18 years of age and older. You must live in the United States to enter (sorry, laws prevent me from opening this up to everyone). This giveaway is sponsored by CenterCutCook. It runs from today, May 4th at 5am central to Saturday, May 10th at 8pm central.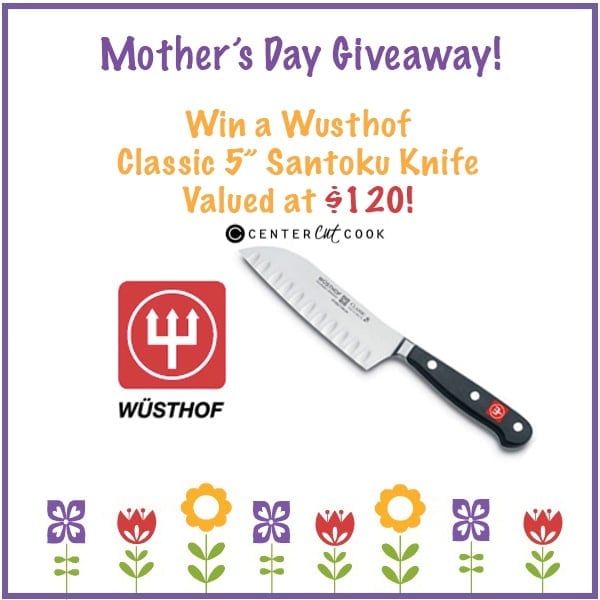 BUT WAIT, THERE'S MORE….
After you've entered my giveaway, go checkout all of these other fabulous Mother's Day giveaways that some of my friends are hosting. Be sure to go check out each of these websites to see what they are giving away. Happy Mother's day, and good luck!
Enter to win LOTS of other great prizes on these blogs:
Capturing Joy with Kristen Duke