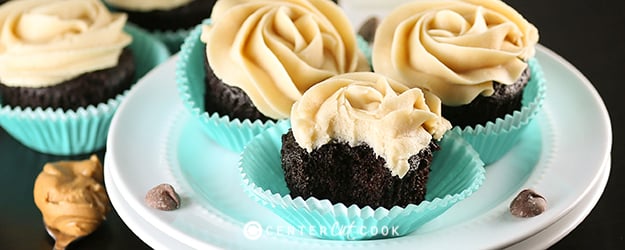 If I were to pinpoint our favorite dessert of all-time, these chocolate cupcakes with peanut butter frosting, made from scratch would definitely be in the top two. Seriously. Who doesn't love chocolate? These chocolate cupcakes are so moist, they melt in your mouth. SO much better than the stuff from a box. And with the peanut butter frosting? To die for. It's always hard to have just one. I've brought these to numerous events including a baby shower, and every time, people are always asking for the recipe. We've been known to run out to the store, late at night, just to buy the ingredients to make them.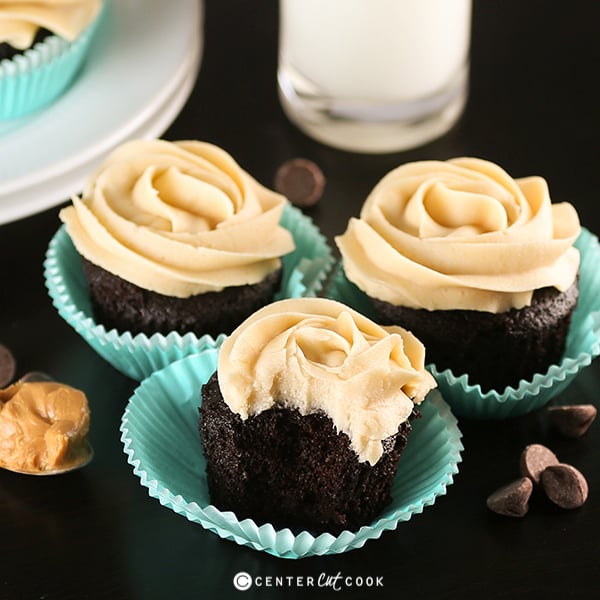 This particular recipe has a couple of ingredients that might make you raise your eyebrows, like sour cream, and vinegar. My first thought was sour cream and vinegar? In a cake? But all of the ingredients come together perfectly to give you a cupcake that will be hard to beat. And trust me, we've tried. My husband has come home from work bringing chocolate peanut butter cupcakes from some of the best bakeries in downtown Chicago, and still, we like these better.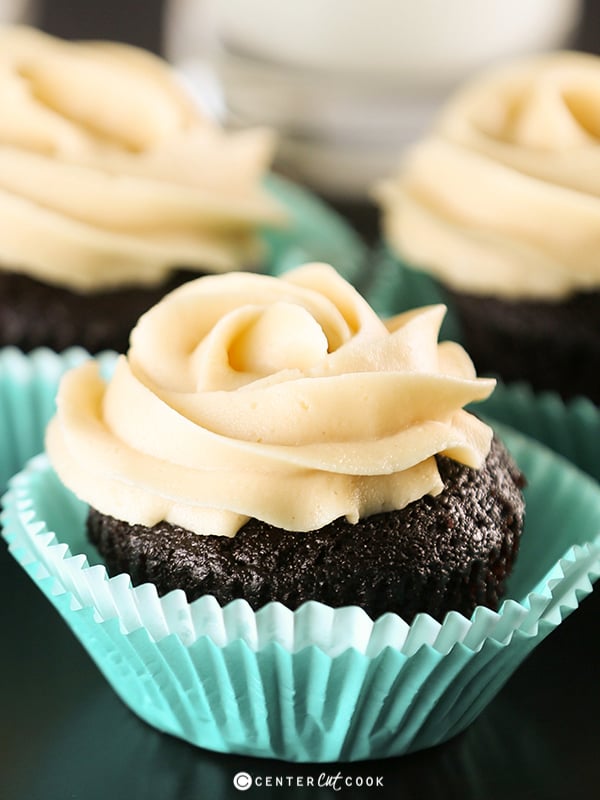 My only suggestion to you is, because these cupcakes are SO moist, definitely use liners in your cupcake tin, otherwise you might run into problems trying to get them out of the pan in one piece, even if you grease well.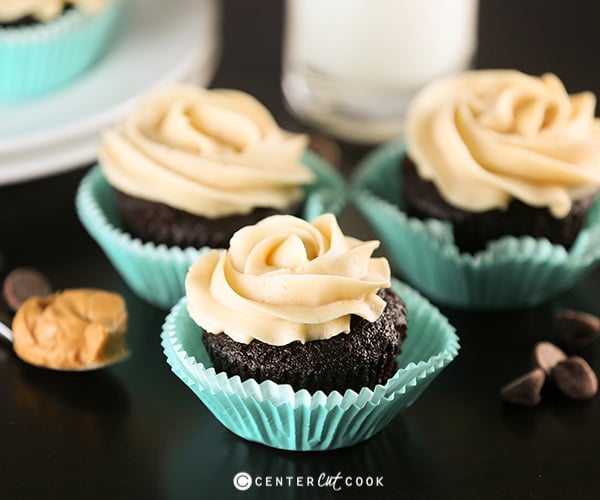 Note: This recipe will make at least 24 cupcakes. I usually end up filling my mini muffin tin as well with the leftover batter. This recipe can also be turned into a fabulous three layer cake which is also to die for.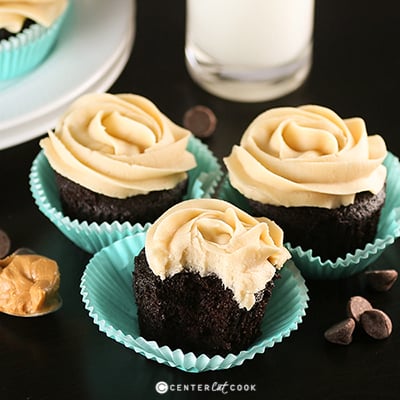 CAKE INGREDIENTS
PEANUT BUTTER FROSTING INGREDIENTS
10 ounces cream cheese (room temp.)
1 stick unsalted butter (room temp.)
5 cups powdered sugar/confectioners sugar
2/3 cup creamy peanut butter
DIRECTIONS
Pre-heat your oven to 350 degrees.
In a large mixer bowl, sift together flour, sugar, cocoa powder, baking soda, and salt.
Add vegetable oil and sour cream and mix until blended.
Slowly add in water (to prevent water from flying out of your mixing bowl).
Add white vinegar, vanilla extract, and eggs, and mix until blended well.
Place paper liners in your cupcake tin, and fill each about three quarters of the way full.
Bake for around 20-22 minutes at 350 degrees, or until a toothpick comes out clean when inserted.
While cupcakes are baking, begin making peanut butter frosting by combining the cream cheese and unsalted butter in your mixer. Beat until fluffy.
Add in 5 cups of powdered sugar, one cup at a time.
Lastly, add in the peanut butter and mix until it's blended well. Make sure to scrape down the sides of your mixer bowl to ensure everything is combined.
When cupcakes have cooled, frost them.
Try to not eat all of the cupcakes in one sitting. Enjoy!
Tip: I bought a super cheap mini cake decorating kit at Target, in the baking aisle, for under $10. It came with a few bags, a few different tips, and an instruction booklet. This is all I use for decorating my cupcakes. They don't look perfect, but they do look better than using a knife to slather on frosting!
Recipe adapted from
Smitten Kitchen