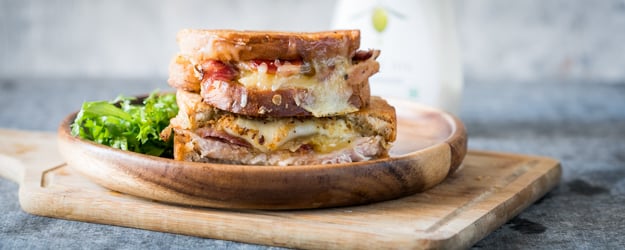 We always have way too much cooked chicken lying in the fridge and this chicken bacon ranch grilled cheese is hands down the best way to use it.
The chicken and bacon combination with ranch really works every single time we make this grilled cheese at home. In fact it's a part of our meal plan more often than not. With my husband, give him two sliced of bread with cheese and anything in between and he will be the happiest camper in the world. He really doesn't need anything else. Maybe a pint of beer but thats all. Lucky me, because he's easy to please!
The first time I made this and added bacon in between layers of chicken and cheese, he was bowled over. He asked for seconds and thirds and ended up eating three of these in one sitting.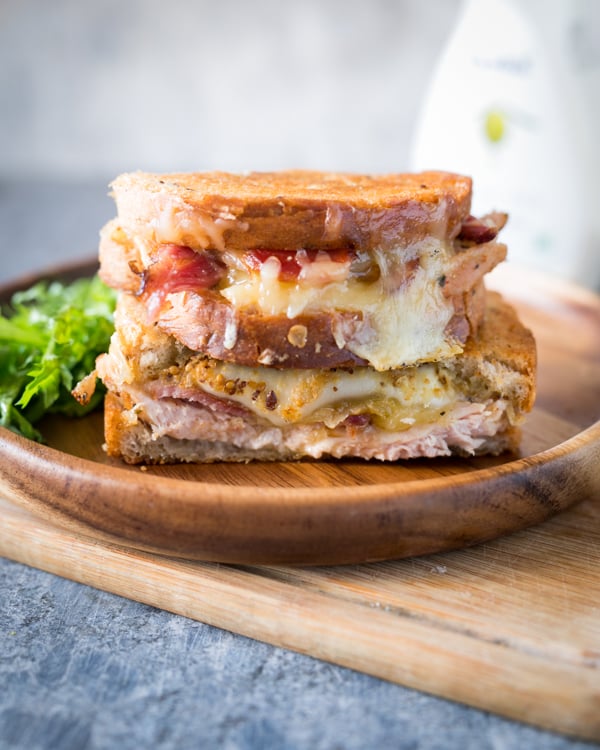 The ranch really adds so much flavour to the sandwich, and you must use good quality cheese. None of that pre-shredded stuff for this chicken bacon ranch grilled cheese because this stuff is almost gourmet in my opinion. And so simple to make. In fact, this isn't even a real recipe. It's more like a guideline that you can use to build your grilled cheese.
Feel free to swap the bacon for ham, or the sharp cheddar for another cheese you like. But I think this combination right here is perfect so I wouldn't change it at all, at least not till you've tried it. And don't forget some extra ranch on the side. It's perfect for dipping into.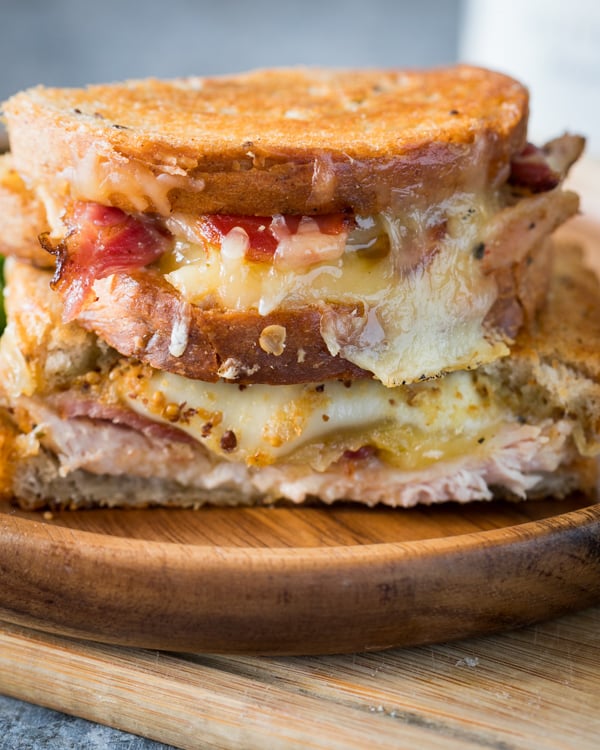 I also like to serve this with a light salad for dinner because then you know you've got your veggies in too! Thats a win win. Do you have a favourite grilled cheese recipe? Any tips on making the best grilled cheese? I'd love to hear!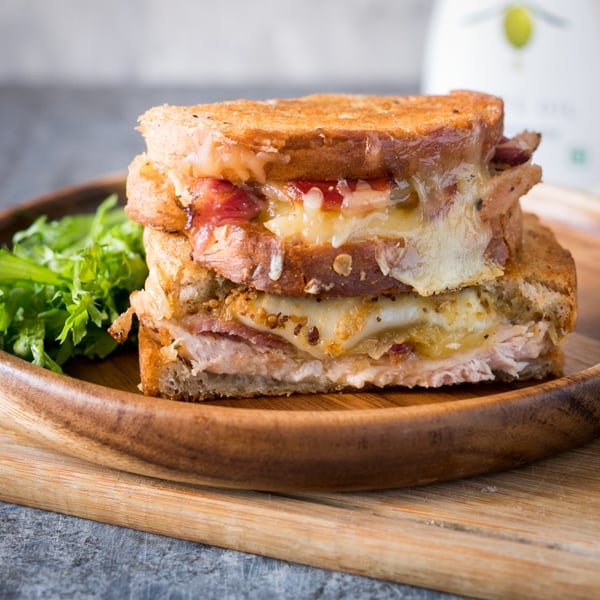 INGREDIENTS
2 cooked Chicken Breasts, sliced into 1/4 inch slices
1/2 cup creamy Ranch Dressing
8-10 Bacon slices
8 slices of Bread
2 cups sharp Cheddar, shredded
2-3 tablespoons Butter
Salt and Pepper to taste
DIRECTIONS
Add bacon to a hot pan and cook till golden brown. Remove bacon from the pan and set aside.
To assemble the sandwich, spread ranch on two slices of bread. Add 3-4 chicken slices on one side, top with 2-3 slices bacon, 1/2 cup cheese and place the second slice on top.
Brush a non stick skillet with butter and place the sandwich on the pan. Cook on each side for 2-3 minutes till golden brown and the cheese has melted.
Repeat with all the other sandwiches.
Servings: 2 people