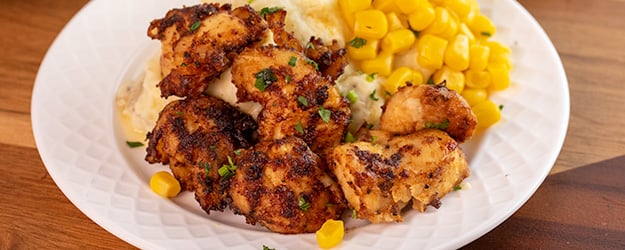 Meet your new favorite air fryer recipe: Air Fryer Chicken Bites. Try it once and you'll quickly fall in love with these little nuggets of chicken that have absolutely no breading – but I promise, you won't even miss it.
When I was trying to decide what to name this recipe, I was leaning towards Popcorn Chicken, except it felt like that would be a misleading title. When I think of popcorn chicken, I think of little bites of chicken with more breading than chicken. This recipe is the exact opposite of that, so I went with Chicken Bites.
These juicy little bites of chicken have a secret ingredient that make them *chef's kiss* perfect. You are going to love how quickly this recipe comes together, and how versatile it is.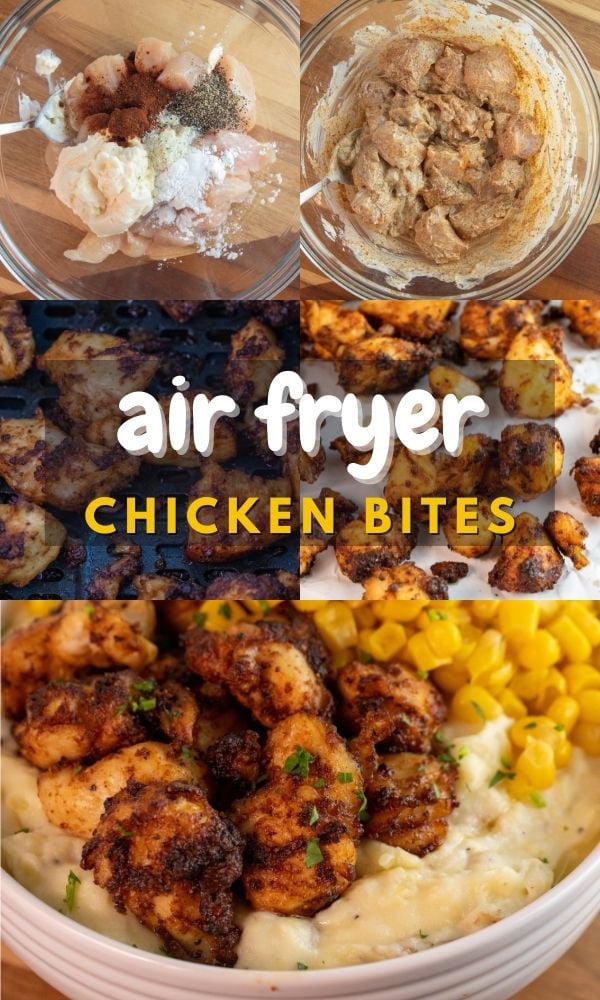 What kind of chicken should I use for air-fryer chicken bites?
For this recipe you are going to want to use about 1.5 pounds of boneless skinless chicken breasts or thighs – whatever your personal preference is.
You will need to cut the chicken into bite-sized pieces. I used boneless skinless chicken breast tenders, simply because it was even easier to cut the chicken into bite sized pieces.
If you prefer chicken thighs, go ahead and use those.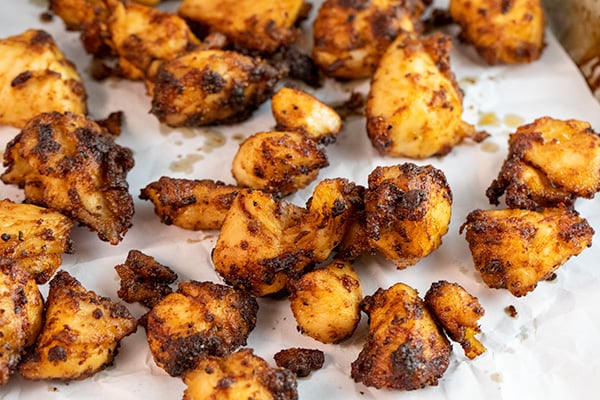 What is the secret ingredient?
Mayo.
Yes, classic mayo adds so much juiciness to this chicken. Hellman's Mayo is one of those ingredients I am brand loyal to. Aside from homemade mayo, I think it has the best taste and consistency. I've used mayo before with chicken in this recipe for Parmesan Crusted Chicken.
All you need is about 1/4 cup of mayo and it takes this chicken from good to great. It keeps the chicken juicy and combined with the seasonings, you are going to be impressed with the end result.
What kind of seasonings should I use?
Speaking of seasoning, let's talk about what you'll need to season this chicken up. I used chili powder, garlic powder, smoked paprika, salt, and pepper.
You'll also need a little bit of baking powder as well.
The beauty of this recipe is that you can switch up the seasonings however you'd like. Sometimes I like to make this recipe with lemon pepper seasoning or even Italian Seasoning.. Whatever seasonings you enjoy, go ahead and use them.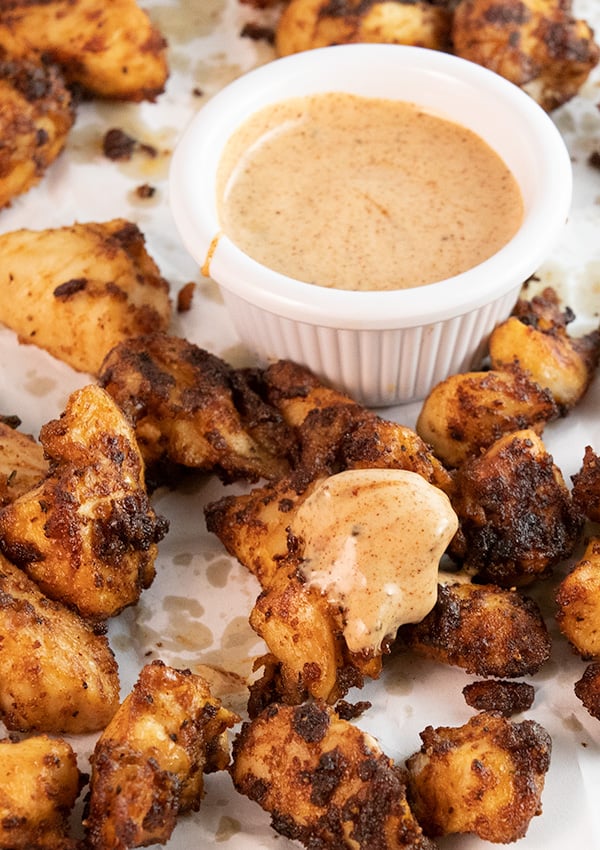 Cooking Chicken in the Air Fryer
These little bites of chicken cook QUICK! In about 10-12 minutes, the chicken will be cooked to perfection in your air fryer.
When you are using the air fryer, one of the most important steps is to pre-heat it. For this recipe you will be preheating your air-fryer to 400 degrees F.
I have the Cosori Air Fryer Max XL and I chose this air-fryer because it is highly rated on Amazon. I have had it for about a year now, and I've been quiet pleased with it.
While your air-fryer heats up, you can prep the chicken. Start by cutting the chicken into bite sized pieces and adding them to a large bowl.
To the bowl you will add mayo, chili powder, garlic powder, smoked paprika, salt, pepper, and baking powder. Use a large spoon to mix this up so that all of the seasonings and mayo are distributed evenly.
When your air-fryer is pre-heated, spray the basket with non-stick cooking spray, then spread the chicken out evenly making sure that you do not overcrowd the tray.
You will cook the chicken for about 10-12 minutes, making sure to flip the chicken about halfway through. Continue cooking the chicken until it reaches an internal temp of about 165 degrees.
These air-fryer chicken bites get a little bit crispy on the outside while remaining super juicy and delicious on the inside.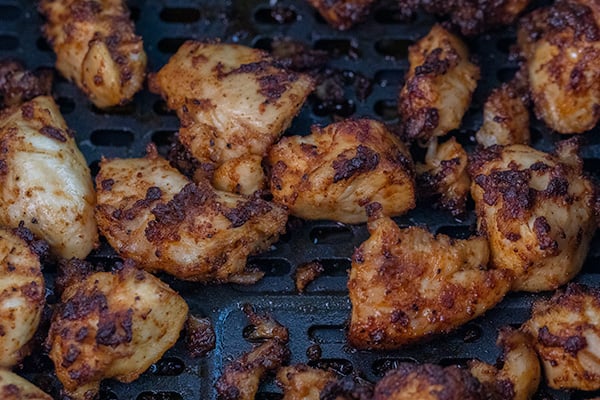 What to serve with Air Fryer Chicken Bites
Looking for a warm, comforting, inviting meal? Use these Chicken Bites to make Chicken Bowls (a la KFC) with mashed potatoes and corn. Here's my recipe for The Best Mashed Potatoes.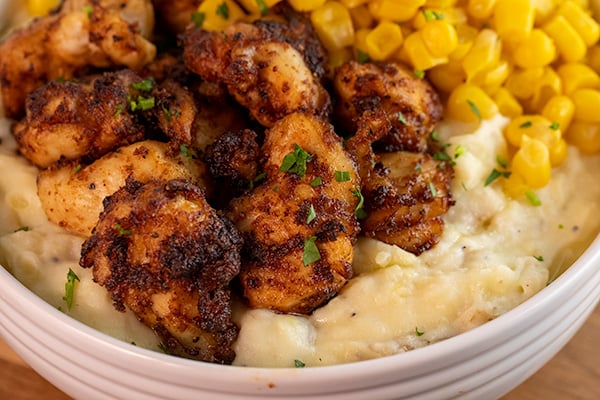 Looking for light and healthy? Use the Chicken Bites in lettuce wraps or to top your favorite salad.
There are so many options- Chicken Bites made in the air-fryer is truly a weeknight wonder. You'll come back to this recipe over and over because not only are you going to enjoy these juicy little bites, your kids are too and that is always a win.
Looking for more delicious chicken recipes?
Reader favorites include this recipe for Alice Springs Chicken (an Outback Steakhouse Copycat) as well as this recipe for Baked Ranch Chicken.
Another favorite is this recipe for Easy Oven-Baked Blackened Chicken.
I hope you enjoy this recipe for Air Fryer Chicken Bites. They are juicy, delicious, and so easy to make. If you try this recipe, and I hope you do, please come back here and let me know what you thought. I always value and appreciate the feedback from all of you.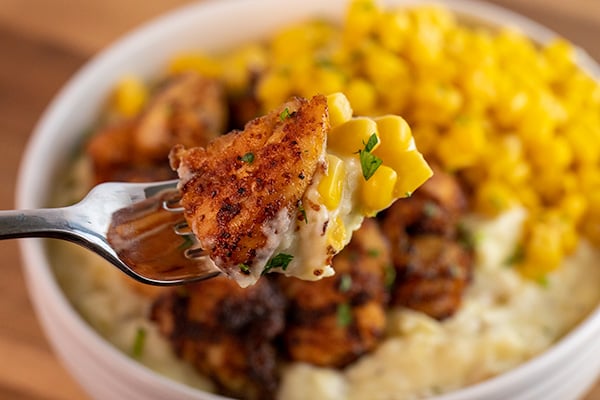 I am a participant in the Amazon Services LLC Associates Program, an affiliate advertising program designed to provide a means for me to earn fees by linking to Amazon.com and affiliated sites. As an Amazon Associate I earn from qualifying purchases at no cost to you.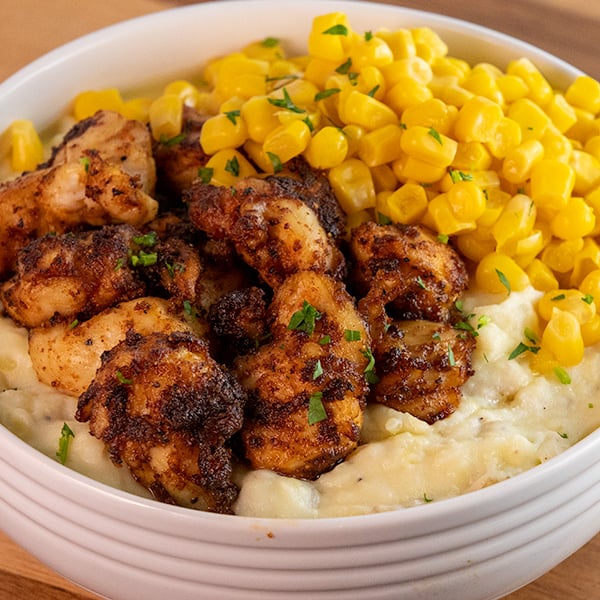 INGREDIENTS
1 1/2 pounds boneless skinless chicken breasts or thighs, cut into bite sized pieces
Non-stick spray
1/4 cup mayo
1 teaspoon chili powder
1 teaspoon garlic powder
1 teaspoon smoked paprika
1 teaspoon salt
1/2 teaspoon black pepper
1 teaspoon baking powder
DIRECTIONS
Preheat air fryer to 400 degrees F.
While the air fryer is preheating, cut chicken breasts or thighs into bite sized pieces and add them to a bowl.
To the bowl add 1 teaspoon chili powder, 1 teaspoon smoked paprika, 1 teaspoon garlic powder, 1 teaspoon salt, 1/2 teaspoon black pepper along with 1 teaspoon baking powder. Stir to combine.
Spray the air-fryer tray/basket with non-stick cooking spray then arrange the chicken in an even layer making sure that you don't overcrowd the pan.
Air fry for 10-12 minutes or until the chicken is cooked through, making sure to toss halfway through.
When the chicken has reached an internal temperature of 165 degrees, it is done.
Servings: 4