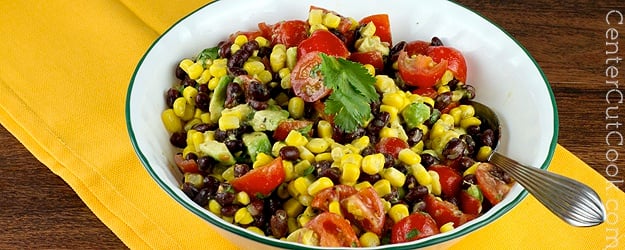 I spy with my little eye something light, fresh, and packed full of protein and fiber! Any ideas? Did you say Corn, Black Bean, Avocado, and Tomato Salad? You did? We have a winner!
This fresh little salad has turned into a dish that I love, love, love. Yes, I love it three times over. Actually, I love it more than that, but let's not go overboard. I love it so much that I could probably eat the entire thing in one sitting, if I didn't put some limits on myself. For real.
What's not to love? Corn, black beans (this is where the protein and fiber come in), avocado, grape tomatoes, and cilantro form the bulk of the salad. Then it gets dressed real simply with some lime juice, red wine vinegar, olive oil, and a little salt and pepper. It comes together in no more than 5 minutes. 5 minutes! Perfect as a side dish, or as a light supper, I recommend you go and try this unassuming delicious little salad immediately!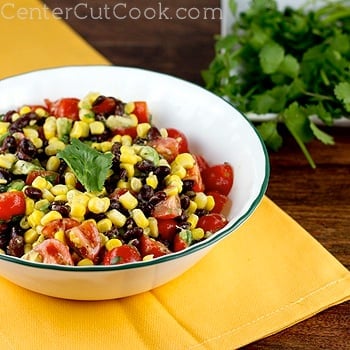 INGREDIENTS
1-7-10 ounce package grape tomatoes, chopped
1 avocado – chopped
1 can black beans, rinsed and drained
1 can whole kernel corn, drained
1 tablespoon fresh cilantro, chopped
2 1/2 tablespoons olive oil
1 tablespoon red wine vinegar
Juice from 1 small lime
3/4 teaspoon sea salt (more or less to taste)
1/2 teaspoon coarse black pepper
DIRECTIONS
Toss chopped avocado with juice from 1 small lime.
In a large bowl, combine avocado, grape tomatoes, black beans, corn, and cilantro.
Stir in olive oil, red wine vinegar, salt, and pepper and stir to coat.
Refrigerate until you are ready to serve.