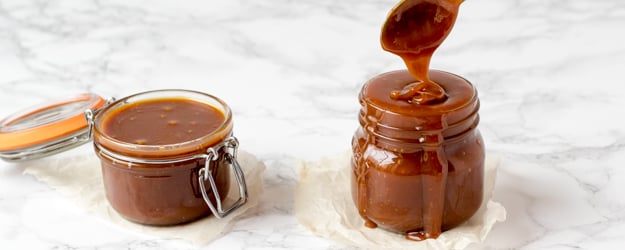 Three ingredients are all you need to quickly make smooth and creamy homemade caramel sauce. You won't believe how easy it is to make fresh caramel at home! This will be your go-to recipe.
If you have ever wondered how to make homemade caramel, wonder no more. Forget spending your money on store-bought caramel because this recipe is quick,easy,smooth and delicious.
The best way to make caramel is to use this recipe as a base, but then modify it as much as you'd like (or simply enjoy it as is). Want salted caramel? (ummm hello yummy salted caramel!) Just stir in half a teaspoon of salt at the end. Want some fancy nutty caramel? Sprinkle some chopped peanuts on top (salted or unsalted) before serving.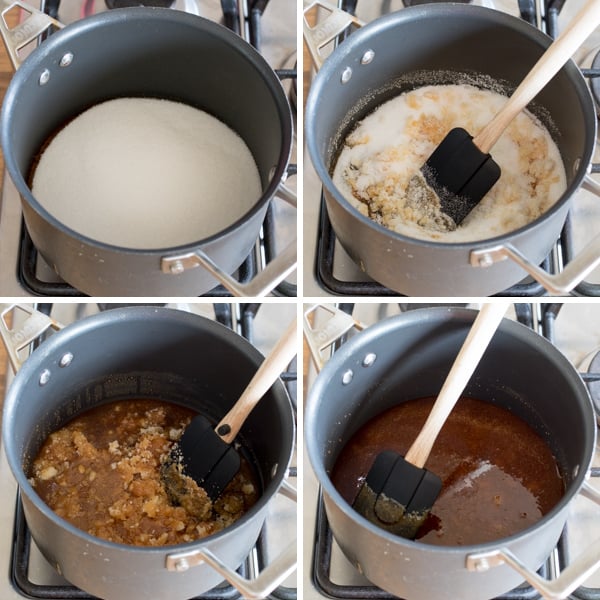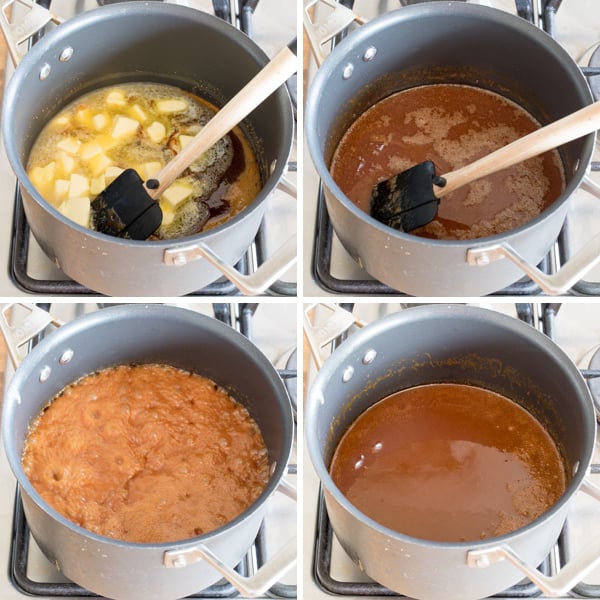 This homemade caramel sauce is perfect for drizzling on ice cream, coating taffy apples, making your own caramel-filled candy or even as a decadent topper for breakfast bananas on toast. It's to die for!
Caramel sauce is easier to make than you think, and you don't even need a candy thermometer. Be warned though, the melted sugar is HOT. Be extra careful when stirring in the butter and cream (it's a good idea to keep the kids out of the kitchen to prevent any accidents!).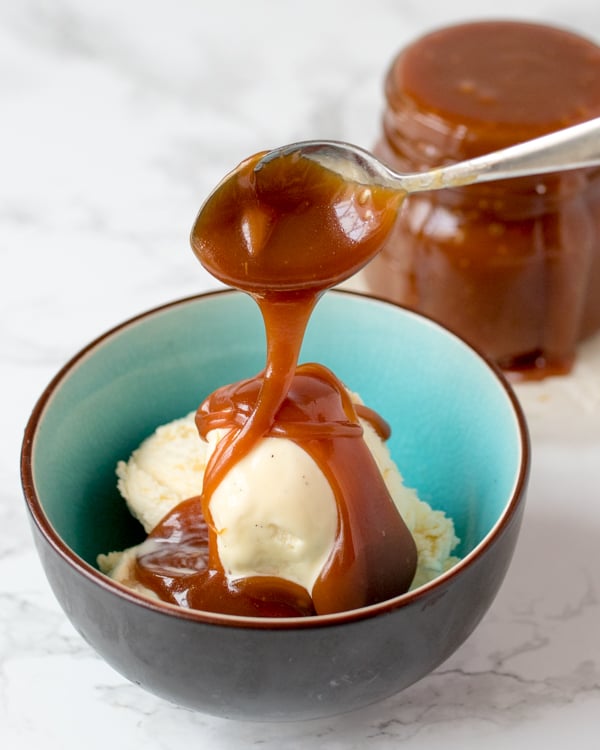 This recipe makes 1 large or 2 small jars. Cover and refrigerate any unused caramel (it should keep for 10-14 days).
The caramel will thicken as it cools, but you can warm it up in a pan or the microwave for 5 seconds to loosen it up if you need to.
Sure you can buy caramel sauce at the store, but this homemade sauce is so simple to make, and tastes fresh and decadent! One of my favorite ways to use this homemade caramel is to drizzle it on top of my Instant Pot Apple Crisp. Perfection! Enjoy!
INGREDIENTS
2 cups granulated sugar
12 tbsp (180g) unsalted butter cut into small chunks
1 cup heavy cream
DIRECTIONS
Place the sugar in a large heavy-bottomed pan over a medium heat. Once the edges of the sugar starts to turn to liquid, stir with a heat resistant rubber spatula. Keep stirring every few seconds.
The sugar will initially go very lumpy, then will turn to a golden liquid. Continue to heat whilst stirring until all the sugar (including any smaller lumps) have melted. If it seems to be taking a long time, turn the heat down whilst stirring, to prevent the caramel from burning.
Once all the sugar has melted, very carefully add the butter to the pan. It will bubble and spit, so you may want to lower it in with a spoon to be extra careful.
Stir the butter in for 2 minutes. You may find that the butter doesn't completely stir in – some of it may stay on top. This is fine (it will mix in properly once the cream is added).
Pure in the cream, whilst stirring. The caramel will bubble up quite a lot at this point. Once combined, allow the caramel to bubble for a minute – stirring once or twice – then turn off the heat.
Leave to cool, then pour the caramel into one large or 2 small sterilised jars.
Serve once cool, or cover and refrigerate until needed.
Servings: 1 large jar