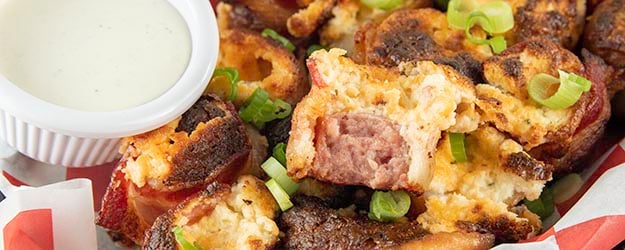 Well, well, well. What do we have here? I like to call them Air Fryer Bacon Wrapped Kielbasa Bites but you can call them whatever makes your heart happy. Kielbasa Bacon Bombs would be fitting too, as would Bacon Cheddar Ranch Kielbasa Bites. They are so simple yet so delicious and when you put them out for your next party, it won't take long for them to disappear.
While Kielbasa and bacon are a delightful combination and delicious alone, I didn't stop there. I continued on by filling these babies with a cheesy cheddar ranch filling. The result is an irresistible combination. Truly, I'm obsessed and I think you will be too.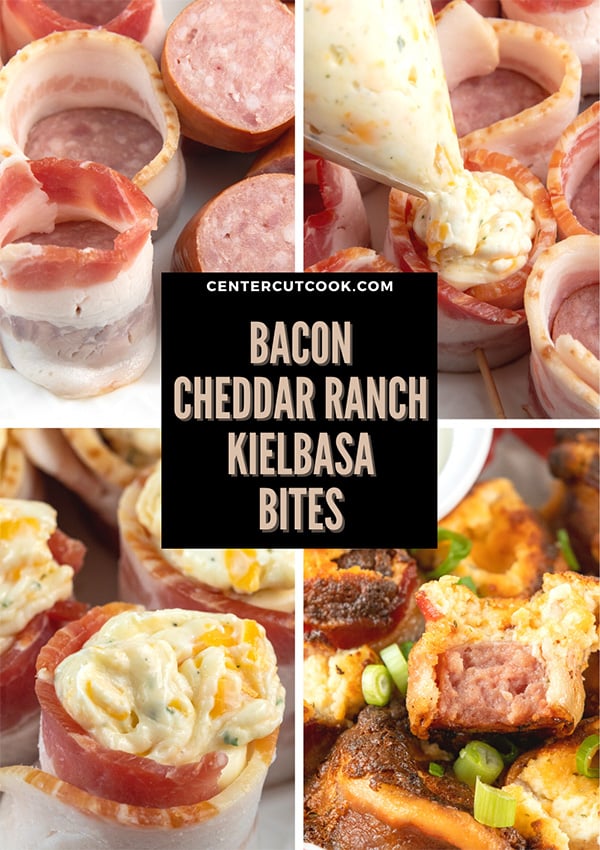 This recipe for Bacon Wrapped Kielbasa is by no means a difficult recipe. It's actually quite simple, however, there are some tips and tricks that I'd like to share with you today. My goal is to ensure that you will feel confident making this for your next party and that these little Kielbasa Bites will be, without question, a 10/10. Let's get started.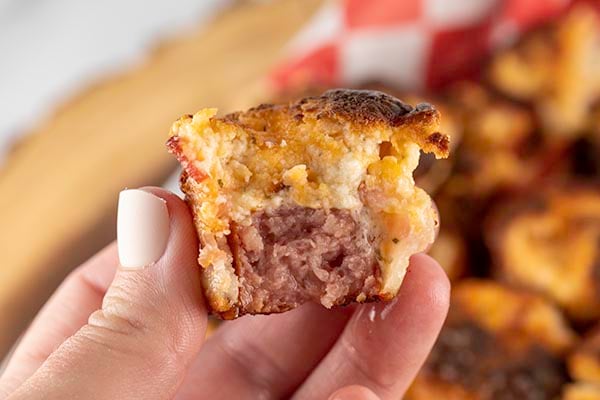 Air Fryer Tips and Tricks
Each air fryer available on the market is made a bit differently. If you are new to cooking with your air-fryer, be patient as you figure it out.
For this recipe, I used the COSORI Max XL 5.8 QT Electric Air Fryer that I purchased from Amazon. It had great reviews and thus far, I have been pleased with the purchase.
When you are using an air fryer, it is important to pre-heat the air fryer for the best results. Let me repeat that, PRE-HEAT THE AIR FRYER!
It is also essential to make sure that you do not overcrowd the basket. If the air-fryer basket or tray is overcrowded, the air can't circulate and you will not achieve the best results.
Depending on the size of your air-fryer, you may need to make these Bacon Wrapped Kielbasa Bites in more than one batch. The first time I made these, I went against my better judgement and cooked them all at once. The bacon did not crisp up as nicely. Now I make them in two batches and the bacon turns out crispy and perfect.
What kind of Kielbasa should I use?
For this recipe, I used Hillshire Farm Beef Polska Kielbasa. It's a 12 ounce rope that I cut into 20 pieces. Each piece was about 1-1.5 inches.
You can use any fully cooked, smoked sausage that you'd like, however, my personal preference is the Hillshire Farm brand.
What kind of bacon should I use?
When you are bacon wrapping anything whether it be for these kielbasa bites, little smokies, asparagus, or dates, make sure you are not using a thick cut piece of bacon.
You will want to use a piece of bacon that is not too thick to ensure that it crisps up. The thicker sliced bacon will not cook all the way through.
I used 10 slices of bacon that I cut in half, but you could also cut each slice of bacon into thirds depending on the size.
Make sure that as you wrap each little piece of kielbasa, that you do not wrap the bacon around more than one and a half times. Trim the bacon into a smaller piece if it is too long so that it will crisp up and cook evenly.
How do I wrap the bacon around the kielbasa?
The goal is to place the bacon so that it extends above the top of the kielbasa, forming a little cup. Secure each piece of bacon with a toothpick. The bacon will form the cup for the delicious cheese filling.
Cheese Filling Ingredients
Alright, let's talk about the cheese filling. You will need 1 cup of shredded cheese. I used cheddar but feel free to use whatever you have on hand. I like to shred my own cheese because it melts better but you can use pre-shredded cheese as well.
You will also need an 8 ounce block of cream cheese. It is easiest if you remember to pull the cream cheese out of the refrigerator about 30 minutes before starting this recipe so that it has time to soften up a bit, but it's not entirely necessary.
You will also need a little bit of mayo, along with a 1 ounce ranch seasoning packet. I used Hidden Valley Ranch.
You'll combine the filling ingredients into a bowl. I like to microwave this mixture for about 30 seconds, and then stir it so that it blends together well.
From here you can either spoon this mixture into each little kielbasa cup, OR what I like to do is place the filling in a quart-sized ziplock bag, snip off the tip, and pipe the filling into each kielbasa cup.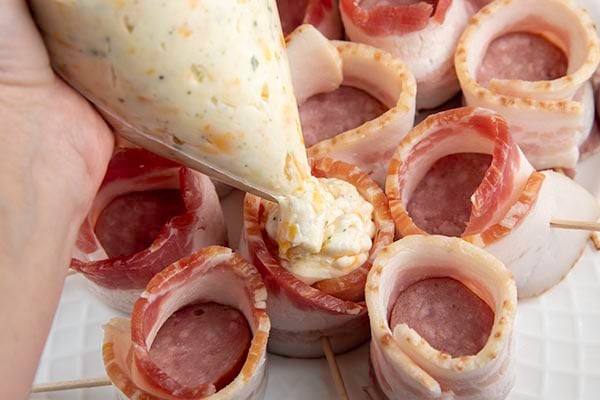 Air Fryer Instructions for Bacon Wrapped Kielbasa
Now that you have preheated your air-fryer, it's time to cook these Kielbasa Bacon Bites.
Arrange them in the basket/tray of your air fryer, making sure to leave plenty of space around each one so that they can cook evenly.
Then, you are going to air fry at 340 degrees for about 15-16 minutes, or until the bacon crisps up and cooks evenly.
It is possible that you will need to cook these in batches depending on the size of your air fryer. Just remember that if there is not ample space around each kielbasa bite, the bacon will not crisp up evenly.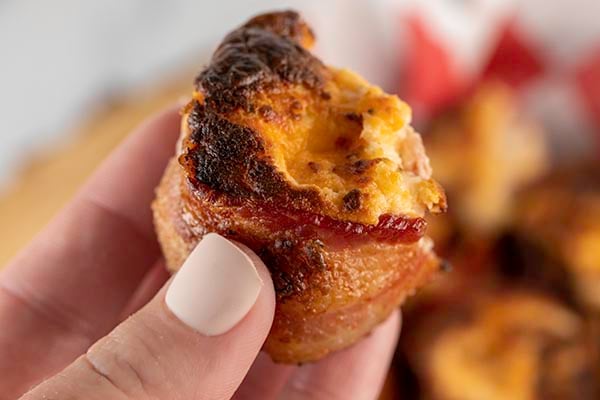 What does it taste like?
Kielbasa and bacon combined with cheese and ranch is the quad of ingredients that were meant to be together. The tops of these little bites turn golden and brown and with the crispy bacon….. *chef's kiss* it's perfection.
There you have it… everything you need to know to make these incredibly delicious Air Fryer Kielbasa Bacon Bites. Or maybe they should be called Cheddar Bacon Ranch Kielbasa Bites?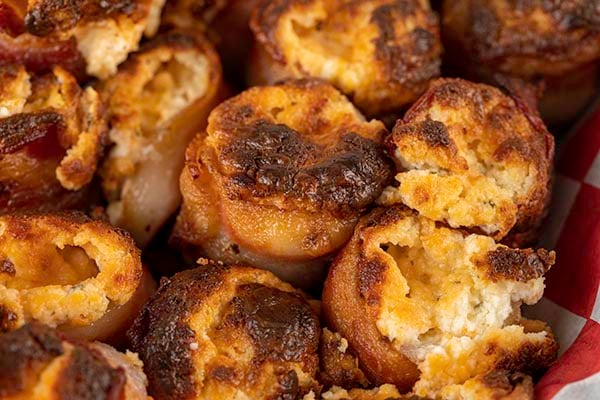 No matter what you call them, these little babies are so good.
I like to serve them with my homemade ranch dressing but bottled ranch dressing will work too.
Serve these at your next football party, or make them on a random Thursday night, because you deserve yummy deliciousness every night of the week.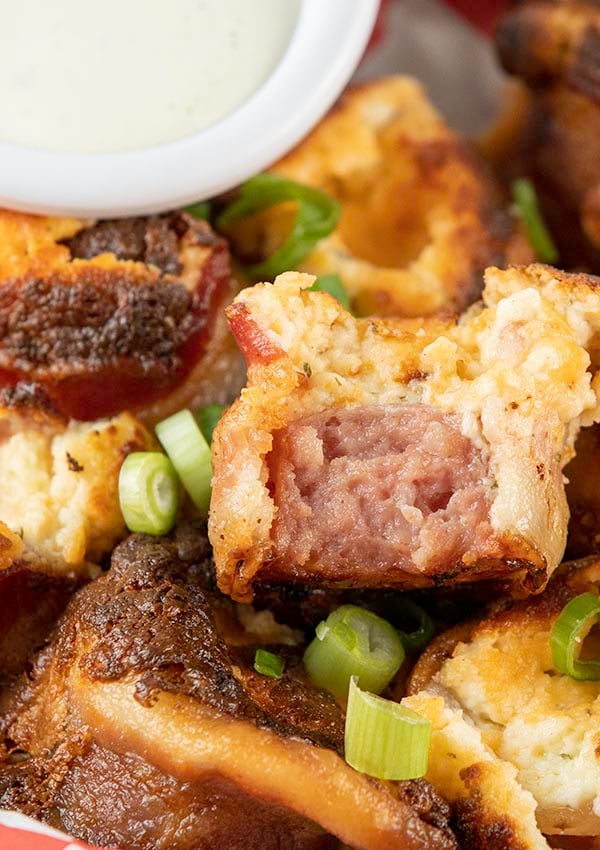 Looking for more bacon wrapped recipes?
Let's be honest, sometimes things just taste better wrapped in bacon….
Want more game day snacks?
Here are some of our all-time favorite appetizers that are perfect for game day, birthday parties, or whenever you decide that dinner is overrated and you make appetizers for dinner instead.
If you try this recipe, and I hope you do, please come back here and leave a comment to let me know what you think! Or, tag us on Social Media (@CenterCutCook).
I hope you love these Air Fryer Bacon Wrapped Kielbasa Bites as much as we do. Enjoy!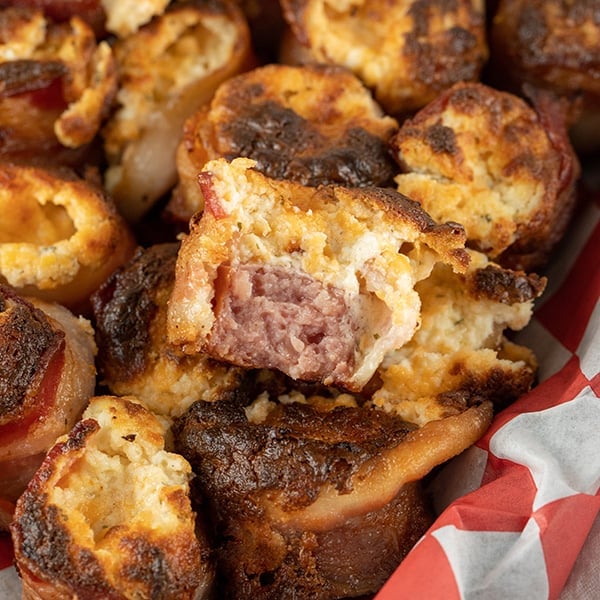 INGREDIENTS
12 ounces Kielbasa, cut into about 20 pieces (1-1.5 inches)
10 slices bacon, cut into half (trim if needed so bacon doesn't wrap around kielbasa more than 1.5 times)
Toothpicks
1 cup shredded cheddar cheese
8 ounces cream cheese, softened
1/4 cup mayo
1 ounce ranch seasoning packet
Ranch dressing for dipping, green onion for garnish
DIRECTIONS
Wrap a piece of bacon around each piece of kielbasa, making sure to extend the bacon above the top of the kielbasa, forming a little cup.
Secure the bacon with a toothpick.
In a large bowl, combine shredded cheddar cheese, cream cheese, mayo, and ranch seasoning packet.
Microwave this mixture for about 30 seconds, then stir to combine.
Place the mixture in a ziplock bag, then snip the tip and pipe the filling into each kielbasa cup. Alternatively, you can spoon some of this mixture into each kielbasa cup without using a ziplock bag.
Preheat your air-fryer to 340 degrees.
Once air-fryer is heated, arrange the bacon wrapped kielbasa bites on the tray/basket making sure to leave ample room around each one.
Cook for 15-16 minutes, or until the bacon is crispy and the tops are golden brown.
Serve with ranch dressing and chopped chives.
Servings: 6