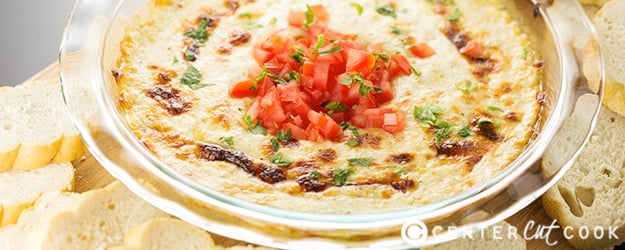 When you're in the mood for Italian, and you're going out for dinner, what is your go-to restaurant? We love trying little mom and pop Italian restaurants, but sometimes we still end up at Olive Garden or Macaroni Grill. When we go to Olive Garden, their Smoked Mozzzarella Fonduta is one of my favorite appetizers. It's cheesy, and smoky, and downright delicious served with toasty bread.
While my version consists of mostly just cheese, Giada De Laurentiis has a version she makes where she uses prosciutto which got me thinking…. this dip would be equally as delicious with adding something like like smoky bacon or even chunks of pepperoni. Feel free to add those in if you'd like!
Alright, let's talk about this dip, shall we? The smokiness, which I absolutely love, comes from some smoked provolone cheese that I added in. If you can't find smoked provolone, you could look to see if your grocery store sells a smoked mozzarella cheese. My grocery store sells both in the specialty cheese section. Certainly you could use regular ole mozzarella cheese and provolone cheese, but using one smoked cheese definitely makes a difference. Olive Garden's version has a hint of smokiness, so I wanted to be sure my version did too.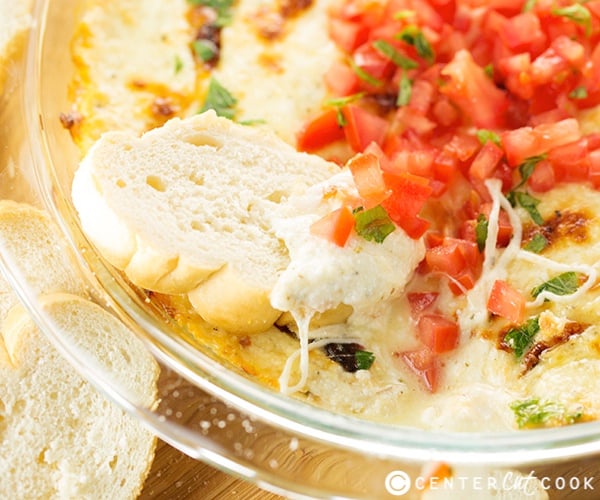 You'll also add in a little bit of finely shredded parmesan cheese. I've found that the best way to get finely shredded parmesan cheese is to use a trusty Microplane Grater. The finer the parmesan cheese is shredded, the better it will melt. To top it all off, you'll chop up a tomato (I used a roma tomato) and some fresh parsley for garnish.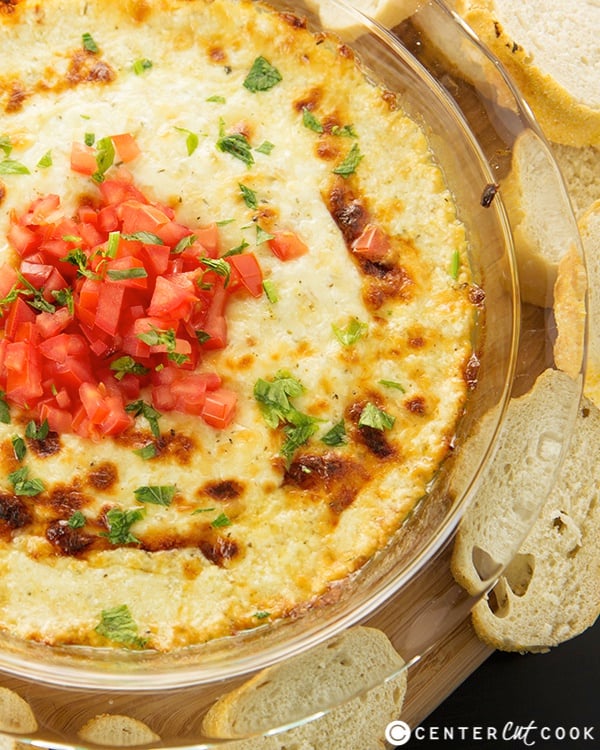 To serve this tasty Smoked Mozzarella Fonduta, just slice up a loaf of Italian bread and toast it in the oven for about five minutes. You could also grill the bread if you'd like, but I found that it's much faster to just bake it for a bit.
If you want your dip to be extra browned, broil it for about three minutes at the very end. Enjoy!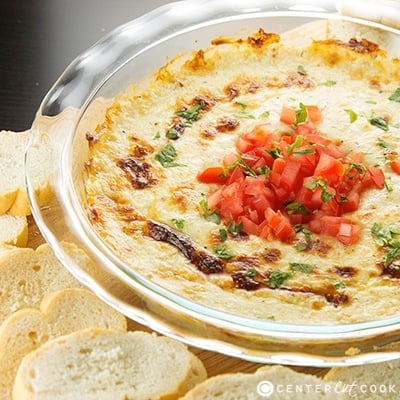 INGREDIENTS
1 cup sour cream
8 ounces smoked mozzarella cheese, shredded
8 ounces provolone cheese, shredded
1/2 cup finely grated parmesan cheese
1 teaspoon Italian seasoning
A pinch of red pepper flake
1 roma tomato, diced
1 tablespoon chopped fresh parsley
1 loaf Italian bread cut into slices or bite-sized pieces
DIRECTIONS
Pre-heat your oven to 450F.
In a large bowl, combine the sour cream with the mozzarella cheese, provolone cheese, parmesan cheese, Italian seasoning, and red pepper flake.
Spray a 1.5 quart casserole dish with non-stick spray (you can also use a pie plate like I did).
Pour the mixture into the prepared dish.
Bake for 15 minutes, until the mixture is melted and bubbly. If you'd like the top extra browned, broil for an additional 2-3 minutes, but make sure to keep an eye on it so it doesn't burn. Garnish with diced tomatoes and parsley.
Bake the bread slices for 5 minutes then serve immediately (you can put the bread in the oven as the dip is baking).
Recipe from
CenterCutCook