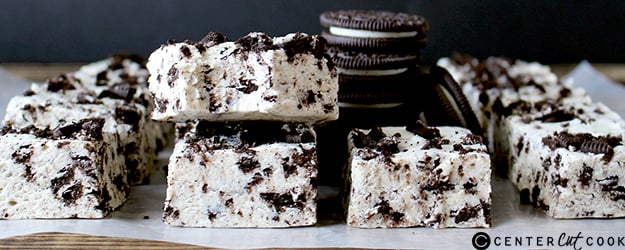 Oreo Cheesecake Fudge is a no-bake cheesecake dessert that you need in your life because it is SO good and it comes together fast. Because it's no-bake, this dessert is perfect for those times that you don't feel like heating up your house by turning on the oven. A little time needs to be factored in for chilling in the fridge, but besides that, this Oreo Cheesecake Fudge is quick and requires just a few minutes of mixing in a pan.
The cheesecake pudding mix adds a light cheesecake flavor that works perfectly with the white chocolate and Oreo's. I had one friend describe it as Oreo cookie dough. The texture is soft, but sets up and cuts nicely. This is a pretty sweet treat, so little squares are best.
One tip that helps to make this Oreo Cheesecake Fudge a success is to spray the measuring cup with non-stick spray before measuring out the marshmallow fluff. That stuff is so sticky, but comes right out when sprayed with cooking spray.
You will love how easy this Oreo Cheesecake Fudge is to make and how incredibly delicious it is! It only takes 10 minutes to make from start to finish and it's a rich and creamy treat everyone will love!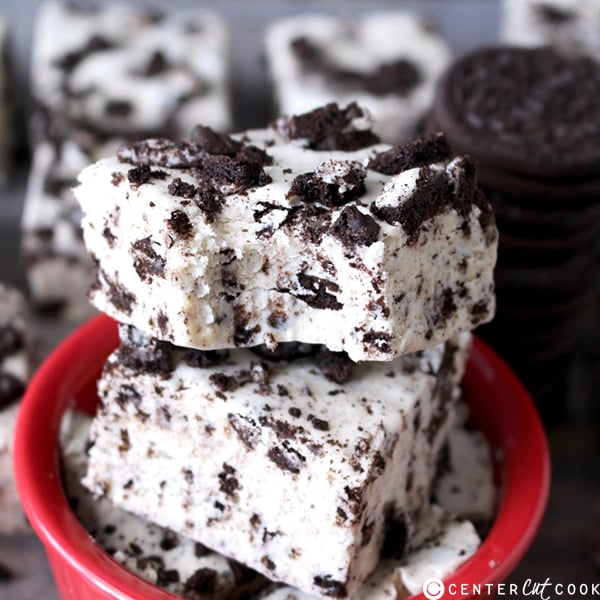 INGREDIENTS
3 cups white chocolate chips
1 14oz can sweetened condensed milk
1 box instant cheesecake pudding mix, dry
1 cup marshmallow fluff
1 1/4 cups chopped Oreo's (about 1/3 of a package)
1/4 cup chopped Oreo's for the top, if desired
DIRECTIONS
Line a 9×9 square pan with foil and spray with non-stick spray. Set aside.
In a large saucepan, combine the white chocolate chips and sweetened condensed milk and heat over medium heat until smooth. Stir constantly to encourage melting.
Add the dry pudding mix and stir, then add the marshmallow fluff and mix until fully combined. It can get a little tough to stir, but really try to mix it well.
Take the pan off the heat and add the chopped Oreo's. Fold them in until evenly distributed.
Pour into prepared pan and top with additional Oreo's if desired.
Refrigerate overnight or for at least 4 hours.
Cut into small squares and serve.
Servings: 20