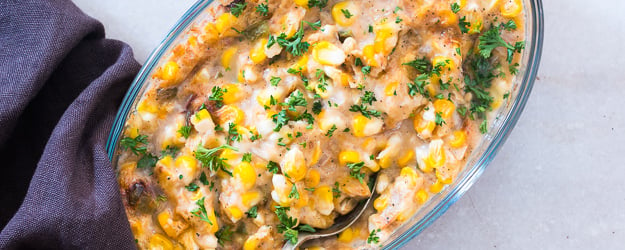 We've been making this creamy corn casserole at our house since I was a kid. In fact every time fresh corn was in season, this was the most requested dish in the house. And my mum didn't mind because it literally takes 10 minutes to put together, and the result is a delicious, cheesy baked dish that usually vanishes within minutes.
There are different ways to make a corn casserole and some like to use a corn muffin mix or corn bread, but we prefer it without any of that. It's just plain and simple corn kernels, half and half and lots of cream cheese. 30 minutes in the oven and you are done.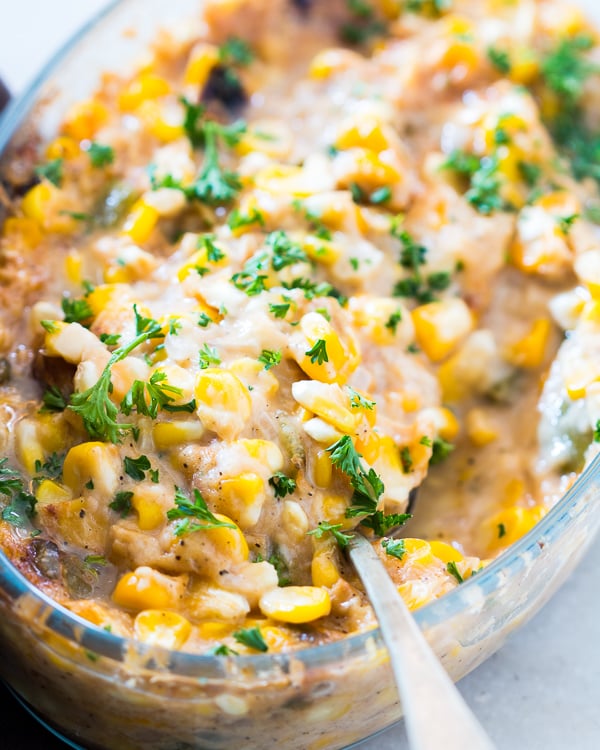 My mum even makes this whole thing in a skillet without any baking, but I love the golden brown baked top of this corn pudding, and prefer giving it some oven time.
This makes for a delicious side dish on holidays because it's just as easy to make this with frozen corn kernels, and the family will always be asking for more! Spice this up with easy add ons like bacon, parsley and potatoes even for a hearty, wholesome dish.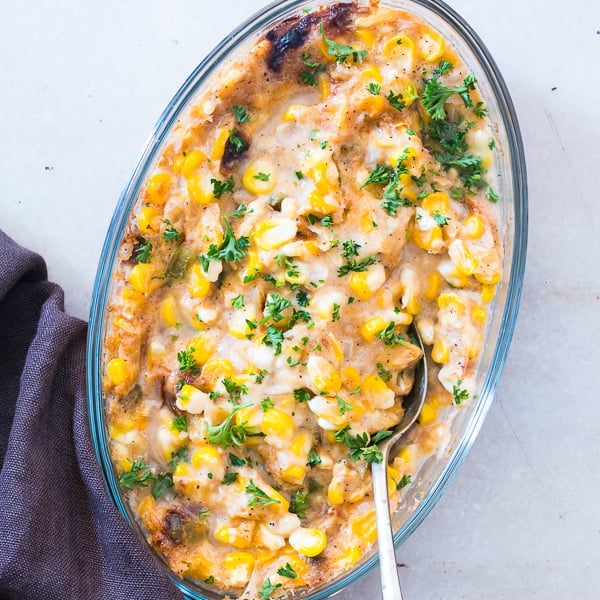 INGREDIENTS
4 cups Corn Kernels, fresh or frozen
2 tablespoons Butter
1 tablespoon Oil
1 Onion, finely diced
2 1/2 tablespoons All Purpose Flour
1 cup Half and Half
1/2 cup Milk
3/4 cup Cream Cheese
Salt and Pepper to taste
DIRECTIONS
Pre-heat oven to 350 degrees.
In a pan heat butter and oil and add the onions. Saute for 2-3 minutes till just translucent and add flour.
Cook the flour for a minute and whisk in half and half and milk. Keep whisking on medium high heat till the sauce starts thickening up. Add corn, cream cheese, salt and pepper and switch off the flame.
Mix well and transfer to a baking dish. Bake for 30 minutes. Serve hot.
Servings: 6