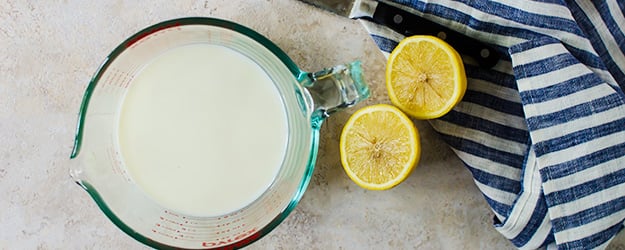 Most recipes call for buttermilk to add tenderness, tang, and acid to react to the baking powder and baking soda. Yet somehow buttermilk never seems to be in the fridge when it's needed. Luckily, it is really easy to make your own buttermilk substitute at home.
All you need is milk and an acid such as lemon juice or vinegar to essentially sour the milk. I know that sounds gross, but that is basically what buttermilk is! The only noticeable difference is that it won't get as thick and creamy as store bought buttermilk. You also cannot use homemade buttermilk in dressings. It just doesn't work as well. Instead, this tutorial on how to make buttermilk is perfect for pancakes, quick breads, and basically any baked good that asks for buttermilk
The best part about making buttermilk at home it that you will always have the exact amount you need as long as you have milk and an acid on hand. Just mix them together and let the mixture do its thing for a few minutes, then you are ready to go! If you end up forgetting your homemade buttermilk on the counter for a while, it's okay! You can still use that mixture for about an hour after you make it. Just don't plan on storing it in the fridge to use later as it doesn't keep very well.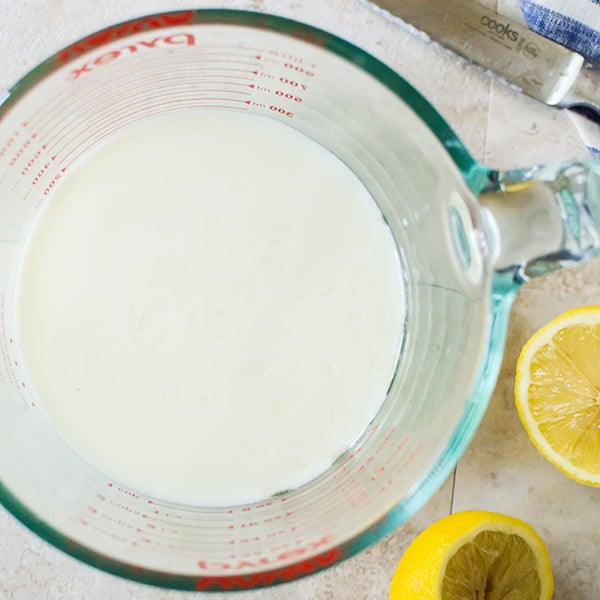 INGREDIENTS
1 cup milk
1 1/2 teaspoons lemon juice or distilled white vinegar
DIRECTIONS
Mix the milk and lemon juice together in a small bowl until combined.
Leave undisturbed for five minutes at room temperature.
Use immediately to replace buttermilk in any of your baked goods! Can not store for later use.