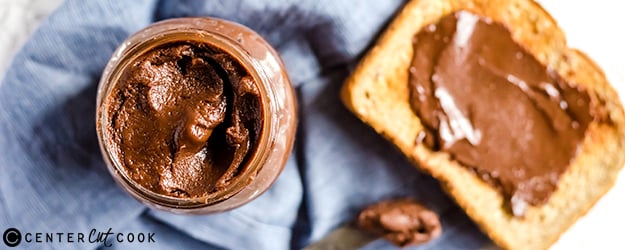 One of my favorite things to do in the kitchen is make my own favorite foods at home. I bake a lot of bread, and also make my own yogurt. I started making my own Nutella over a year ago and we will probably never go back to the jarred stuff again.
To get the best homemade Nutella, it is important to use freshly roasted hazelnuts that are well peeled of their skins. This helps the hazelnuts release their natural oils and makes the spread creamier. If you are using pre-roasted and/or skinned hazelnuts, it is still important to heat the hazelnuts for a few minutes because the warmer temperature is what helps release the oils.
My recipe is a bit different from other homemade Nutella recipes in that I do use dairy in my spread. This gives the chocolate hazelnut spread a wonderfully creamy flavor. I also think it looks and feels more like traditional Nutella with the dairy. Typically, I use heavy cream, but I have experimented with using other types of milk with success. You can still leave the homemade Nutella at room temperature, as long as it is left in an airtight container.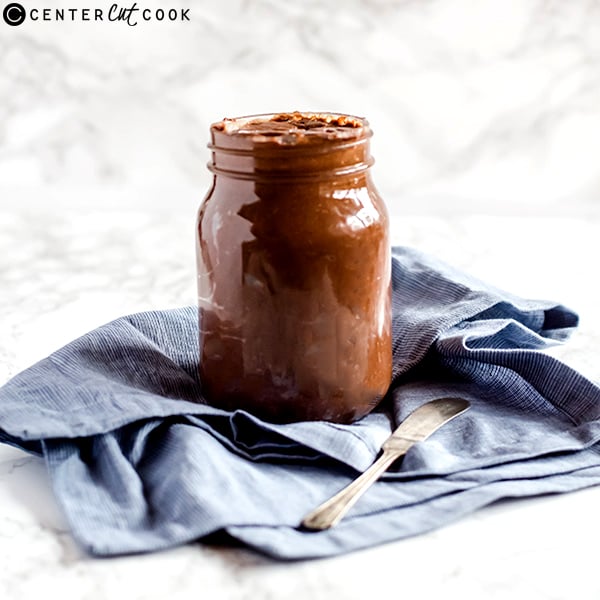 INGREDIENTS
2 cups shelled hazelnuts
2/3 cup dark chocolate
2 tablespoons cocoa powder
2 1/2 – 3 cups powdered sugar
Pinch of salt
1/2 teaspoon vanilla extract
1 tablespoon hazelnut oil
1/3 – 1/2 cup heavy cream
DIRECTIONS
Preheat the oven to 300 degrees F. Line a baking sheet with parchment paper.
Place your hazelnuts in a single layer on the baking sheet and roast for about 15 minutes. Allow to cool and peel, taking off as much of the skins as possible.
Add hazelnuts to the food processor and process for about 5 – 10 minutes, or until the hazelnuts release their oils and begins to look like a nut butter.
Add the chocolate, cocoa powder, powdered sugar, salt, vanilla extract, and hazelnut oil if using then process until combined. If the mixture begins to look clumpy to you, do not worry.
While the food processor is running, slowly drizzle the heavy cream into the food processor until the mixture becomes thick and creamy.
Store in an airtight container for up to a week.
Servings: 2 cups