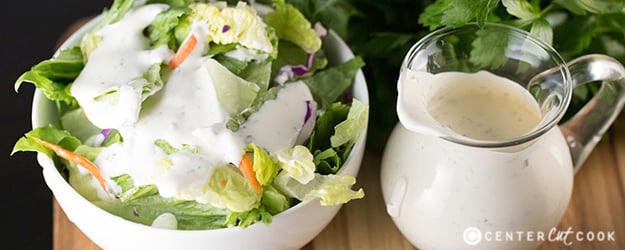 Everybody has their favorite salad dressing that they turn to time after time and for me, it has always been ranch. I grew up with Wishbone Ranch Dressing before discovering later on that I like Hidden Valley Ranch Way better, before discovering that Homemade Ranch Dressing blows both of those out of the water! I tried homemade ranch dressing once and decided the bottle in the fridge was only to be used as an emergency back-up, you know, for those times when I don't have the homemade dressing on hand, yet I need to dip my pizza in it? (Yes, I dip my pizza in ranch dressing, I told you… I'm addicted).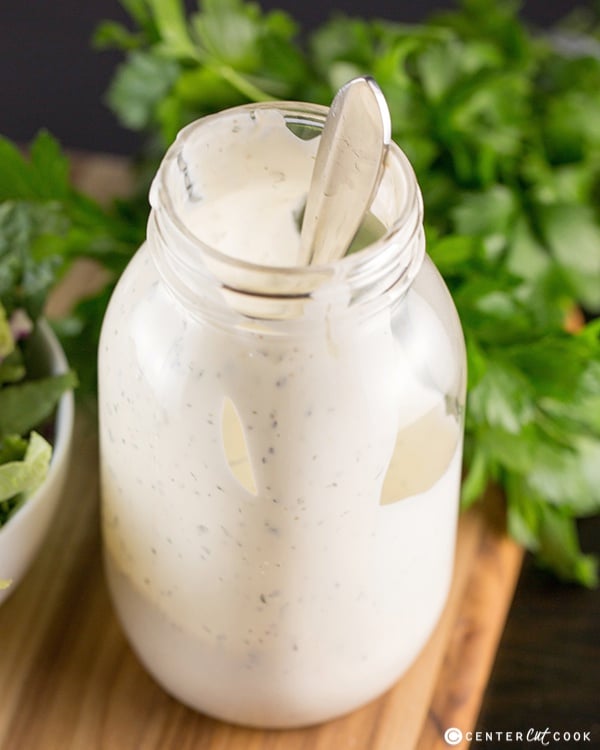 Homemade salad dressing always sounds so intimidating for some reason, yet it couldn't be easier to make, especially Homemade Ranch Dressing. The base of this dressing is simply my homemade Classic Ranch Dip, have you tried it yet? It always gets rave reviews. At any rate, I started with that, and then added buttermilk until I got the exact consistency I was looking for.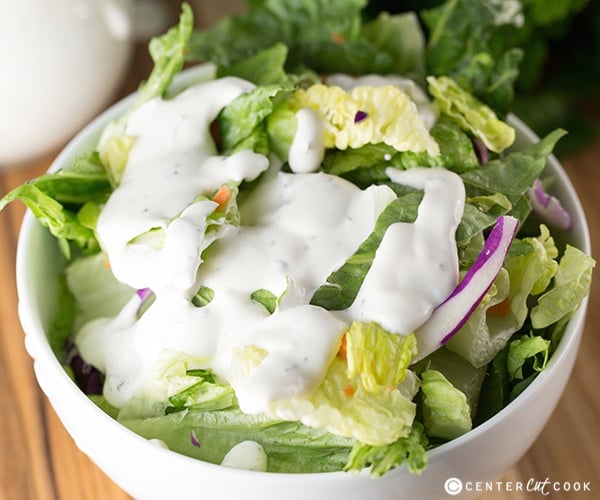 You could also thin this homemade ranch dressing out with milk, but I highly recommend the buttermilk. Believe it or not, it makes a difference in the taste and the consistency. All of the seasonings you likely already have on hand, with perhaps the exception of dried dill weed. I know not everyone stocks that spice, but you will definitely want it for this recipe.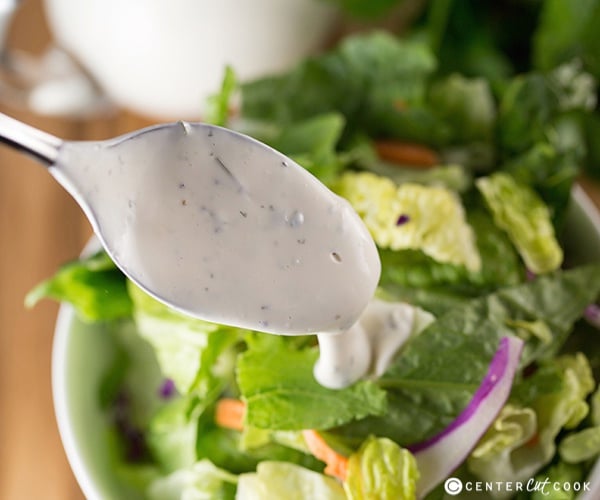 The listed amount of buttermilk is just a suggestion. Add more or less, depending on how thick or thin you like your ranch dressing. I used about 1/2 cup of buttermilk which was just right for me, but adjust it according to what you like. Just add a little bit at a time so that your dressing doesn't end up too runny. Oh, and be sure to chill the dressing for at least two hours, longer if you can. The longer it sits, the better it tastes.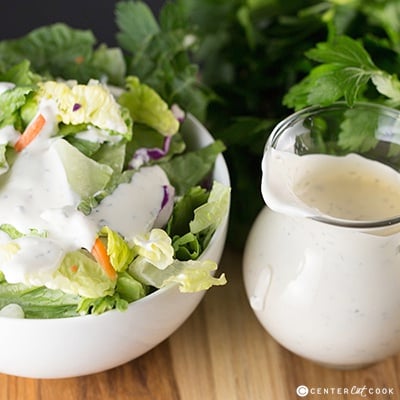 INGREDIENTS
1 cup mayo
1/2 cup sour cream
1/2 teaspoon dried chives
3/4 teaspoon dried parsley
1/4 teaspoon dried dill weed
1/4 teaspoon garlic powder
1/8 teaspoon salt
1/4 teaspoon black pepper
1/2 cup buttermilk
DIRECTIONS
In a large bowl, combine all of the ingredients except the buttermilk, and mix well.
Slowly whisk in the cold buttermilk. Add more or less, depending on the thickness you'd like your dressing.
Refrigerate and chill for at least two hours, but preferably overnight for the best results.
Store leftovers in an airtight container in the refrigerator for up to 7 days. Enjoy!
Recipe from
CenterCutCook