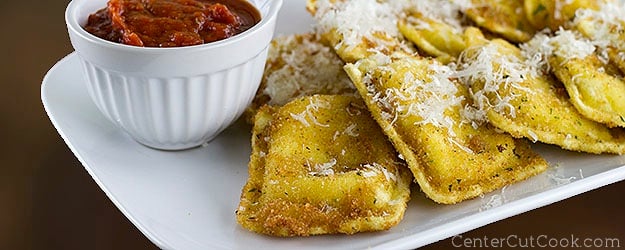 It's hard to believe, but it is just about time to ring in the new year! With just a couple of days left in 2012, I decided I'd try to pull together a few of our favorite appetizers that pair perfectly with a party. I don't know what your New Year's celebration typically looks like, but here, it usually involves oodles of foods that can easily be eaten with just hands, like this recipe for Toasted Cheese Ravioli.
As I was gathering information to put this recipe together, I found out that this delectable little treat was actually created and became popular in St. Louis, Missouri. The name is kinda funny because it's not actually toasted, rather it's typically deep fried, but we'll stick with the original name, the one that made it popular.
While we typically stay away from deep-fried foods for a variety of reasons, I made an exception for these guys! They aren't difficult to make, per se, but they do take a bit of your time because there are multiple steps. You start by cooking the ravioli (I bought frozen ravioli) until tender. Once drained, the ravioli get coated in an egg wash, followed by a healthy dose of bread crumbs. A big pot of oil is heated until screaming' hot, then the ravioli get tossed in, a few at a time (you'll cook these guys in batches) until crispy! I served them with marinara, which is the obvious choice, but feel free to get creative.
If you wanted to go all out, you could make homemade ravioli from scratch. I just went with a bag of frozen cheese ravioli from Costco. While my version is vegetarian, feel free to use ravioli filled with meat, if that's what your little heart desires. :) There are so many filing options for ravioli these days. It really doesn't matter which you choose, they will all turn out fabulous.
INGREDIENTS
1 pound ravioli (amount will vary based upon the size – for me it was about 24 ravioli)
1 1/2 cups Italian seasoned bread crumbs
2 eggs, beaten
Freshly grated parmigiano reggiano cheese
Marinara sauce
DIRECTIONS
Cook ravioli until tender, according to package directions. Drain, and pat the ravioli dry with paper towels.
Pour bread crumbs into a shallow dish (I used a cake pan)
Lightly beat two eggs in another shallow dish
Coat each ravioli in egg, then bread crumbs.
Heat 1 inch of oil to about 350 degrees.
When the oil is hot, add in ravioli, a few at a time so that you don't overcrowd the pan. Allow the ravioli to cook until nicely browned and crisp, about five minutes.
Use tongs to carefully remove ravioli to a paper towel lined plate.
Sprinkle fresh parmigiano reggiano cheese over the warm ravioli.
Heat marinara sauce and serve.
Recipe from
CenterCutCook