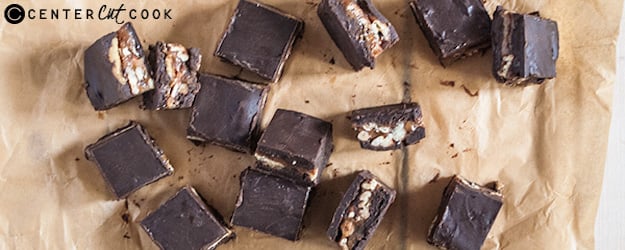 Turtle candies have been a favorite of mine since I was a child. The mix of pecan, caramel, and chocolate just grabs my taste buds in a way nothing else can. Put those candies in front of me and they will be gone in moments. And that's a promise.
Whenever we go to the shore, we always grab free samples of fudge on the boardwalk and since I haven't had the chance to get to the beach yet, I decided to whip up an easy fudge recipe at home. It was a natural decision to turn the fudge into my favorite candy by layering salted caramel and pecans into the fudge. And the espresso, well, what goes better with chocolate than a little kick of coffee?
I made this recipe as simple as possible for you because I don't believe in waiting too long when you've got a craving to satisfy. With this mocha turtle fudge, we use a simple fudge recipe using chocolate chips and sweetened condensed milk and premade soft caramels. In all, it takes only a few minutes to make a batch of fudge and you can start eating in a few hours after it firms. My only note is to work quickly once you melt the caramel… And try not to spill the fudge when you are pouring it into your baking pan like I did.
Quick tip: when cutting the fudge, I like to brush my knife with a bit of butter just before cutting. Then after each slice, I wipe the blade clean and re-brush with butter. It seems like a bit of a process, but it acts like insurance to make sure slices come out clean every time. If you don't have instant espresso available, you can use instant coffee. I like to use decaf if my daughter will be eating some of the fudge! This recipe can easily be doubled and placed in a 9 x 13 baking pan, making this great for gift giving and parties!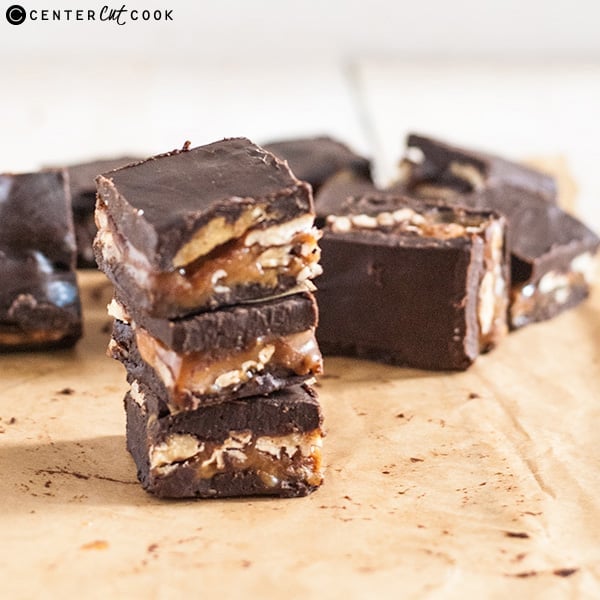 INGREDIENTS
DIRECTIONS
Line an 8×8 inch baking pan with aluminum foil or parchment paper. Lightly grease and set aside.
In a double boiler, mix the chocolate chips, sweetened condensed milk, butter, and espresso powder together. Stir until all ingredients are melted and well combined. Pour half the mixture into the baking pan. Set aside.
Melt the caramels in a small saucepan on medium-low. Mix in the kosher salt and hot water and stir well. Quickly pour the melted caramel over the chocolate in the baking pan. Place the pecan halves in a single layer over the caramel.
Top the pecans with the remaining fudge mixture. Allow the fudge to cool completely – I recommend placing in the refrigerator.