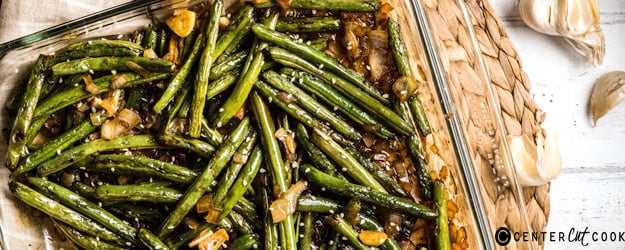 Have you decided what side dishes will you serve at Thanksgiving this year? Finding side dishes might be the last thing on your to-do list, but since you're already spending time and effort to make them, why not try something different and more delicious than the usual baked green beans?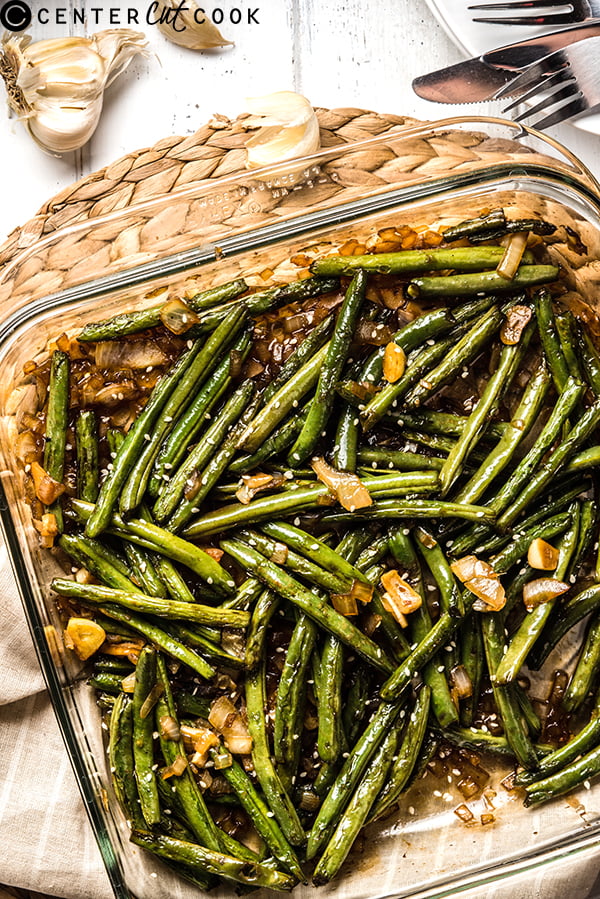 These pan roasted green beans are adapted from a famous Szechuan recipe, without making them too spicy. The green beans are cooked on the stove top until their surface is nicely charred, and then cooked in a garlicky soy sauce based sauce for a rich and savory taste.
Unlike other Asian stir fried recipes, this recipe fries the green beans with a minimal amount of oil. It creates a great texture just like that of oven roasted beans.
This dish is great for Thanksgiving or any party, because it does not take up your oven space. You can even prepare it a day ahead and reheat it before serving. And don't worry about the compatibility of this dish. Although it uses Asian style seasonings, its savory taste goes great with roast turkey and any other dishes you will be serving.
Happy cooking!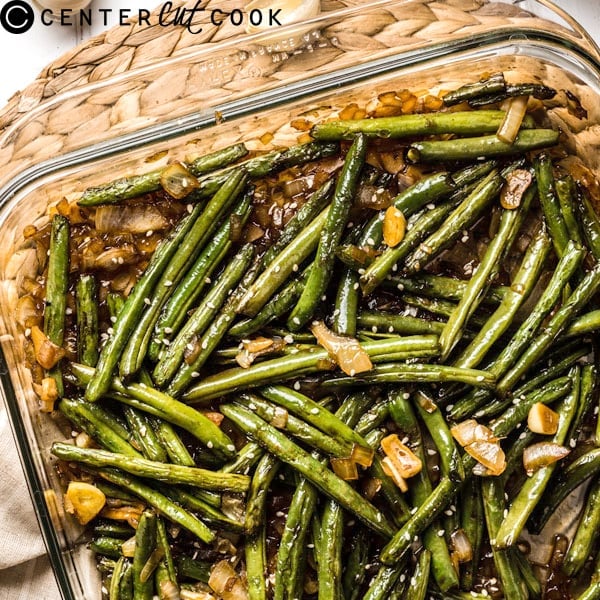 INGREDIENTS
1 tablespoon oyster sauce
1 tablespoon Shaoxing wine (or rice wine)
2 teaspoons soy sauce
1 teaspoon sugar
3 tablespoons vegetable oil
1 pound green beans, washed and tough ends removed
3 dried chili peppers
4 cloves garlic, minced
DIRECTIONS
Combine oyster sauce, Shaoxing wine, soy sauce, and sugar in a small bowl. Mix well and set aside.
Dry green beans thoroughly with a paper towel.
Heat 2 tablespoons oil in a large nonstick skillet over medium high heat until hot. Add green beans. Turn to medium or medium low heat. Stir green beans to coat them well with oil.
Arrange them so that as many beans are in contact with the bottom of the skillet as possible. If there are too many beans that cannot touch the skillet, cook them in two batches. Flip every 10 seconds so that all sides are heated evenly. Repeat for 10-15 minutes, until the surface of all the beans is mostly brown and withered. Transfer to a plate and set aside.
Add the rest 1 tablespoon oil in the same skillet. Turn to medium low heat.
Add chili pepper and garlic. Stir a few times. Pour in the soy sauce mixture from step 1. Give it a quick stir. Immediately return green beans to the skillet. Stir and mix everything well until the sauce is absorbed, about 1 minute.
Remove the pan from heat and taste the green beans. If they're not salty enough, add a bit more salt and mix well.
Transfer green beans to a serving plate and serve warm.
You can make the green beans a day before serving and store them in an air-tight container. To reheat the beans, preheat oven to 350 F. Spray a thin layer of oil onto a large baking pan and spread the beans on top. Bake until heated through.