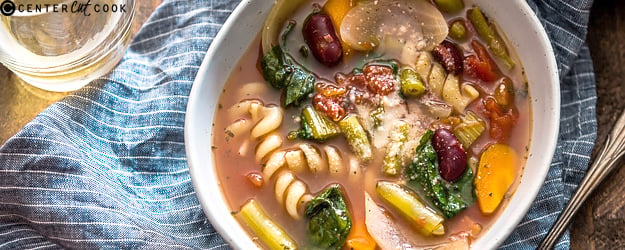 We have been using our slow cooker to make minestrone soup lately, because it's fuss-free and delicious. In fact, I made minestrone soup with the regular (stovetop) method, just to compare the flavor.
To my surprise, the one I cooked with the slow cooker tasted even better, but with much less active cooking time. When you slow cook with fresh ingredients, the vegetables and the grains will be cooked until tender, while maintaining their fresh flavor. Compared to the regular minestrone soup, we added much less salt to the slow cooker one. And it was still very flavorful.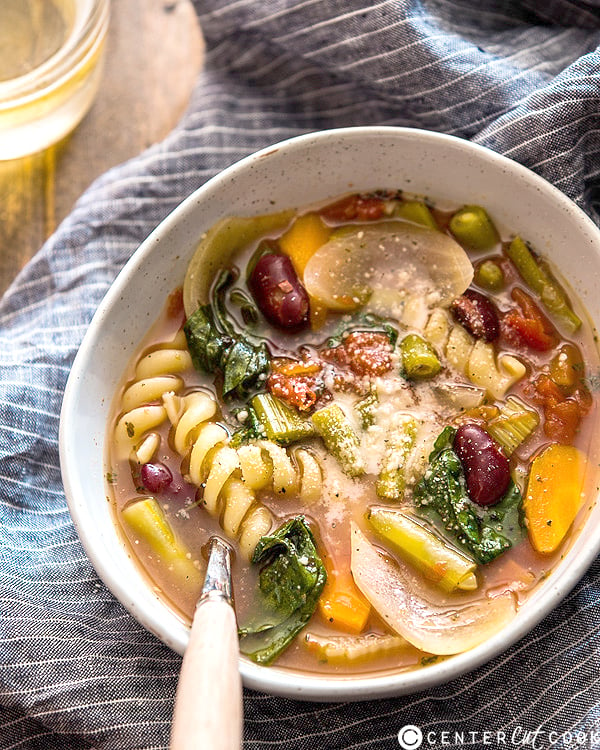 The greatest part about minestrone soup is that it contains all kinds of vegetables, beans, and pasta, so you don't really need anything else to make your dinner very satisfying and nutritious. You can easily turn it into a vegetarian dish by using vegetable stock and skipping the cheese. If you want to add a few more carbs, simply add another cup of pasta. Or you can cut a few slices of bread to serve with the soup.
I assure you, once you get the hang of the slow cooker, you'll want to make all your soups with it! Because you just need to cut the veggies and forget about it. It also reduces the sauteeing time. It doesn't make your house smell, either. And you don't even need to keep an eye on the cooking. Isn't it the easiest thing ever?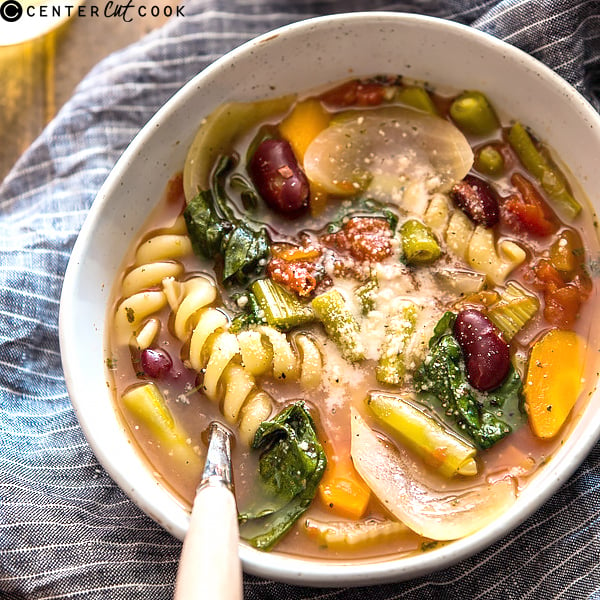 INGREDIENTS
1 yellow onion, diced
3 carrots, diced
4 celery stalks, diced
4 cloves garlic, minced
1/2 pound fresh green beans, trimmed and cut into 1/2-inch pieces
1 (28 oz) can diced tomatoes, with juices
6 cups chicken broth, or vegetable broth
1 (15 oz) can red kidney beans, rinsed and drained
1 teaspoon dried oregano
1 teaspoon dried basil
1/2 teaspoon dried rosemary
1 cup dried pasta (elbow, or ribbon, or twists pasta)
2 cups chopped fresh spinach
Salt and black pepper, to taste
Grated Parmesan cheese or shredded mozzarella cheese
DIRECTIONS
Combine onion, carrots, celery, garlic, green beans, tomatoes, broth, and beans in a 6-quart slow cooker. Add bay leaves, oregano, basil, and rosemary. Cover and cook on low for 6-8 hours, or on high for 3-4 hours.
20 to 30 minutes before the soup is finished cooking, add in pasta and spinach. Cook until pasta is tender. Season with salt and black pepper. Remove bay leaves.
Transfer soup into bowls. Serve warm with Parmesan cheese.