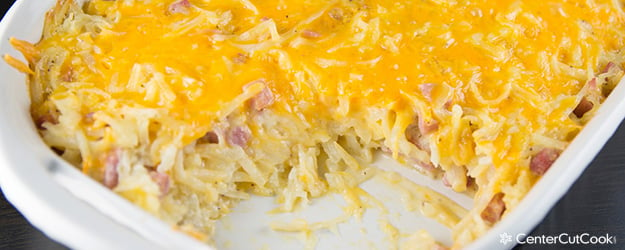 Hash Brown Casserole is one of those versatile foods that can be eaten for breakfast or dinner (or in my case, breakfast, lunch AND dinner). You throw all the ingredients together, pop it in the oven, and an hour later, without hardly any thought, dinner is on the table. And the cool thing about this recipe is that you can cook it in the slow cooker! Sweet deal, eh?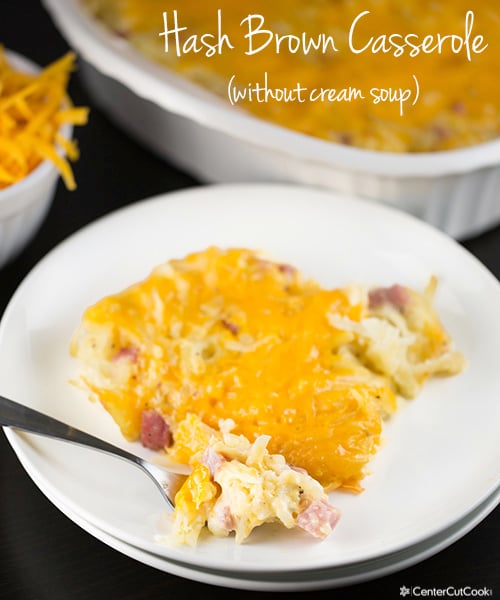 There are so many versions of this recipe out there, and they pretty much all call for the same few ingredients, which means this recipe is tried and true, baby! I'm pretty sure Cracker Barrel is responsible for making this recipe popular. My variation simply takes out the cream soup. I replace it with a homemade cream soup substitute (this can be used with any casserole, by the way!) which does add on about 5 extra minutes to the preparation time, however, it's worth it!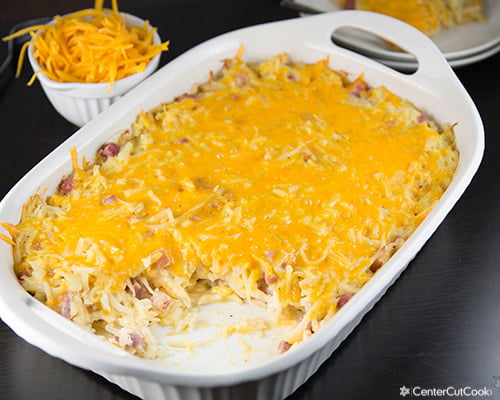 Here's what you'll love about this recipe. 1. You can cook it in the oven or your crock pot. 2. There's lots of gooey sharp cheddar involved. 3. You can make this ahead and freeze it. 4. Your family or loved ones will love you for making it!
Tip 1: You may choose to sauté' the onion before adding it to the casserole to ensure that the onions cook through. Otherwise, be sure to cook this casserole for the entire time suggested, or you'll end up with crunchy onions. And who likes crunchy onions?
Tip 2: Make sure you start with thawed hash browns. I put my bag of hash browns in the fridge the night before I knew I was going to use them. They were perfectly thawed by the time I needed them.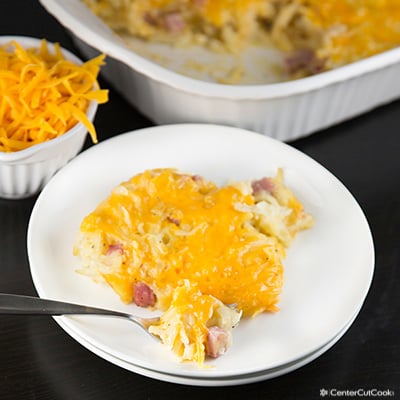 CREAM SOUP SUBSTITUTE INGREDIENTS
2 tablespoons butter
3 tablespoons flour
1/2 cup chicken broth
1/2 cup milk (I used 1%)
Dash of salt and pepper
CASSEROLE INGREDIENTS
30-32 ounces frozen shredded hash browns – thawed
1 batch cream soup substitute
8 ounces sour cream
1/2 cup butter, melted
1/2 of a small onion – diced
2 cups cubed ham
2 cups shredded sharp cheddar cheese, divided
1 teaspoon salt
1/2 teaspoon black pepper
CREAM SOUP SUBSTITUTE DIRECTIONS
In a small sauce pan, melt butter. Whisk in flour and let cook for 1-2 minutes.
Slowly stir in chicken broth, then milk. Stir until it begins to thicken. Let it simmer for a few minutes. Season with a dash of salt and pepper.
CASSEROLE DIRECTIONS
Pre-heat your oven to 350 degrees.
In a large bowl, stir together thawed hash brown potatoes and melted butter.
Stir in cream soup substitute, sour cream, onion, ham, and 1 1/2 cups shredded sharp cheddar cheese. Stir well.
Season with salt and black pepper.
Pour mixture into a lightly greased 9 x 13 inch pan. Top with remaining 1/2 cup of cheese (or more if you'd like).
Cover with foil and bake for 1 hour. Remove foil and cook for an additional 15 minutes, or until the cheese is bubbly and starting to brown.
Slow Cooker Instructions: Combine all ingredients and cook in your slow cooker for 5-6 hours on low.
Freezer Instructions: Assemble casserole. Do not bake. Cover well and store in your freezer for up to 3 months. Allow casserole to thaw completely in your refrigerator before baking, following the instructions above.