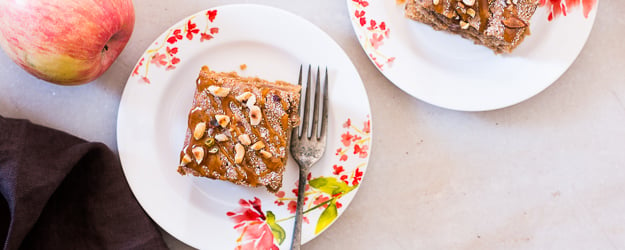 This has to be the easiest, moistest spiced applesauce cake that you'll ever make! We've been making this cake for years, and I love the fact that all you need is one bowl. If you have a stand mixer it's perfect because you just dump everything into the bowl and the stand mixer does all the work. It's a beautiful, moist, dense cake that is a beautiful caramel golden colour from the brown sugar and the applesauce.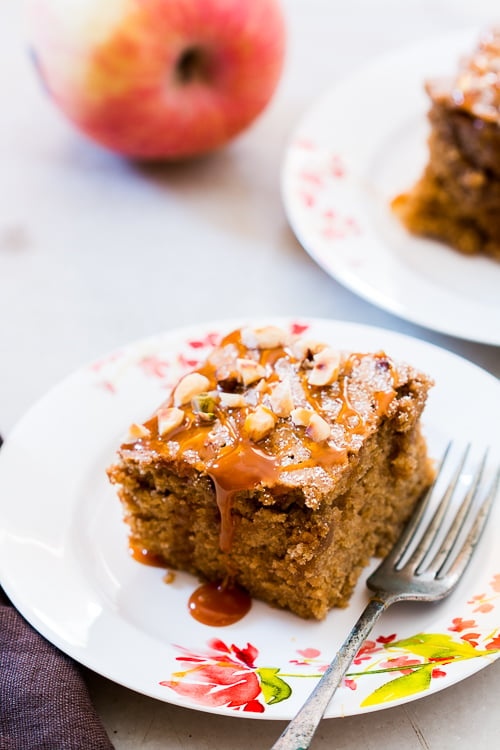 The flavour is intense and deep and taste of spices and apples in every bite. Even then, you'll be surprised at the small list of ingredients in this cake. I really like to use homemade applesauce because I like to know exactly what goes into my ingredients but store bought applesauce works just as well.
Frost it with some cream cheese frosting or a brown butter frosting that tastes even better. We wanted to keep it light and simple so we dusted this spiced applesauce cake squares with icing sugar and drizzled some caramel sauce on top. A scoop of ice cream on the side, and a few roasted nuts on top and you've got yourself the perfect dessert!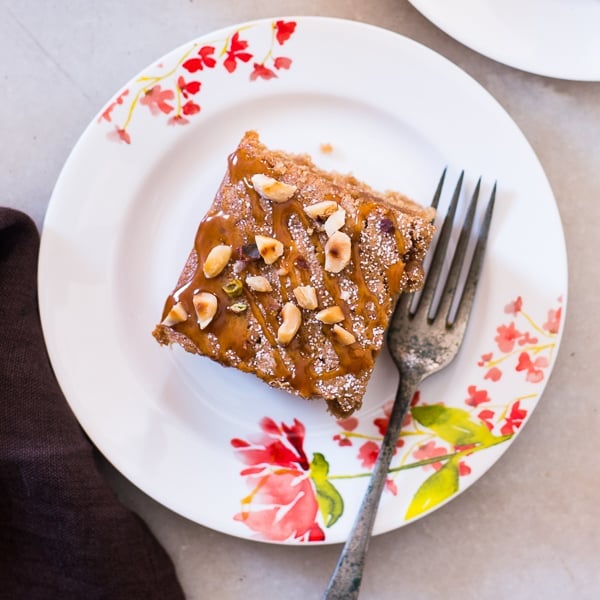 INGREDIENTS
DIRECTIONS
Pre-heat oven to 350 degrees. Grease and flour a 8X8X2 pan and set aside.
In the bowl of a stand mixer add butter and sugar and beat till light and fluffy. Add the eggs one at time, scraping the sides of the bowl as you beat.
Add all the remaining ingredients and beat till combined. Fold in the nuts and pour into the baking pan.
Bake for 40-45 minutes till a toothpick inserted into the middle comes out clean.
Let the cake cool before frosting with you favourite frosting or drizzle with caramel sauce and serve with a side of ice cream.