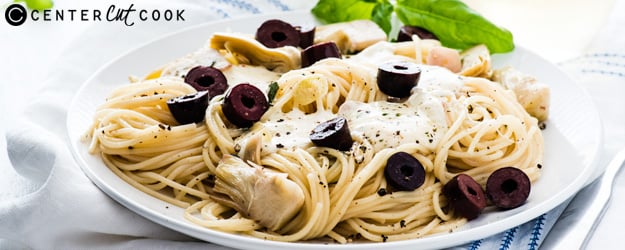 To create a simple and delicious pasta dish, you only need olive oil, fresh herbs, pickled veggies, and some fresh cheese.
Pickled veggies help you fix lunch and dinner really fast. Not only can they add tons of flavor to your salads, but they can also be used in cooking. I like the big jars of artichoke hearts and olives from Costco. They are delicious and come at a reasonable price.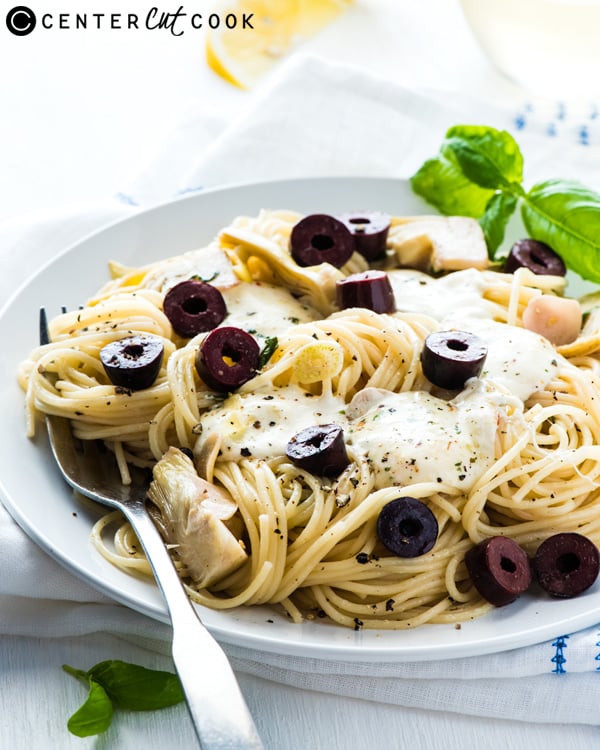 I used these two pickled veggies with very little seasoning in this dish to let the pasta stand out. Fresh mozzarella cheese is a must. It adds creaminess to the pasta and balances the saltiness of the olive, to create a satisfying taste in practically no time.
You can finish prepping and cooking this dish in 15 minutes.
First of all, prep the veggies while boiling a big pot of water. When you start to cook the pasta, prepare the sauce at the same time. To cook the sauce, infuse the olive oil with tons of garlic, then give the pickled veggies a quick stir-fry. When the pasta is ready, add it into the skillet and season it with salt, pepper, and lemon juice. Use the residual heat of the pan and pasta to melt the cheese.
Enjoy the pasta with a glass of white wine and you'll be all set!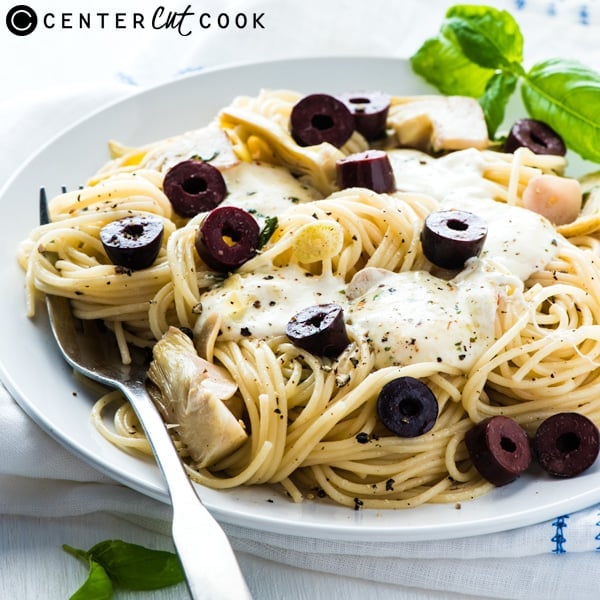 INGREDIENTS
2 servings angel hair pasta
4 tablespoons olive oil
4 cloves garlic, sliced
4 large marinated artichoke hearts, quartered
1/3 cup olives, sliced
2 tablespoons chopped fresh basil (or 1/4 teaspoon dried basil)
Sea salt and pepper to taste
1 tablespoon freshly squeezed lemon juice
1 cup fresh mozzarella cheese balls
DIRECTIONS
Bring a large pot of water to a boil. Add salt and a few drops of olive oil. Boil pasta according to instructions until al dente. Drain and set aside.
While cooking the pasta, add olive oil into a skillet and heat over medium heat until warm. Add garlic. Stir a few times until fragrant.
Add artichoke hearts and olives. Stir and cook for 2 minutes.
Add basil leaves and stir a few times.
Add pasta back into the skillet. Add salt, pepper, and lemon juice. Gently toss to mix well. Add mozzarella cheese. Toss a few more times until the cheese begins to melt.
Serve immediately.