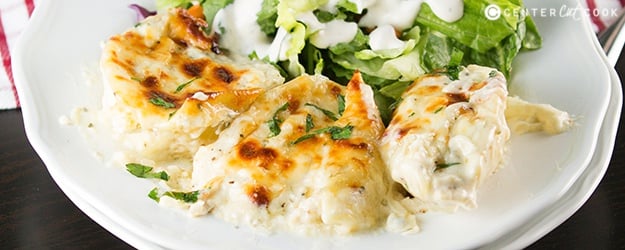 Stuffed Shells is a classic recipe that has been enjoyed around the family table for years. I decided to take the classic recipe for stuffed shells, the one that is very similar to lasagna, and turn it into a version that more closely resembles another classic, chicken alfredo made with my homemade Creamy Alfredo Sauce. The end result is cheesy, comforting and delicious, and promises to be a recipe that your family will ask you to make over and over again.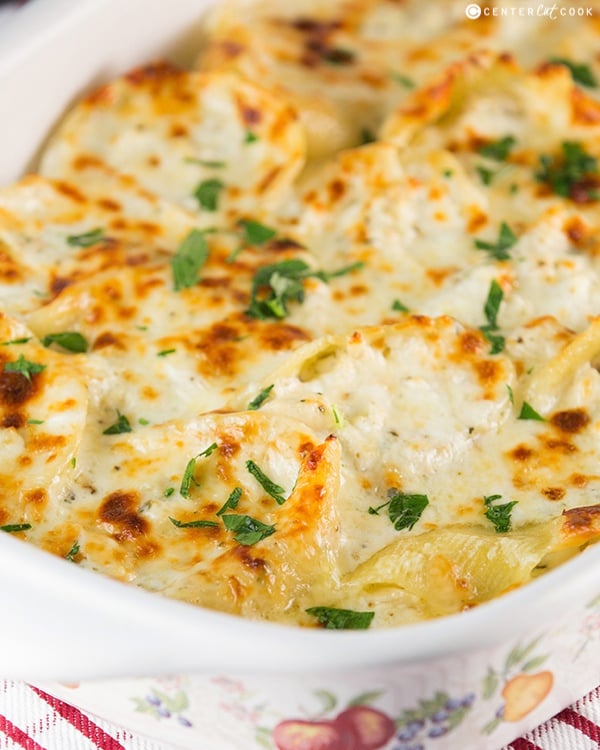 One of the best aspects about this recipe is that you can make it your own by throwing in add-ins like spinach or even swapping out the chicken for something like sausage or leaving the meat out altogether for a vegetarian option.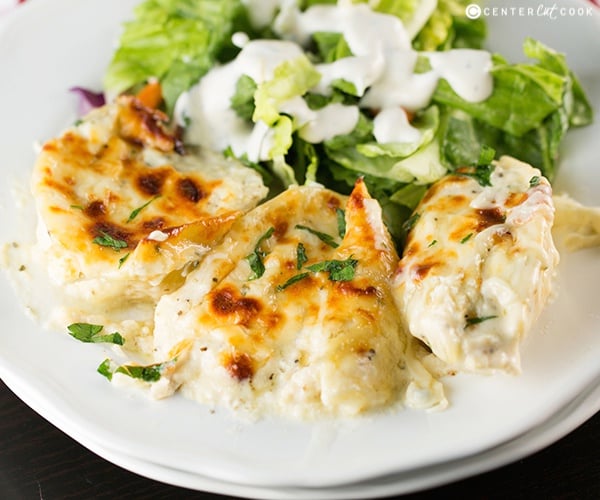 You can use any alfredo sauce that you like, but I'd recommend using my recipe for classic Creamy Alfredo Sauce. It is quick to make, and there's something about homemade alfredo sauce that is so much better than any jarred alfredo sauce you'd buy at the grocery store.
This recipe calls for pre-cooked shredded chicken. My favorite way to make shredded chicken is in the slow cooker. Here's my recipe for Easy Slow Cooker Shredded Chicken. Another alternative to keep things quick and easy is to buy a rotisserie chicken from the grocery store and shred it up.
You will get about 20-25 stuffed shells from this recipe. These Cheesy Chicken Alfredo Stuffed Shells are so comforting and delicious, I have no doubt your family will love them. Enjoy!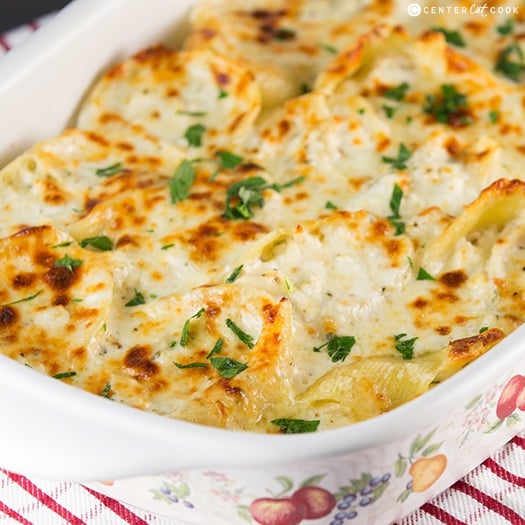 INGREDIENTS
DIRECTIONS
Preheat oven to 350 degrees.
Cook shells according to package directions.
In a small non-stick skillet, cook mushrooms until browned, about 8-10 minutes.
In a large bowl combine shredded cooked chicken, 2 cups cottage cheese, 4 ounces softened cream cheese, and 1 cup mozzarella cheese. Season with Italian seasoning. Add in 1 egg, slightly beaten.
Pour half of the alfredo sauce on the bottom of a 9 x 13 inch casserole dish.
Fill the shells with the filling, then arrange the shells on top of the sauce.
Top with remaining sauce. Cover and bake for 35-40 minutes, then top with remaining 1 cup mozzarella cheese and bake uncovered for 8-10 minutes longer, until the cheese has melted.
You'll have enough filling for about 20-25 jumbo stuffed shells.
Recipe from
CenterCutCook