Pizza night has a new look with this Pepperoni Pizza Casserole topped with a Pillsbury Crescent Roll sheet. The best way to describe this recipe is that it's like an upside down deconstructed pizza. All of the most delicious ingredients of your favorite pizza are in attendance at this pizza party, they just arrive in a different order. The end result is an incredibly comforting and delicious dinner idea to add a little pizzaz to pizza night!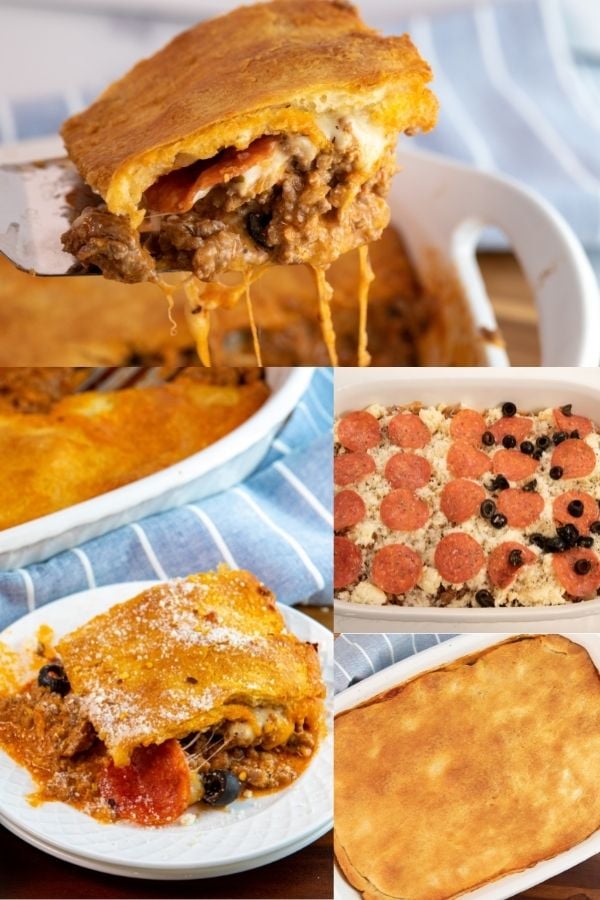 If you're from the midwest, you are no stranger to casseroles and hot dishes. There's one for all occasions and they are arguably some of the most comforting dinners you can put on the table during the fall and winter months. The idea with this pizza casserole recipe is to give you everything that you love about pizza – the tangy sauce, the melty mozzarella, and your favorite toppings – pepperoni, olives, etc.- but eliminate the hassle of dealing with making dough (although, this fast and easy pizza dough really is fast… and easy…. But I digress). In place of dough you'll use a crescent roll sheet, or you could even use canned biscuits but more on that in a moment.
The result? The best upside down pizza (or deconstructed pizza, whichever term you'd like to use!) that'll offer a yummy dinner option for your family. Let's talk about ingredients.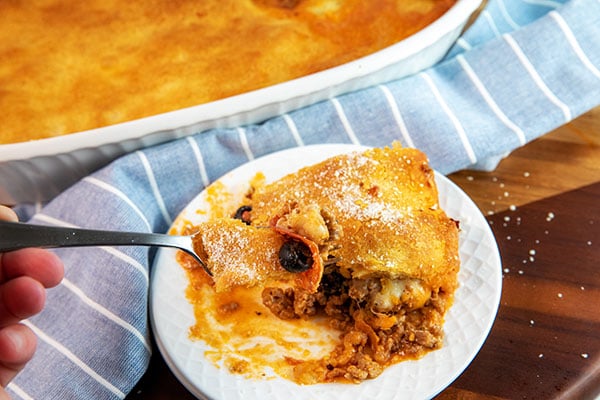 Pizza Casserole Ingredient Notes
Ground Beef / Ground Italian Sausage:This recipe calls for 1 pound of ground beef AND 1 pound ground Italian sausage. You can substitute ground turkey if you wish and use all ground turkey, all ground beef, or all ground Italian sausage totally 2 pounds of meat.
Onion:You'll need about 1/2 cup of chopped yellow onion.
Pizza Sauce: This recipe calls for 1.5-2 cups of pizza sauce. Try our homemade pizza sauce or use whatever your favorite store bought brand is.
Mozzarella Cheese: I am a firm believer that freshly grated cheese always tastes better and melts better, but I'm also a believer in taking whatever shortcuts are necessary to simplify life and get dinner on the table. If you have time, grate your own mozzarella cheese, if not, the pre-shredded stuff works just fun. You'll need about 1.5-2 cups of mozzarella cheese
Sour Cream: You'll need about 1/2 cup of sour cream. Alternatively you could use plain greek yogurt.
Crescent Rolls: You'll need an 8 ounce package of crescent rolls. I prefer the Pillsbury brand and like to buy the crescent sheet. Alternatively, you could use canned biscuits. You'll need one can. When the biscuits are golden brown, you'll remove the pizza casserole from the oven.
Pizza Toppings: Use whatever toppings your family likes! Pepperoni is always a favorite in this house and sometimes we do have pepperoni, half veggie with peppers, onions, olives and mushrooms.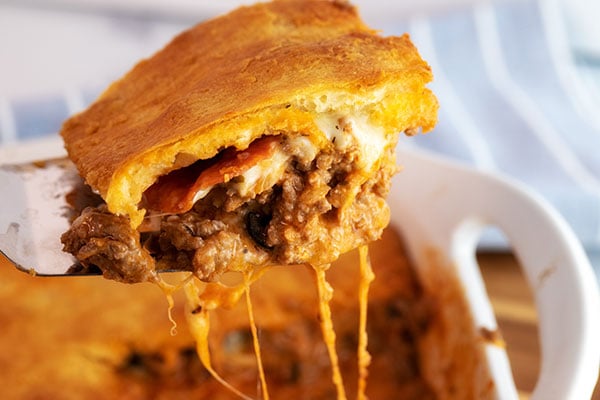 How to make Pizza Casserole
The process is simple. You'll start by preheating the oven to 375 degrees Fahrenheit. Then you'll heat a large skillet over medium-high heat. Add your ground meats and onions and sauté until meat is cooked through. Be sure to drain any excess grease.
Next comes the sauce. Add the sauce to the meat/onion mixture and simmer for about 5 minutes. Stir in the sour cream and cook for another few minutes.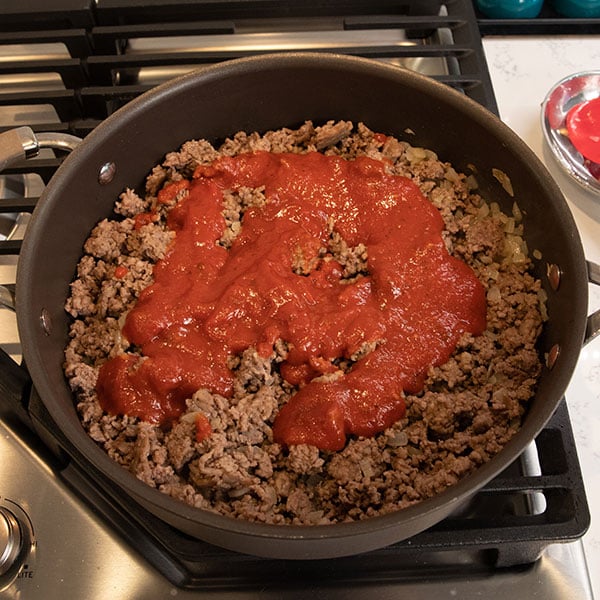 Now it's time to add the meat mixture to a 9×13 inch casserole dish. Top with lots of mozzarella cheese, and any additional toppings that you'd like.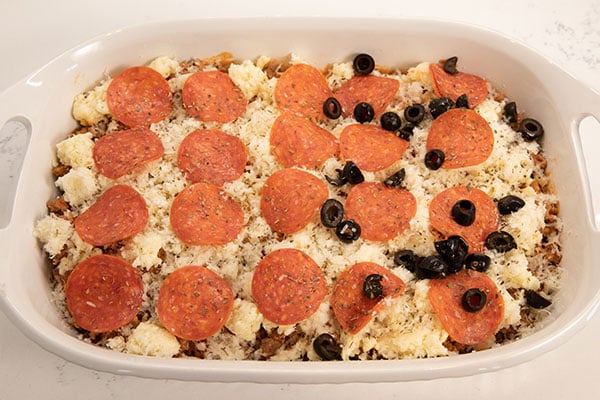 Arrange a crescent roll sheet on top (or biscuits)and brush with melted butter.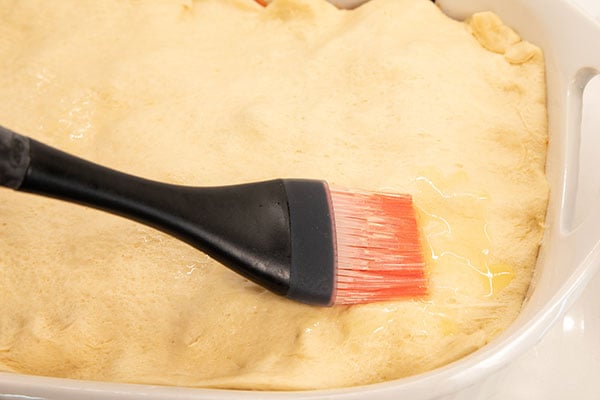 Bake for 20-30 minutes, or until the crescent roll top is golden brown.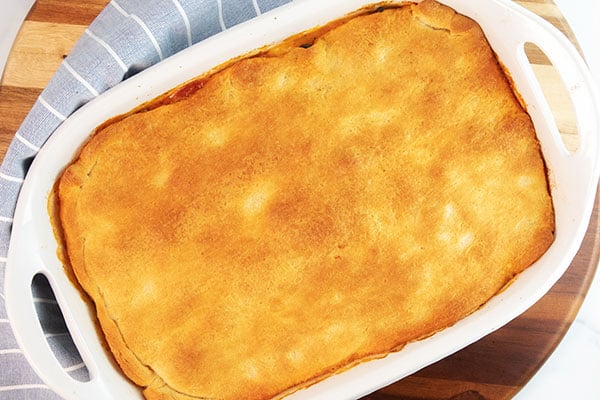 For serving, the kiddos always love parmesan cheese, and I always have red pepper flake ready for the adults that enjoy a little kick.
What to serve with Pizza Casserole
Pizza with Ceasar Salad is always a favorite combo — here's our guide on how to make a restaurant style Caesar salad right at home.
We love pizza night in this house whether it's this Upside Down, deconstructed Pizza Casserole, Chicago Style Deep Dish Pizza, Cheesy Pizza chicken, Pepperoni Pizza Bread Roll-Up, or even these cute Pizza Bites. There are so many delicious options! Enjoy!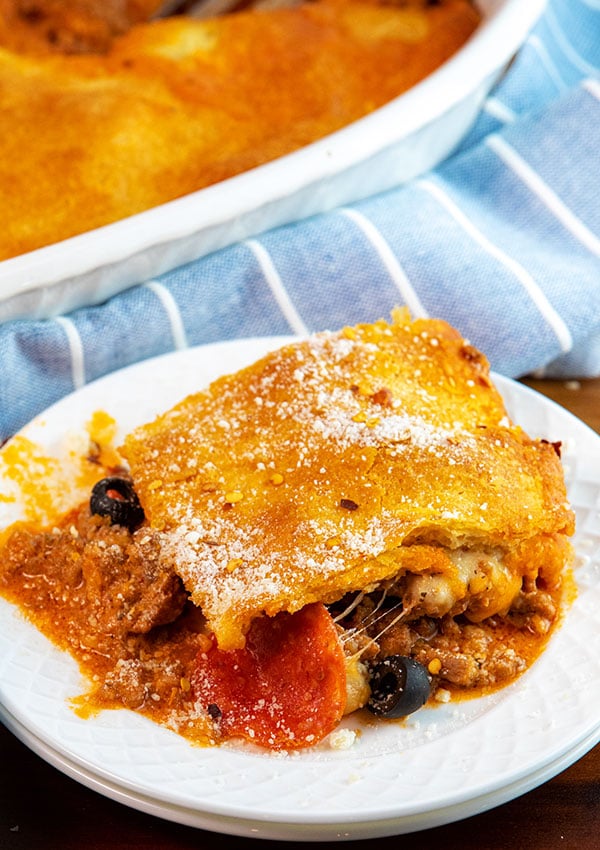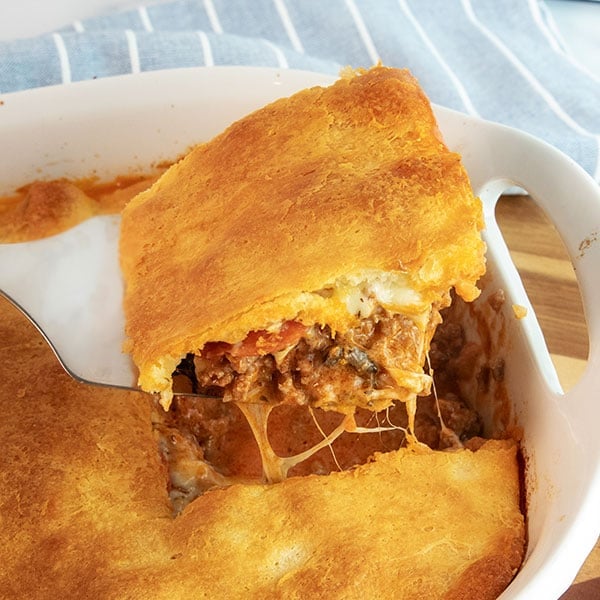 INGREDIENTS
1 pound ground beef
1 pound Italian sausage
1/2 cup chopped onion
2 cups pizza sauce
1.5 cups grated mozzarella cheese
1/2 cup sour cream
8 ounce crescent roll sheet
2 tablespoons butter, melted
Pepperoni, black olives, green pepper, onion, or your favorite pizza toppings
DIRECTIONS
Preheat oven to 375 degrees Farenheit.
Heat a large skillet over medium-high heat.
Add in ground beef, ground Italian sausage and chopped onion. Cook until beef is browned. Drain any excess grease.
Add in pizza sauce and simmer for 3-5 minutes.
Stir in sour cream.
Spread mixture in a 9×13 inch casserole dish.
Top with shredded mozzarella cheese and pizza toppings like pepperoni and olives.
Top with crescent roll sheet, then brush with melted butter.
Bake at 375 degrees for 20-30 minutes, or until the crescent top is golden brown.
Servings: 6