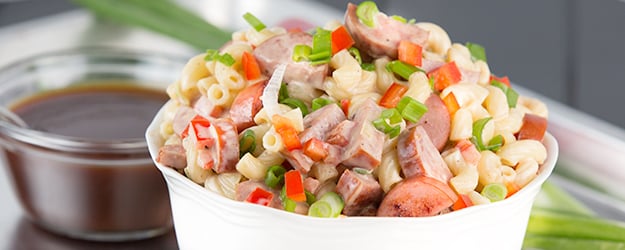 BBQ Macaroni Salad is similar to traditional macaroni salad except the dressing combines mayo with tangy BBQ sauce. The addition of turkey kielbasa makes this a hearty pasta salad perfect summer BBQ's, potlucks, and to accompany weeknight dinners.
During the summer months, macaroni salad is one of my favorite side dishes to accompany all of the typical BBQ fare that we all love. Macaroni salad goes great with burgers, ribs, chicken, you name it!
While traditional macaroni salad is a classic, I wanted to make a more substantial macaroni salad with some healthy protein that would give me the option of serving it as a side or a main entree. Hello quick and easy weeknight dinners!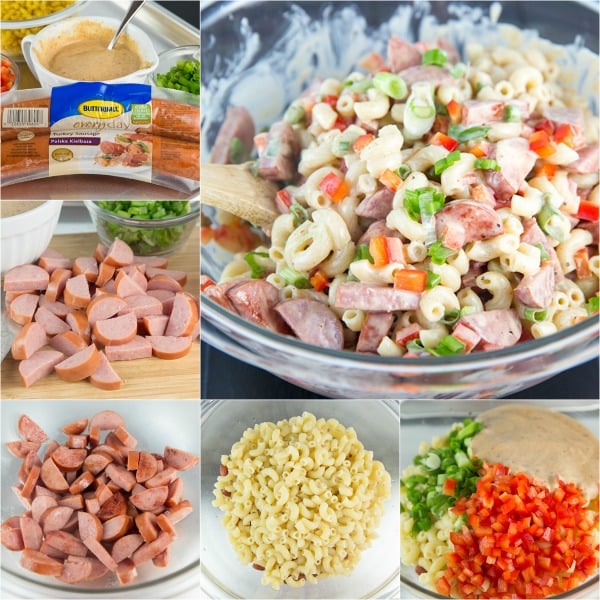 Enter BBQ Macaroni Salad made with Butterball Turkey Kielbasa. My almost three year old is a meat eater. He loves his meat! If I presented macaroni salad to him, he'd likely not eat it. But this BBQ Macaroni Salad with smokey turkey kielbasa? For my little Turketarian (a lover of all things turkey), it's a winner.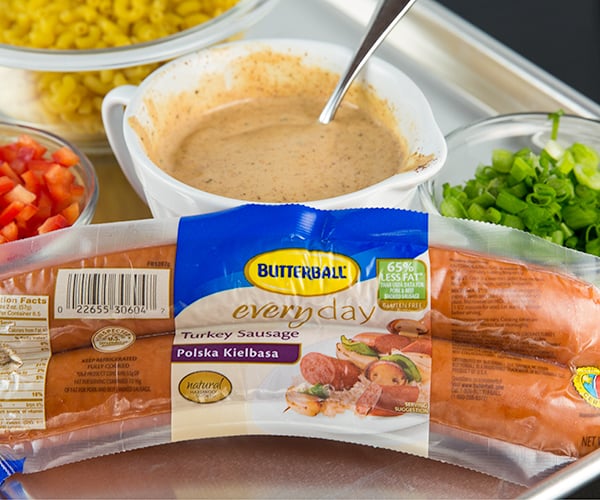 With this non-traditional but oh-so-tasty BBQ Macaroni salad, there are still some veggies for crunch (diced red pepper and green onions) like a traditional macaroni salad, but instead of traditional mayo, I combine bbq sauce with a bit of mayo and hints of cayenne pepper and chili powder for a slightly spicy, but tangy sauce. We're not done though. The perfect ingredient that rounds off this entire salad is some smoky chopped Butterball Turkey Kielbasa.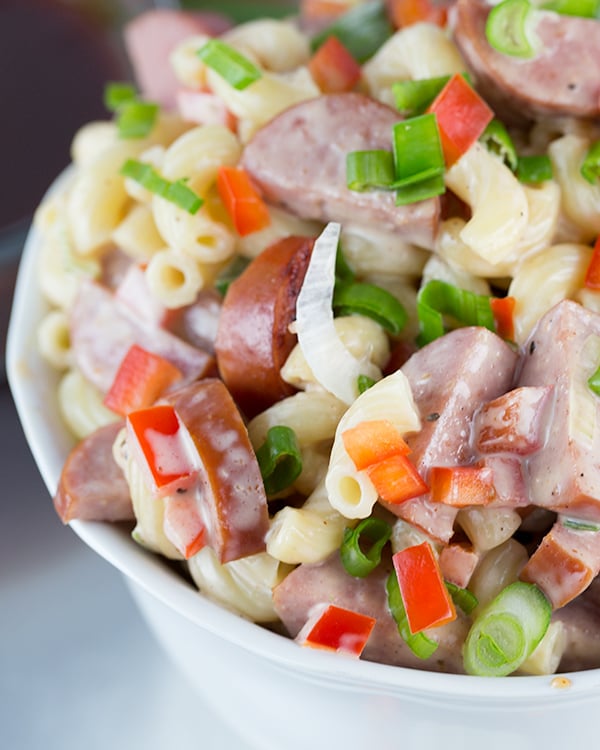 This is a recipe you'll come back to over and over again. And if you love the turkey kielbasa as much as I do, you'll want to go take a look over at Butterball.com for more recipe ideas that incorporate a variety of Butterball turkey products that your family will love. Plus you'll find options for special savings, and product giveaways.
Looking for a way to spice up your next backyard BBQ? Look no further. This BBQ Macaroni Salad with Turkey Kielbasa needs to be on the menu. You won't be disappointed!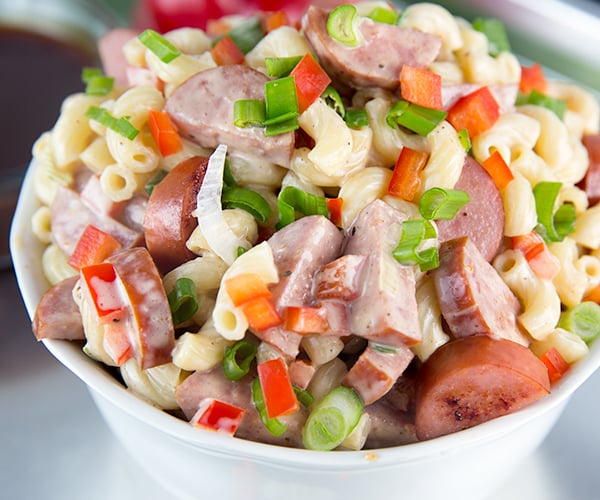 I am honored to have partnered with Butterball for this recipe. Thank you for supporting the brands that make CenterCutCook possible. All thoughts and opinions are my own.
INGREDIENTS
1 pound elbow macaroni
1 red bell pepper, diced
3-4 green onions, diced (green and white parts)
1 – 13 ounce package Butterball Turkey Kielbasa, cut into small chunks
3/4 cup mayo
3/4 cup bbq sauce
1 tablespoon apple cider vinegar
1/2 teaspoon salt
1/4 teaspoon black pepper
1/8 teaspoon cayenne pepper
1/4 teaspoon chili powder
DIRECTIONS
Cook 1 lb. elbow macaroni according to package directions. When pasta is done cooking and you've drained it, run cold water over the pasta until it is completely cooled. Allow macaroni to drain well.
In a large skillet heated to medium high heat, sauté the chopped Butterball Turkey Kielbasa until it is lightly browned.
In a small bowl combine mayo, bbq sauce, vinegar, salt, pepper, cayenne pepper, and chili powder.
In a large bowl combine cooked and cooled pasta with diced bell pepper, green onions, and browned kielbasa. Stir in the dressing you made in step 3.
Store in the refrigerator until you're ready to use it. If the pasta has been in the fridge for a while, stir in 1-2 two tablespoons of warm water before serving to obtain a creamy consistency again.