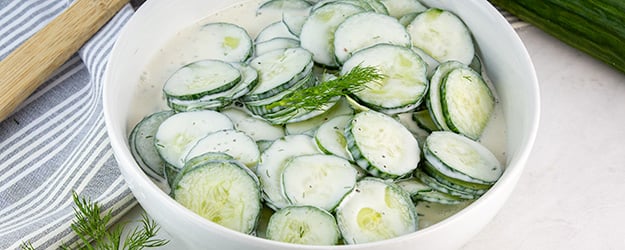 Creamy Cucumber salad is a summer staple, and a super quick and easy side that pairs perfectly with all of your favorite summer meals. It is a side dish that I grew up eating throughout the summer months as a child. My Mama made THE BEST cucumber salad with a few simple ingredients that I continue to make as an adult, summer after summer when garden fresh cucumbers are a plenty.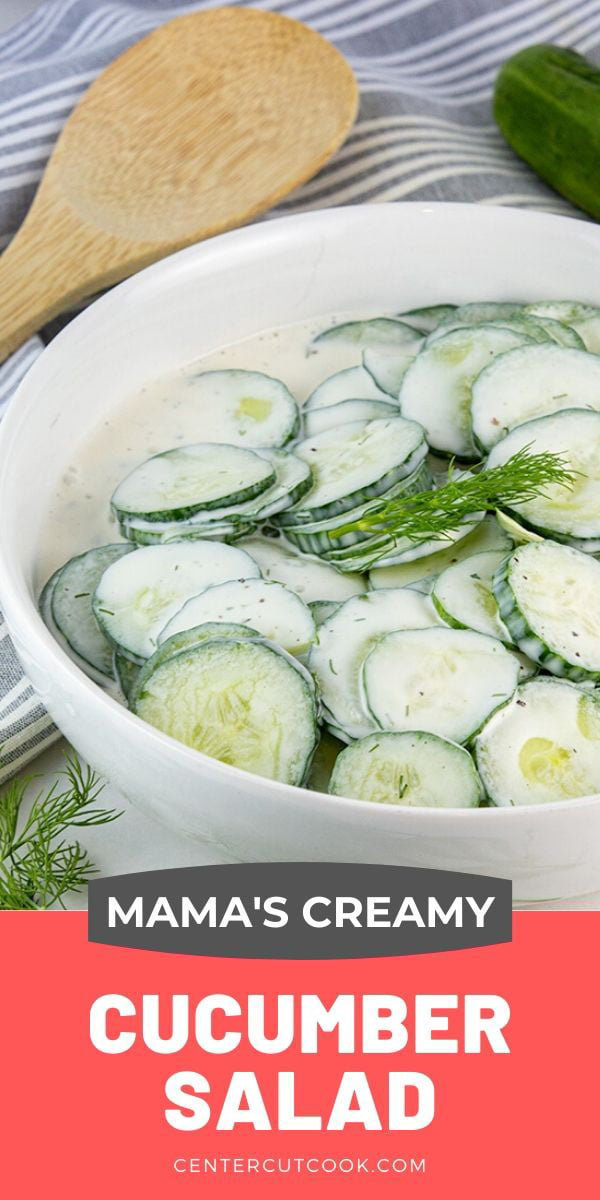 If I'm buying cucumbers from the grocery store, the English Cucumbers are what I tend to pick for a few reasons – first, they're not waxed, so I can leave the skin on. Secondly, the seeds are a lot smaller, so it almost seems as if it's a seedless cucumber. Taste-wise, they tend to be a pinch sweeter, and less bitter than traditional cucumbers.PS: They also work perfectly in our favorite Cucumber Sandwiches Recipe!
If you've got fresh cucumbers from your garden, definitely use those, but if not, an English Cucumber is a good alternative! Traditionally this recipe is made with purple onion, but for me, raw onion and cucumber just should not go together (however, if you like onion, go ahead and toss in some thinly sliced purple onion or chopped chives).
The single ingredient in this recipe that makes it a stand-out is the dill. Fresh or dried, it doesn't matter, the dill in this cucumber salad really shines!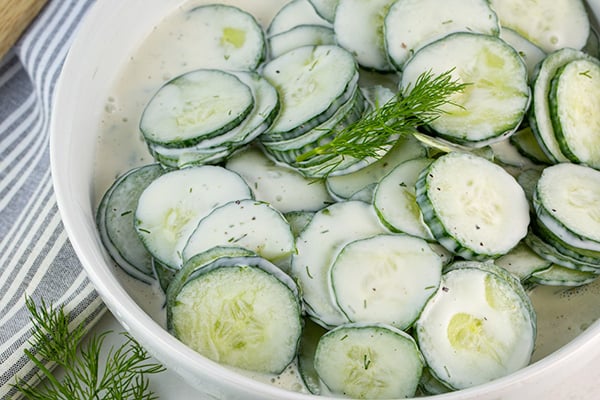 Creamy Cucumber Salad is quick and easy to make and a perfect Summer recipe. Made with sour cream, mayo, vinegar, and dill, it comes together quickly .
What kind of cucumber should I use for creamy cucumber salad?
Fresh garden cucumbers are a perfect option. If you do not have garden fresh cucumbers available you can substitute English Cucumbers or a standard cucumber from the grocery store. An English cucumber is long a slim and generally covered with a plastic wrapper. This is because it does not have a protective wax coating which means you do not need to peel the cucumber.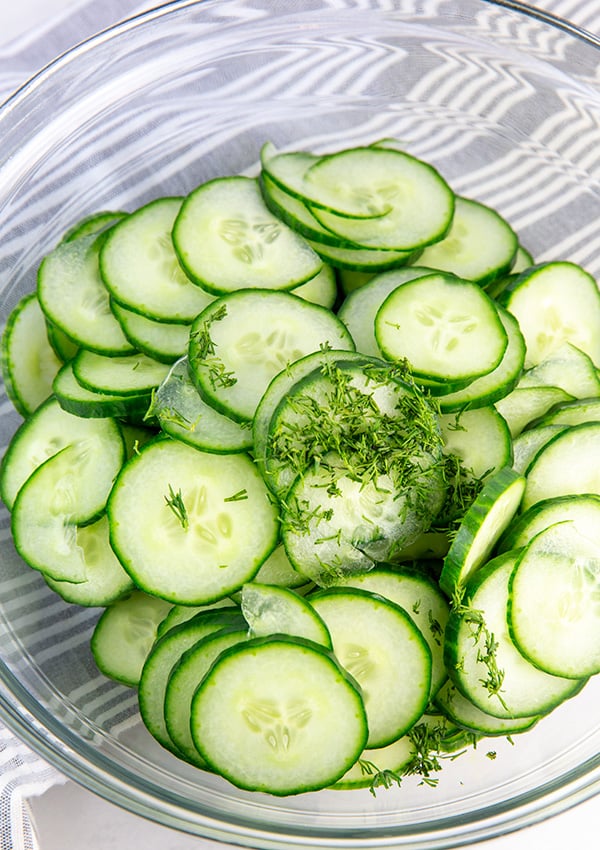 If you buy a regular cucumber from the grocery store, you will want to peel it to get the wax coating off.
Do I need to salt and drain my cucumbers?
Cucumbers have a lot of water in them. Some people like to salt and drain their cucumbers to prevent cucumber salad from getting watery. I have never taken this step with this particular recipe. I like how the water from the cucumbers combines with the mayo/sugar/vinegar to create a delicious sauce. If you are bothered by this, go ahead and remove the moisture from your cucumbers. To do this you will want to arrange your cucumber slices in a colander and add a generous pinch of salt. Add more layers and salt again. You will need roughly 1/4 teaspoon of salt for each layer of cucumbers. Then, allow the cucumbers to sit for about an hour. Using a clean tower, you will pat the salt off the cucumbers and continue making your salad.
Again, I do not take this step with this recipe but this is something you can do if you'd like.
Can I use dried dill instead of fresh dill?
Dill really makes this creamy cucumber salad so delicious. Fresh dill would be the ideal choice, but dried dill will also work. If you do not have any dill on hand, that's totally fine too.
Whenever you are substituting dried herbs for fresh, keep in mind that you will use less.
Do I need to use onion?
I do not like onion in my creamy cucumber salad but if you enjoy onion in yours, go ahead and add thinly sliced purple onion or finely chopped chives.
Do I need to use sugar?
Sugar is an important ingredient in this recipe because it helps to balance out and mellow the vinegar flavor. My Mom's original recipe called for 1/2 cup of sugar which is a substantial amount. I tested this recipe several times with varying amounts of sugar to see how far I could cut back on the sugar before compromising the taste. What I found was that 1/4 cup of sugar was just right. It was important to me to find ways to cut back on sugar without compromising the flavor of this salad.
I can't speak to how sugar substitutes work in this recipes because I haven't tried it myself, but feel free to play around with it if you prefer a sugar substitute.
I hope you enjoy this simple, delicious cucumber salad, just like my Mama used to make! If you are looking for more summer salad deliciousness, one of my favorite summer sides is this recipe for Corn, Black Bean, Avocado, and Tomato Salad, but a close second is this Cucumber Salad. It's light, refreshing, and simple.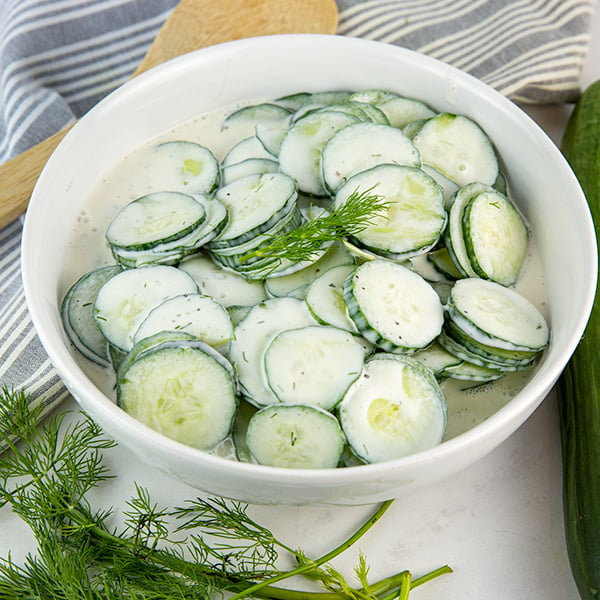 INGREDIENTS
2 English Cucumbers, thinly sliced
1/2 cup mayo
1/2 cup sour cream
1/4 cup granulated sugar
1/4 c vinegar
1/4 teaspoon salt
1 tablespoon fresh dill or 1/2 teaspoon dried dill
DIRECTIONS
In a large bowl, combine mayo, sour cream, granulated sugar, vinegar, salt, and dill.
Stir in cucumbers and toss to coat the cucumbers in the dressing.
Chill for at least 1 hour before serving.
Servings: 6