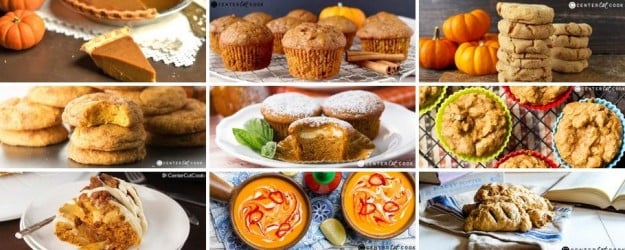 When fall rolls around so do all of the best pumpkin recipes. Don't worry, we've got you covered with over 30 amazing pumpkin recipes!
It's hard to imagine that Thanksgiving is less than a week away, and with it comes all kinds of classic pumpkin recipes including the required pumpkin pie. If you are looking to add a bit of pumpkin to your Thanksgiving meal don't you worry, because below you will find over 30 recipes that will bring a smile to everyone's eyes.
We have pumpkin recipes for everything including muffins, cookies, pastas, soups, breads, brownies, and so much more. If you love pumpkin as much as we do then I'm sure you'll find something that you just have to try!
If you aren't familiar with how these little collages work, all you need to do is hover over each image to see the name of the recipe. Then just click on any image to view the full recipe! Or you can scroll down a bit further to see a more formal list of the recipes. If you have any favorite pumpkin recipes whether it be side dishes or a main course, feel free to share in the comments below!
---
Best Pumpkin Pie – This classic Pumpkin Pie is perfect for your Holiday Table! So easy, only a few ingredients, and so delicious!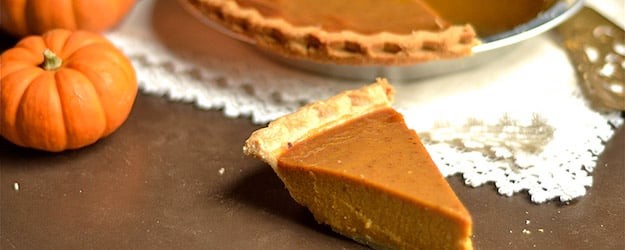 ---
Pumpkin Banana Muffins – These Pumpkin Banana Muffins are a delicious combination of two classics – pumpkin muffins and banana bread. Add chocolate chips to make them an extra delicious treat. Pumpkin Banana Bread Muffins made from scratch are so easy to make and they taste amazing!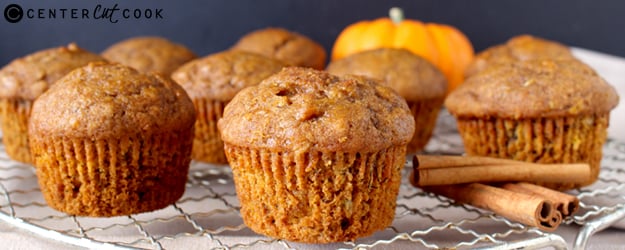 ---
Pumpkin Cheesecake Cookies – These Pumpkin Cheesecake Cookies are quick to make and will please any pumpkin lover. A soft creamy center with a graham cracker coating- these are the perfect treat!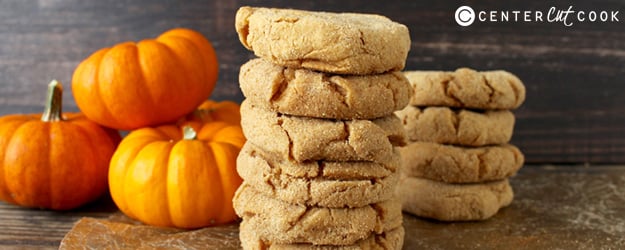 ---
Pumpkin Snickerdoodle Cookies – Pumpkin Snickerdoodle Cookies are super soft with just a hint of pumpkin! Made with pumpkin puree, these Pumpkin Snickerdoodle Cookies are the perfect fall treat.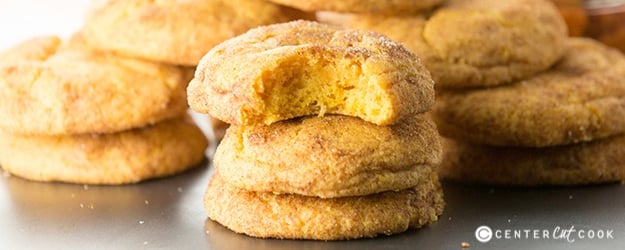 ---
Pumpkin Cream Cheese Muffins – Easy Pumpkin Cream Cheese Muffins recipe inspired by the Starbucks version!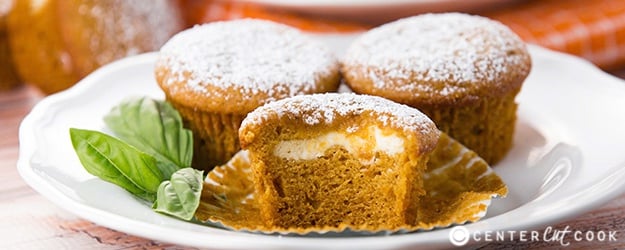 ---
Pumpkin Oatmeal Muffins – Enjoy all the deliciousness of pumpkin spice, cookies, and oatmeal with these easy to make pumpkin oatmeal muffins.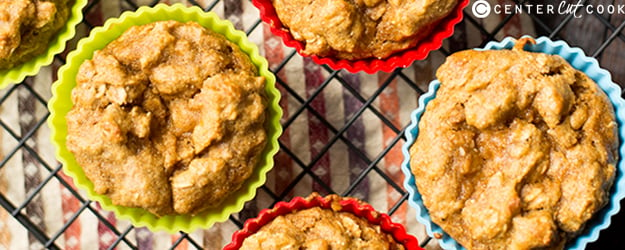 ---
Pumpkin Apple Spice Cake – Pumpkin Apple Spice Cake with Cream Cheese Glaze is just oozing with the flavors of Fall and comes together quickly with the help of a box of Spice Cake Mix!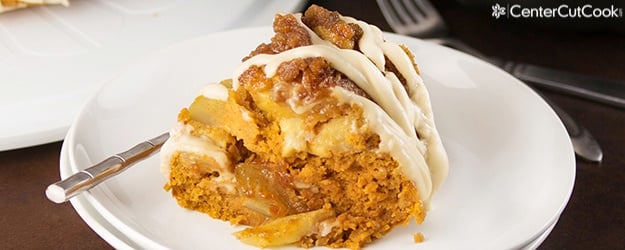 ---
Thai Pumpkin Soup – A spicy, comforting soup – perfect for those cold evenings.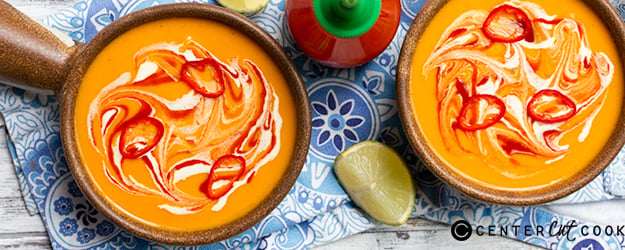 ---
Pumpkin Hand Pies – What's better than a pumpkin pie? How about one you can hold in one hand and eat on the go! These pumpkin hand pies are a delicious way to eat your pie any time, anywhere.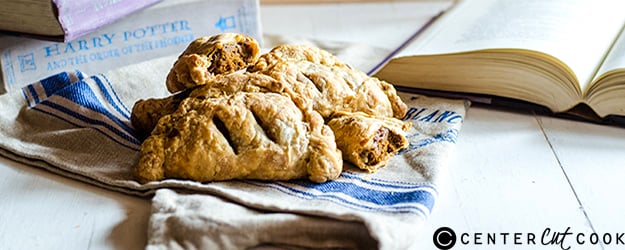 ---
One Pot Creamy Pumpkin Pasta – Creamy, cheesy, full of savory pumpkin flavors, this one pot creamy pumpkin pasta is ready in less than 30 minutes!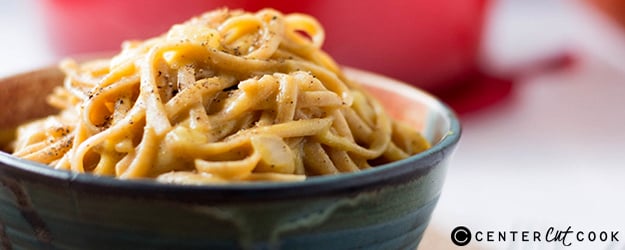 ---
Pumpkin Spice Monkey Bread – Pumpkin Spice Monkey Bread is traditional monkey bread with a makeover! Instructions for using Pillsbury Biscuits OR homemade dough! You pick!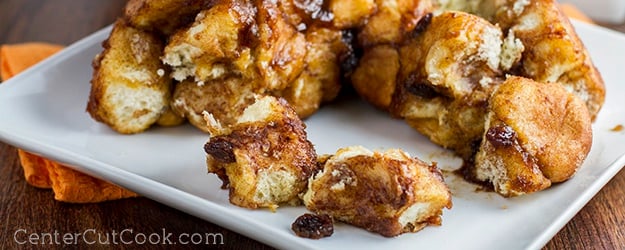 ---
Baked Pumpkin Donuts – These soft, freshly baked pumpkin donuts with a generous coating of cinnamon sugar pairs well with a warm mug of coffee. The perfect fall treat!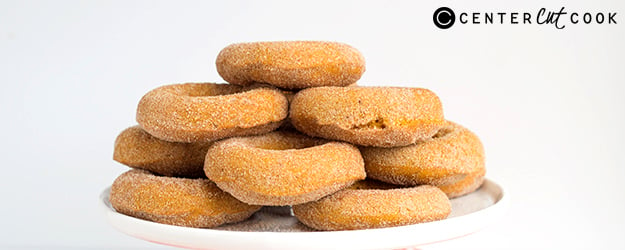 ---
Honey Mustard Roast Chicken with Pumpkin – A soothing one-dish autumn meal that is perfect for your dinner party or holiday. The chicken thighs and pumpkin are baked in a rich honey mustard sauce until tender inside and crispy on the surface.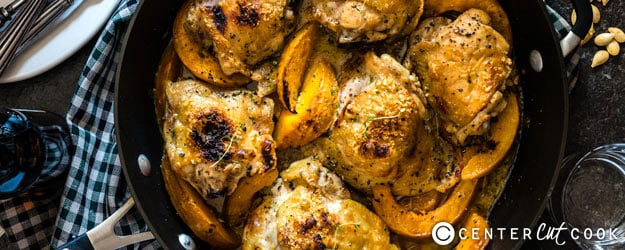 ---
Pumpkin Pasta with Sausage – This creamy pumpkin pasta with sausage is a healthy, satisfying, and comforting dish to enjoy during the fall season.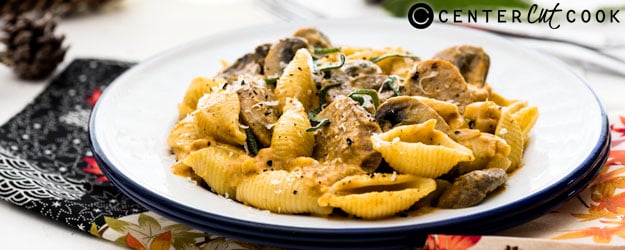 ---
Soft Pumpkin Bacon Dinner Rolls – Who doesn't love freshly baked dinner rolls? And when they are the softest pumpkin bacon dinner rolls you have ever made, nobody will be able to resist!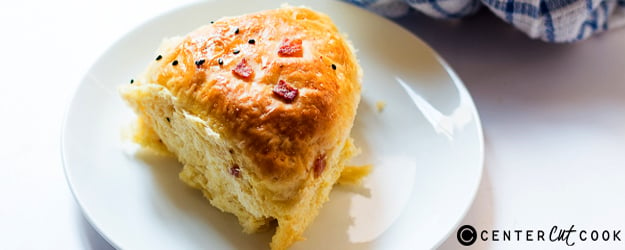 ---
Pumpkin Roll – Traditional Pumpkin Roll with that irresistable cream cheese filling! Perfect for the holidays or any time of year. Easy to make and ALWAYS a crowd pleaser!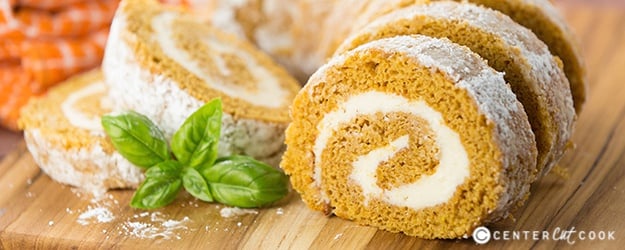 ---
Pumpkin Pie Cupcakes – Pumpkin Pie meets the cupcake, and it's love at first sight! Most pumpkin cupcakes get topped with creamy cream cheese frosting, and are then topped with graham cracker crumbs.
---
Pumpkin Spice Caramel Sauce – This Pumpkin Spice Caramel Sauce is so easy to make, 5 simple ingredients, done in under 10 minutes and no thermometer needed! Anyone can make it and everyone will love it!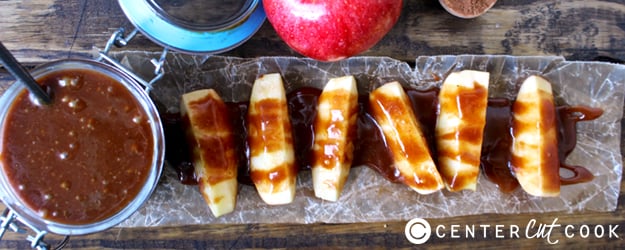 ---
One-Pot Lentil Pumpkin Stew – This one-pot lentil pumpkin stew is a delicious, healthy and easy dinner option for those days when you just want to throw ingredients into a pot and forget about them.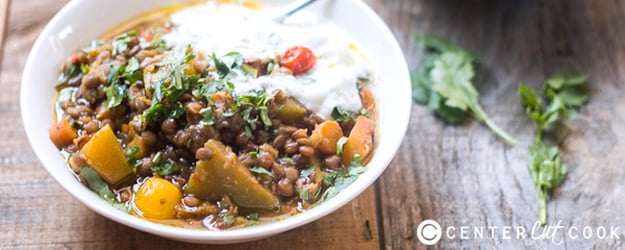 ---
Pumpkin Pie Dip – Pumpkin Pie Dip made with cream cheese is perfect for dipping apples, ginger snaps, vanilla wafers, or Cinnamon Sugar Pie Chips made with leftover pie dough! A great recipe for the holidays!
---
Pumpkin Caramel Rice Krispy Treats – These Pumpkin Caramel Rice Krispy Treats are such a delicious twist of the classic favorite! With Pumpkin Spice Caramel folded in and poured on top- these are sure to please everyone!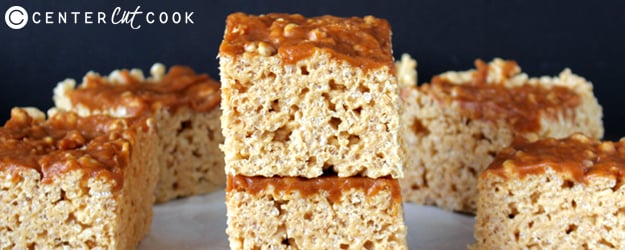 ---
Pumpkin Layer Cake – Pumpkin Layer Cake with Chocolate Chips and Cream Cheese Frosting!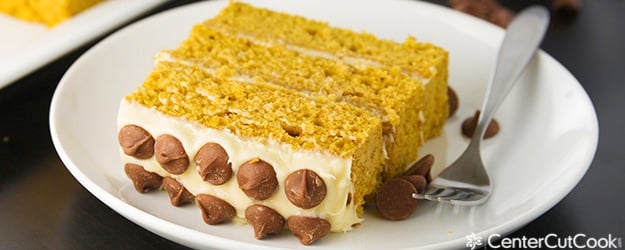 ---
Pumpkin Butterscotch Bread – This Pumpkin Butterscotch Bread is full of fall time flavor with the deliciousness of butterscotch added. Easy to make and easier to eat.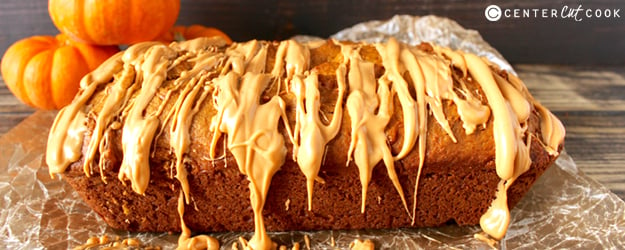 ---
Pumpkin Spice Cupcakes with Cinnamon Frosting – These pumpkin spice cupcakes are a delightful and flavorful treat that will have neighbors knocking at your door every time you make them. They will be your new favorite pumpkin spice recipe.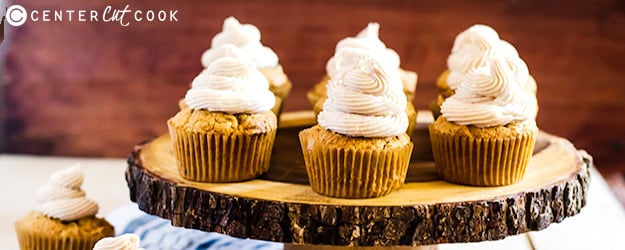 ---
Pumpkin Walnut Cake with Caramel Whipped Cream – This Pumpkin Walnut Cake is moist and fragrant, full of all the classic spices in traditional pumpkin pie, but in cake form. A nice dense crumb makes this the perfect dessert for fall and winter. Tasty enough to eat with no frosting at all, buy let's take this cake over the top with lucious Caramel Whipped Cream.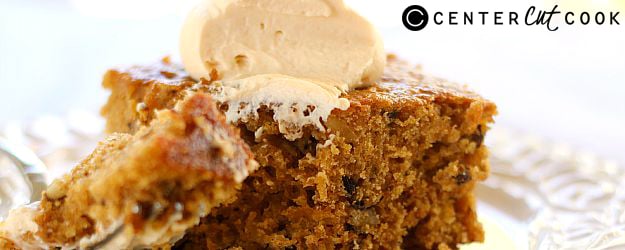 ---
Pumpkin Chocolate Chip Cookies – Easy Pumpkin Chocolate Chip Cookies made with Ghirardelli chocolate chips! Super soft cookies with hints of pumpkin and cinnamon. Delicious as is, or top them with a little cream cheese frosting!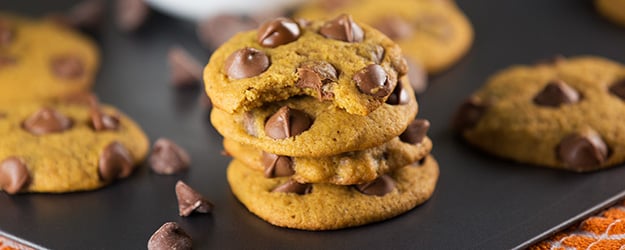 ---
Pumpkin Brownies – Healthy meets decadent with these delicious and rich pumpkin brownies.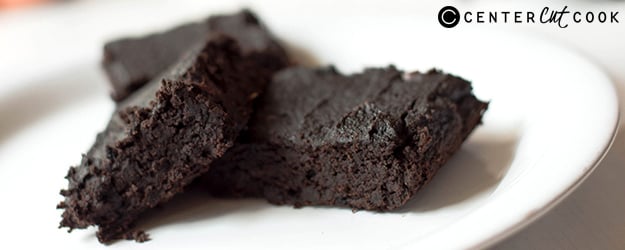 ---
Dairy Free Pumpkin Coffee Cake – This Pumpkin Coffee Cake is easy, delicious, and the perfect fall treat. Dairy free with a vegan option and still just as tasty as a regular version.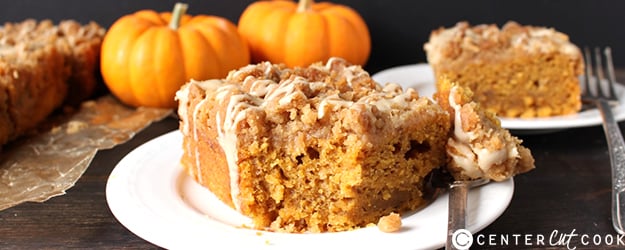 ---
Whole Wheat Pumpkin Chocolate Pancakes – I love fall and these whole wheat pumpkin chocolate pancakes are the best way to celebrate it. They are healthy, fluffy and really simple to make – just the way pancakes should be!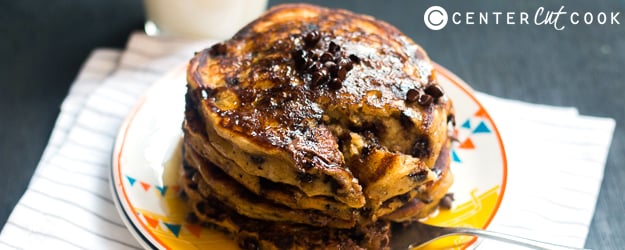 ---
Pumpkin Spice Granola – Enjoy the best of Fall flavors in this easy and delicious Pumpkin Spice Granola!
---
Pumpkin Blondie Fingers – Delicious spiced pumpkin blondie bars with white chocolate chips and white chocolate topping. Perfect with your morning cup of coffee!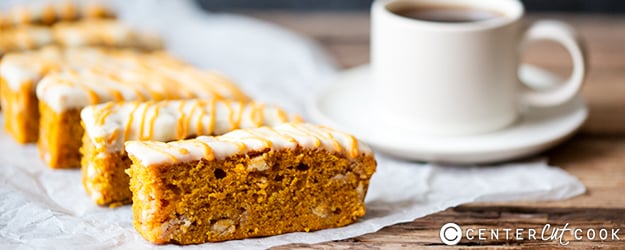 ---
Perfect Pumpkin Pancakes – Perfect Pumpkin Pancakes are part of an essential fall breakfast! They've got hints of pumpkin and cinnamon and drizzled with warm maple syrup??… you can't go wrong!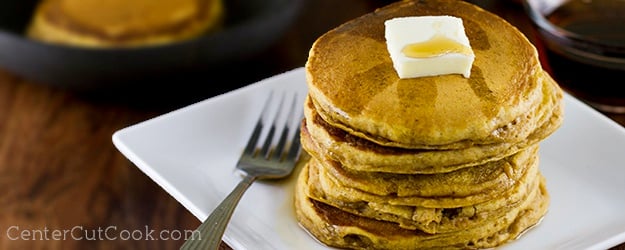 ---
Pumpkin Pie Smoothie – This pumpkin pie smoothie is a delicious treat that has all the flavors of classic pumpkin pie! Ready in 5 minutes, you'll love this smoothie, perfect for a fall afternoon snack or even dessert!