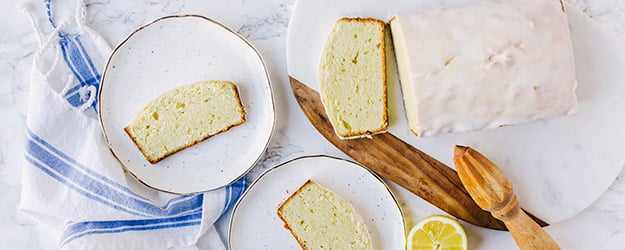 One of my favorite things to do when I have some time to myself is head over to the coffee shop then grab a latte and a snack – usually a slice of lemon loaf which is a personal favorite. I would usually end up spending nearly $10 on the treat a day and that adds up pretty fast. I decided I needed to cut down on my treat and that led to me creating a Starbucks lemon loaf copycat recipe.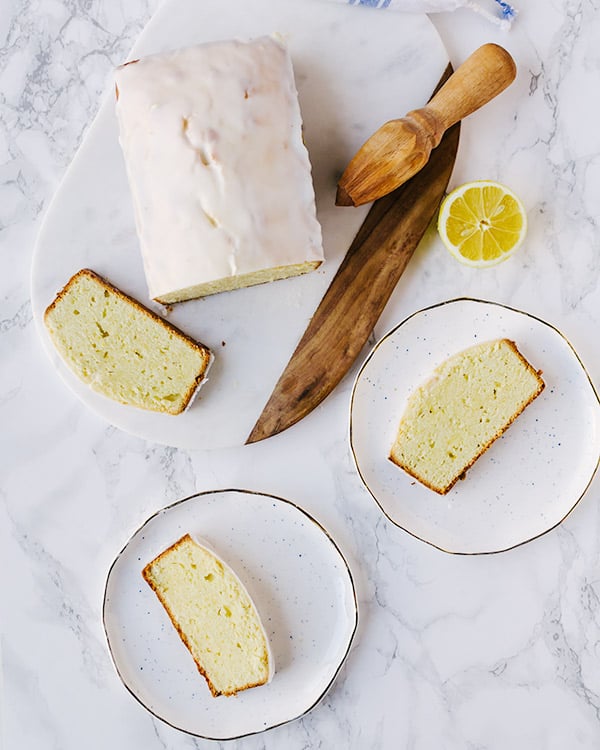 This Starbucks copycat might even be better than the real thing. It's light and fluffy, with just the right amount of lemon. The glaze is sweet and lemony and I find myself sometimes sneaking a pinch or two of just the glaze when I want another taste of the irresistibly bright lemon flavor. What I love most about this Starbucks lemon loaf copycat is that you know exactly what is in the loaf. You get all the deliciousness without any mystery.
Now, you can have a delightful slice of lemon pound cake and a latte without all the extra cost. Plus, there is enough cake to have again later in the day or throughout the week.
This recipe is really incredible because there are no tricks or secrets to making this Starbucks lemon loaf copycat. it is the simplest loaf to make. You can double the recipe if you want to make an extra for a friend, or half it if you need a smaller loaf. Just be sure that your loaf pan is smaller, and adjust the baking time as needed.
All that is left is to have a slice of cake and a coffee!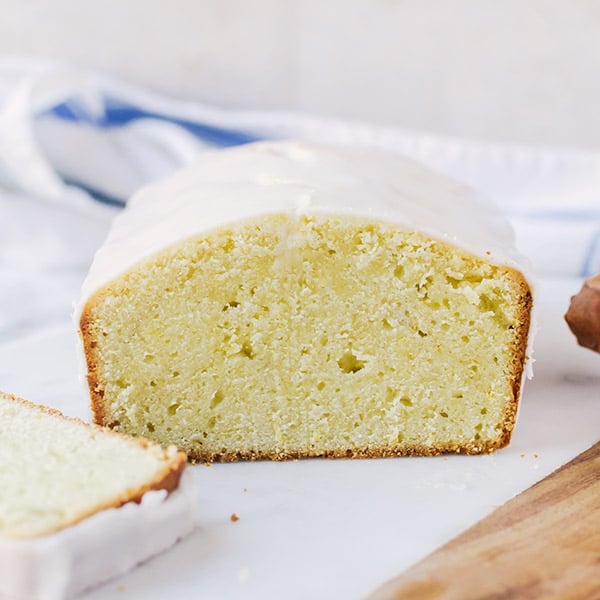 INGREDIENTS
3/4 cup (1 1/2 sticks) unsalted butter, room temperature
1/4 cup vegetable oil
1 cup sugar
Zest of two lemons
4 large eggs, room temperature
2 teaspoons pure vanilla extract
2 cups all-purpose flour (spooned and leveled)
1 1/2 teaspoons baking powder
1/2 teaspoon salt
1/4 cup buttermilk, room temperature
Juice of one lemon
GLAZE INGREDIENTS
DIRECTIONS
Preheat the oven to 350 degrees F. Grease and flour an 8 x 5 baking pan.
In a mixer, add the butter, oil, sugar, and lemon zest. Beat until very light and fluffy, about 4 minutes.
Beat in the eggs one at a time, mixing well between each addition until completely combined. Beat in the vanilla.
In a separate medium bowl, mix together the flour, baking powder, and salt. In a smaller bowl. mix together the buttermilk and lemon.
Add one third of the flour mixture into the butter mixture. Mix until just combined. Add half the buttermilk mixture and mix until just combined. Mix in another third of the flour mixture and mix until just combined. Add the remaining milk and mix, then the remaining flour. Mix just until the flour is combined.
Pour the batter into the baking pan and bake for 50 – 60 minutes, or until a toothpick comes out clean. If the top browns too quickly, add aluminum foil over the pan. Take care that the foil does not touch the loaf.
Allow to cool for 20 minutes in the pan, then turn out onto a wire rack to cool completely.
Make the glaze. Add the powdered sugar to a small bowl, then slowly add the lemon juice and mix well. The glaze should be thick and pour down in a ribbon when you pull up a portion with a spoon.
Spread the glaze over the cooled loaf.