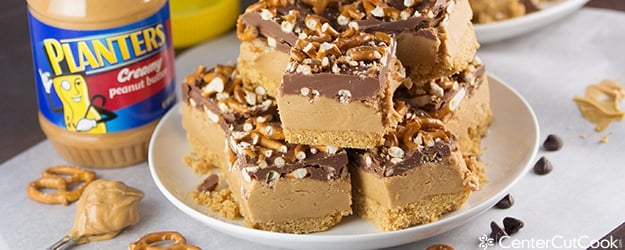 This is the time of year that I love and dread, all at the same time! How is that possible? I love the entertaining and gift-giving aspect of the holidays, yet I dread the overall craziness (CRAZINESS!) that comes from jam-packed schedules, shopping and preparing food for parties, not to mention just trying to get dinner on the table each night of the week!
To help make things a little less hectic, I have a list of my go-to delicious dinner recipes that can be made quickly, along with a list of easy desserts and treats that are perfect for entertaining! One of the desserts on that list are these Peanut Butter Buckeye Bars with Pretzels! These tasty little bars combine sweet with salty (yum!), and they are no bake which means they come together with very little effort! The result is a crave-worthy dessert that the kids and adults will love!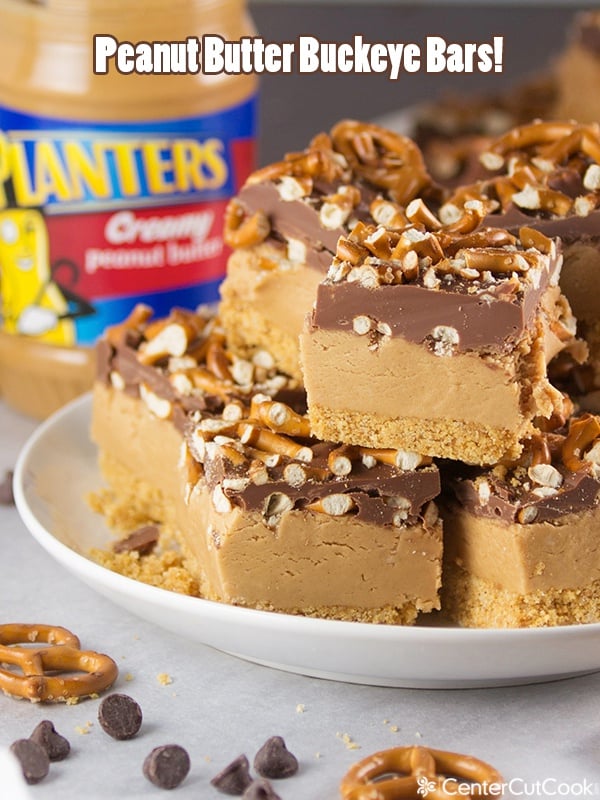 Along with the peanut butter, the rest of the ingredients are pretty standard. I started with a graham cracker crust, added a layer of peanut buttery goodness, then a layer of pretzels, and topped the whole thing off with melted chocolate chips with a few more crushed pretzels for garnish. Can you say yum?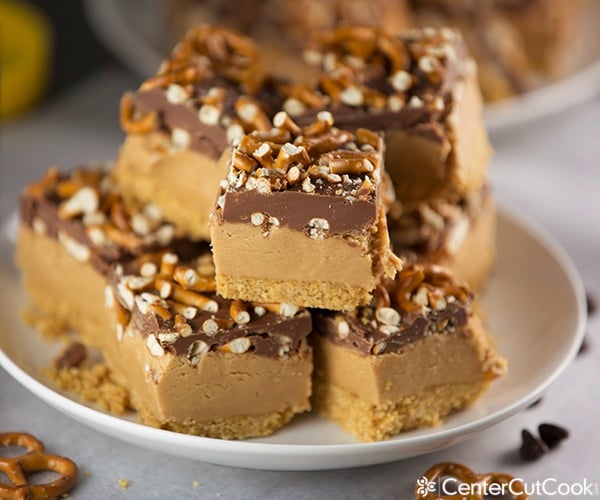 The whole thing will need to chill in the fridge for a bit to firm up which will give you a little time to relax or wrap some gifts!
I like to cut these dessert bars into small squares; they are rich and delicious!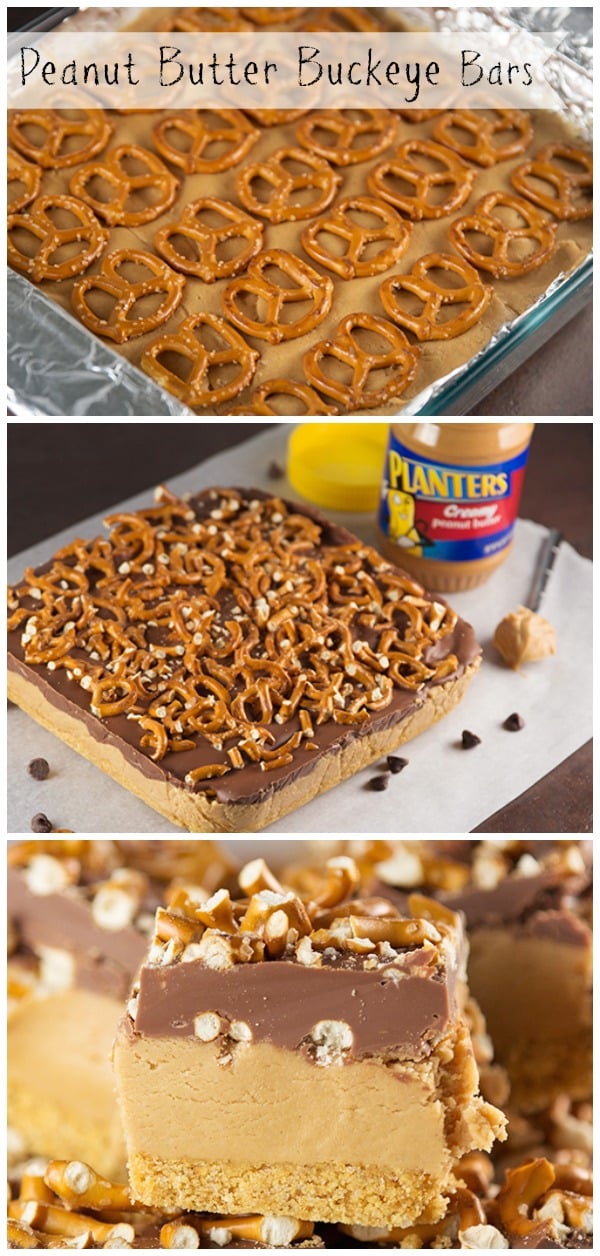 Perfect for holiday entertaining, these Peanut Butter Buckeye Bars are a must-make this season!
From shopping for gifts to planning family dinners, it's hard to keep up with all your holiday to-do's. This year, Kraft is helping out with great weeknight meals and entertaining ideas to make the season a little bit easier.
This is a sponsored conversation written by me on behalf of Kraft. The opinions and text are all mine.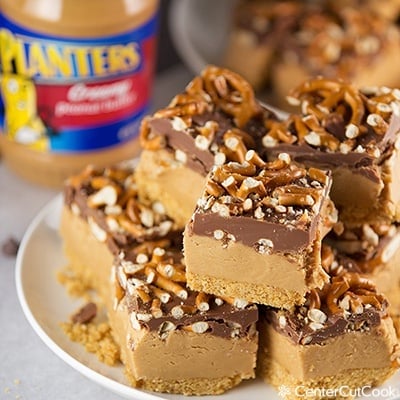 INGREDIENTS
2 cups creamy Planters Peanut Butter
1/2 cup butter, softened
1 teaspoon vanilla extract
3 cups sifted confectioners' sugar
Pinch of salt
2-3 cups pretzels (I used the mini pretzel twists)
10 ounces milk chocolate chips
2 tablespoons shortening
GRAHAM CRACKER CRUST INGREDIENTS
1 1/2 cups finely ground graham cracker crumbs
1/3 cup sugar
6 tablespoons butter, melted
DIRECTIONS
In a large bowl, combine 1 and 1/2 cups finely ground graham cracker crumbs with 1/3 cup sugar and 6 tablespoons melted butter. Combine well and set aside.
Line an 8 x 8 baking pan with either parchment paper or tin foil hanging over the edges, sprayed with non-stick cooking spray. Draping the foil or parchment paper over the sides will make it easier for you to lift these bars out of the pan.
Pour the graham cracker mixture into the pan and very firmly press down. If you don't press the mixture firmly in the pan, the crust will fall apart. Place the pan in the refrigerator to chill for 1 hour.
Meanwhile, make the peanut butter mixture. In a large bowl, use your hands to combine peanut butter, softened butter, a pinch of salt, vanilla, and confectioner's sugar. Use your fingers to really squish the mixture together to mix it well. You can also use a large spoon, but I have found that my (clean!) hands work best.
After the crust has chilled for an hour, arrange the peanut butter mixture on top and gently press down on it.
Arrange a single layer of pretzels over the peanut butter layer. Crush the remaining pretzels and set aside.
In a large bowl, add in milk chocolate chips and 2 tablespoons shortening. Melt according to package directions. I microwaved for about 1 minute at 50% power, then stirred and microwaved at 20 second intervals until the chocolate mixture was melted and smooth.
Pour the melted chocolate mixture over the Buckeye Bars. Sprinkle remaining crushed pretzels on top.
Refrigerate for about 30 minutes to set.
Cut into small squares and enjoy!
Recipe from
CenterCutCook