Is it too early to start sharing apple recipes? But I want to make sure you guys are armed with the best recipes for fall and the holiday season and these caramel apple cupcakes are absolutely perfect.
I'm not a baker by heart, but whenever we make these cupcakes at home, they vanish pretty quickly which is such a satisfying feeling. Because they are soft, moist and taste of cinnamon, apples and caramel – the best kind of combination.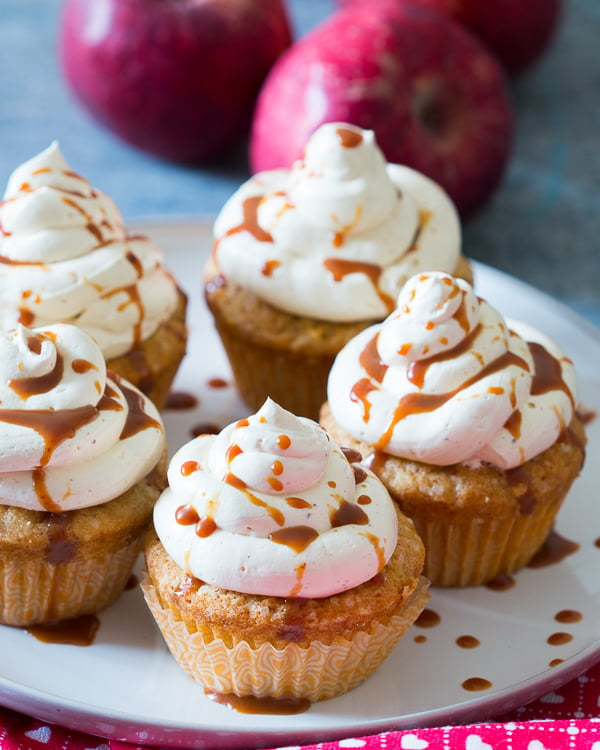 They almost taste like apple pie but in beautiful cupcake form. I like to keep the skin on the apples, but you can peel it off if you prefer.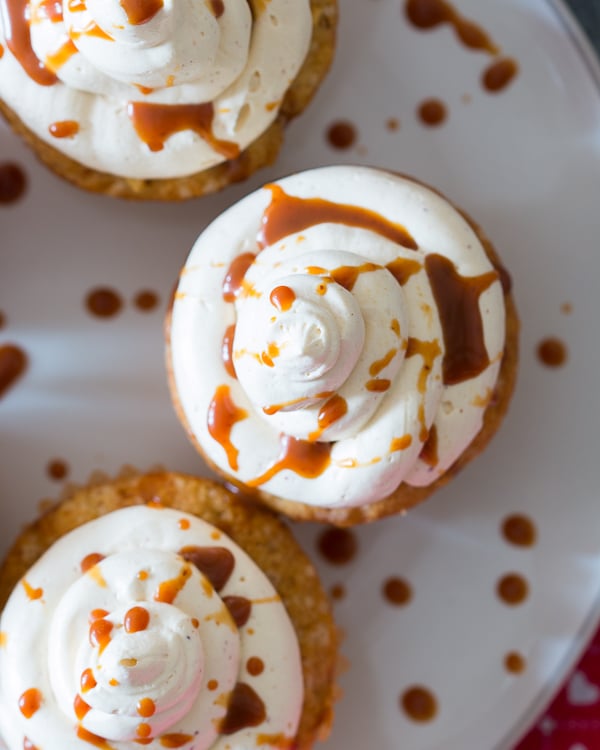 They cupcakes are ridiculously easy to make and completely fool proof. I should know, considering I've made them thrice in the last one week. Make sure all your ingredients are at room temperature before you start. I usually leave them out on the counter the night before so that they are perfect to start with in the morning, because cupcakes for breakfast? Yes please!
CUPCAKE INGREDIENTS
FROSTING INGREDIENTS
1 cup salted Butter, at room temperature
4 ounces Cream Cheese, at room temperature
21/2 teaspoons Vanilla Extract
4 cups Icing Sugar
11/2 teaspoons ground Cinnamon
Caramel Sauce for topping
CUPCAKE DIRECTIONS
Pre-heat oven to 350 degrees and line a 12 muffin tin with paper liners.
In a bowl, combine together flour, baking powder, cinnamon powder and salt. Set aside.
In the bowl of a stand mixer, beat together butter and sugar till light and fluffy. Add the egg and vanilla extract and beat till combined.
Mix in the flour mixture till just combined. Add the buttermilk and mix and lastly, fold in the apples.
Spoon the mixture into the lined muffin tins and bake for 22-25 minutes till a skewer inserted in the middle of a cupcake comes out clean.
Pipe each cupcake with frosting and drizzle with caramel sauce.
FROSTING DIRECTIONS
In the bowl of a stand mixer, beat butter till light and fluffy. Beat in the cream cheese and vanilla extract for another 2-3 minutes.
Reduce the speed, and add in the icing sugar little by little while beating continuously till all the icing sugar is combined. Add the cinnamon and beat again. Fill into a piping bag and use to frost the cupcakes.