The perfect way to guarantee your kids will eat their broccoli – mix it in with piles of creamy cheesy pasta!!
One of the things I love about this meal is that by the time your pasta is cooked, you know your meal is only 5 minutes away from being ready.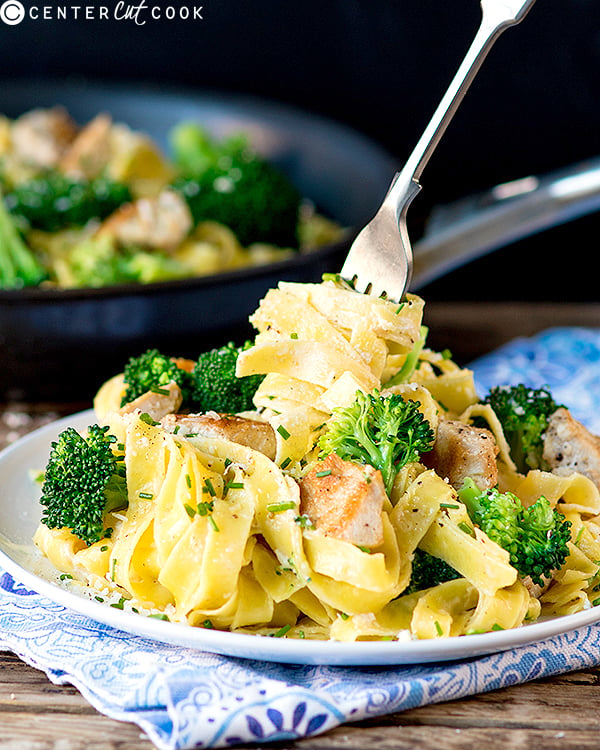 I've seen some recipes use cream of mushroom soup for the sauce base, but I think it's so much tastier to make it from scratch.
I admit, I've never actually tried using soup for a sauce base, but it's so easy to make that I wouldn't bother anyway!
If you wanted to add in some extra veg then I'd throw in some baby spinach leaves and/or sweetcorn right at the end.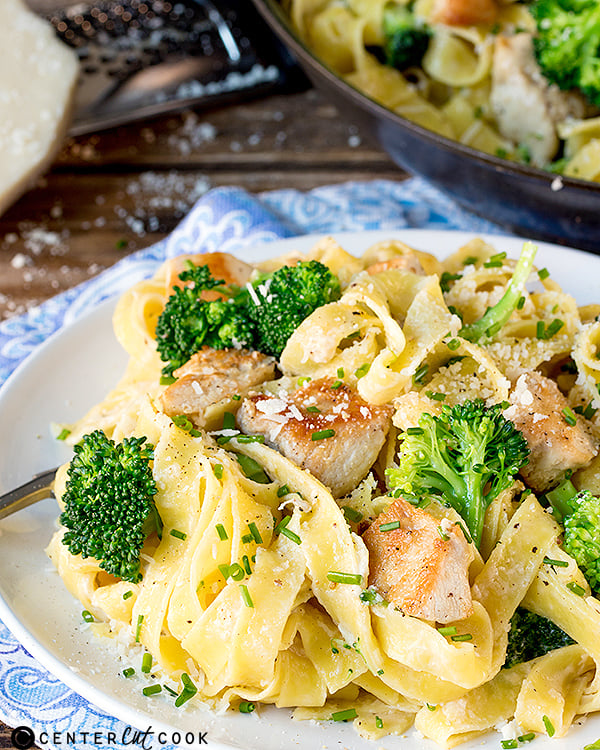 Make sure you save a little parmesan to sprinkle on top!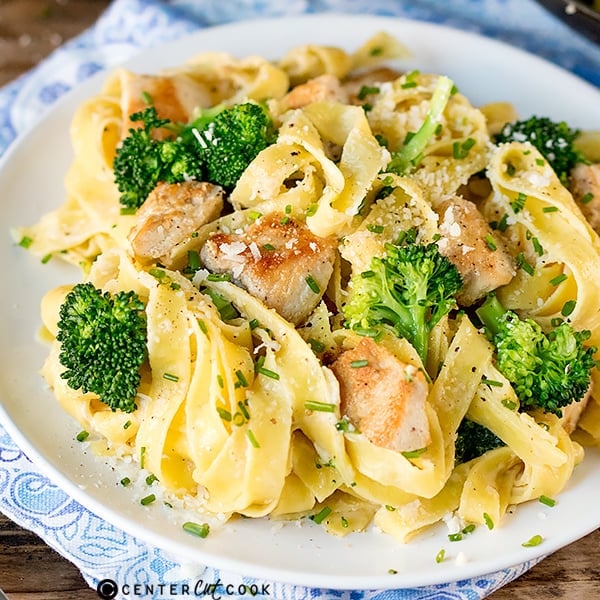 INGREDIENTS
8 ounces fettuccine
1 medium head of broccoli, cut into small florets
2 tbsp olive oil
Salt and pepper
2 skinless chicken breasts, cut into chunks
2 garlic cloves, peeled and minced
2 tbsp unsalted butter
1.5 tbsp all-purpose flour
1 cup milk
1/2 cup heavy cream
1 cup shredded parmesan
Small bunch chives, chopped
DIRECTIONS
Cook the fettuccine in boiling water as per the pack instructions. Add the broccoli to the pasta for the last 3 minutes of cooking, then drain, reserving 1 cup of the cooking water.
Whilst the pasta is cooking heat the oil in a large skillet, sprinkle a pinch of salt and pepper on the chicken and add to the skillet. Cook, turning regularly until browned and cooked throughout. Add the garlic for the last 30 seconds, then remove the chicken from the pan and place in a bowl.
Melt the butter in the skillet on a medium heat, then stir in the flour to form a thick paste. Slowly stir in the milk using a whisk until incorporated, keep heating through whilst stirring until the sauce thickens, then stir in the cream, all but 1 tbsp of the parmesan, a good pinch of salt and pepper and the reserved chicken.
By now the pasta and broccoli should be cooked, add it to the sauce and toss it through using some tongs. Add a splash of the pasta cooking water if the sauce needs loosening up a little.
Divide between four bowls and top with the reserved parmesan, chopped chives and freshly ground black pepper.
Servings: 4